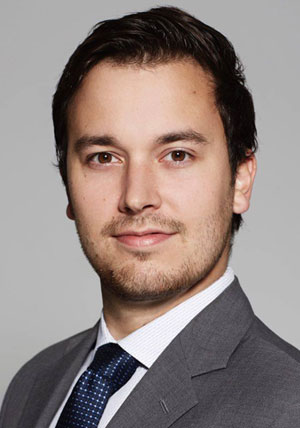 "Can I put you on hold, Maître Rheault? The judge will be with you in a few minutes."

I'm desperately trying to speak with a judge.

Such are the joys of filing an injunction in early August.

The on-hold Muzak, something bizarrely psychedelic from the '90s, sends me into a mobile reverie. I rock back and forth in my chair, tapping my feet, then get up, swaying with the rhythm and bust a move — perfectly safe with a wireless headset — coolly acknowledging the growing fan base outside the glass walls of my office.

Suddenly, an alert on my smartphone jolts me out of my trance:
Melissa would like you to add her to your LinkedIn contacts.

I freeze.

"Good morning, Mr. Rheault. This is the co-ordinating judge of the Superior Court. You are now on the line with opposing counsel."

- . . .

- Mr. Rheault, are you there?

- Yes, sorry your Honour, yes, yes I am . . .

Now that I'd regained my senses, the case management conference could begin.

***

Satisfied with the results of the management conference, I hang up and, with trembling hands, prepare to accept Melissa's invitation. But just then my office door abruptly opens and in walks Johnny Candide Jr., the firm's newest articling student, preceded by his enormous afro. Johnny is young and extremely gifted, and the only thing bigger than his hair is his passion for the law. I sometimes suspect he spends the night on the sofa in the student's lounge.

"Julien, I'm looking at the new Code of Professional Conduct of Lawyers, and I'm wondering how s. 105 should be interpreted. Are there two cumulative conditions there, or two discrete exceptions?"

105. A lawyer cannot receive from a client, as payment for the lawyer's professional services, a participation or other interest in property or in an enterprise, other than a non-material interest in an enterprise listed on a recognized stock exchange, except where the lawyer recommends that the client first obtain legal or accounting advice regarding the matter.

After reading the section, I share Johnny Jr.'s consternation. A lively discussion ensues about the legislator's drafting style, replete with interpolations, double negatives and sentences within sentences, all peppered with a liberal dose of commas. Our conclusion: Sometimes it's better to dot your 'i's and cross your 't's than to insert commas.

Another alert sounds on my smartphone: "Meeting with Coach Kenobi in five minutes." (!!!)

I burst out of my office like Andre De Grasse, blowing by Johnny Jr., narrowly avoiding a procession of caffeine-starved wretches queuing for the coffee machine. Arriving at Coach Kenobi's office, conveniently located at the complete opposite end of the building, I knock tentatively before entering, where I find him just hanging up the phone.

"Julien, we just landed a huge new file. I need you to free up your schedule until Christmas. Oh, and I also need to know the criteria for insider trading offences."

- A huge new file — great! I'll, uh, make myself available — somehow. When do you want me to get back to you on the insider trading criteria?

- Now.

- Now?

- Yeah, as in yesterday — I have to call the client back in two minutes.

My eyes become as wide and hollow as Olympic rings.

- OK, sure, I just have to check one thing, but I'm pretty sure the criteria are . . ."

I bound back to my office, carefully avoiding the iced-coffee cortege, check the Securities Act, the CBCA and the Criminal Code, and fire off an e-mail to Coach Kenobi.

My breath slowly returns, and as I once again steady myself to respond to Melissa's invitation, an Outlook alert sounds on my smartphone, reminding me of the importance of staying healthy while gradually being worked to death:

"Jogging, 12:30 p.m. to 1:30 p.m."

Like I hadn't run enough already this morning . . . After changing into my jogging attire, I run off to meet with my fellow midday roadrunners preparing to conquer Mount Royal. Just enough time for a quick jaunt up to the Cross to pray for the success of my injunction . . .

Back in my skyscraper, I bound out of the elevator and head for my office where, over the decals on the glass wall, a giant, furry orb is hovering. Johnny Jr. is sitting in my chair, noisily finishing an M&M milkshake, plunged into his copy of the Code of Professional Conduct of Lawyers. He looks up and says:

"Julien, I've gone around the office, spoken to all the lawyers and compiled the results of the two possible interpretations of s. 105: 64% of them think the first interpretation is correct and the other 36% think that I should do something better with my non-billable hours."

After a few minutes of discussion, Candide leaves my office, and I devour my fair-trade quinoa salad with chia seeds, roasted Jerusalem artichokes and organic beet salad dressing, while perusing a blog post on the anti-gluten freedom fighters of Riga.

****

After a few more hours of frenetic work on my injunction file, I realize it's already dark out. I turn off my desktop, stuff some papers in the slipcase for my laptop, and stumble out into the street in search of a taxi.

The cool night air caressing my skin, I notice the moon is full, but it's soon obscured by a competing spherical shape. Through the opaque darkness, gleaming with selenian light, I espy the Code of Professional Conduct. Johnny Jr. is anxious to share his latest theory of statutory construction with me.

Melissa's invitation will have to wait.