Premier Doug Ford has announced the Ontario provincial government will be giving millions of dollars to create "legal SWAT teams" at each of Toronto's provincial courthouses, in response to gang and gun violence.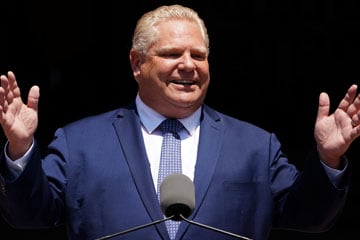 Premier Doug Ford has announced the Ontario provincial government will be giving millions of dollars to create "legal SWAT teams" at each of Toronto's provincial courthouses, in response to gang and gun violence.
The announcement today at Queen's Park focused on $25 million the provincial government has dedicated to combat gang and gun violence, including $7.6 million of which Ford says will go to form the so-called SWAT teams.
"It's time to get serious about fighting guns and gangs. It's time to get serious about fighting gun violence. No more talk, no more grandstanding, it's time for action," says Ford. "It's time to put public safety first. Too many families have lost loved ones to gang and gun violence."
Ford made the announcement with provincial Attorney General Caroline Mulroney and Minister of Community Safety and Correctional Services Michael Tibollo by his side.
The legal SWAT team is a term coined by the provincial government, and a news release from the Office of the Premier specified there will be one team in each of the city's courthouses.
"Each team will be led by a Crown Attorney with the mandate to focus exclusively on ensuring violent gun criminals are denied bail and remain behind bars," said the release. "These teams will be further supported by a new team of bail compliance officers who will focus their attention exclusively on ensuring that those gun criminals who are out on bail are not violating any of the terms of their release."
Ford says law enforcement officials are "frustrated that their hands are tied."
"They lack the best resources to do their job, and even when they do catch the bad guys, too often our officers must work through an ineffective and paralyzed court system, a system that lets far too many criminals convicted of gun crimes out on bail and back on the streets the very next day," he says. Organized crime is not confined to Ontario, he says.
Ford took a swipe at Toronto's city council in the announcement, among others.
"People throughout Toronto and the GTA have had enough and people are just sick of it," he said. "They're sick of shootings, they're sick of violence, they're sick of the killings, and they are sick of all the city councillors, activists and special interests, who use each shooting as an excuse to campaign for more spending, and more levels of bureaucracy and more hand-outs and more pet projects. [They're] throwing more money at programs that have nothing to do with community safety."
Ford says $18 million of the funding will go to "provide additional digital, investigative and analytical resources necessary for fighting drug gangs and gun criminals in 2018," and it is in addition to $76 million the province already gives to the Toronto Police Service.
"[Toronto Police Service] Chief [Mark] Saunders and his team are out every single day on the front lines keeping Toronto safe, and that's who we believe in listening to," he says.
Anthony Morgan, an associate at Falconers LLP, was critical of Ford's announcement.
"These legal SWAT teams appear to be mandated to impede individuals charged with gun crimes from being duly extended the right to be presumed innocent until proven guilty, which is a fundamental right enshrined in the Canadian Charter. Further, statistics already show that Black and racialized people are systematically and routinely denied bail and held in remand at alarmingly disproportionate rates," he said in an emailed statement.
"Legal SWAT teams, as they are being described, are likely to exacerbate systemic racism within Ontario's criminal justice system by perpetuating over-representation of legally innocent civilians being warehoused in prison despite not having been convicted of a crime. This initiative will not only create more unnecessary backlog and lengthier delays in the courts, but [will] also likely cost untold tens of millions [of dollars] to taxpayers, and do so without a scintilla of proof that this is an effective public safety measure."
Stephanie Di Giuseppe, a criminal defence lawyer and partner at Ruby Shiller LLP, says she's unclear on how the measures announced by Ford will get to the root causes of gun violence in Toronto.
"For example, by and large Crown attorneys already do an excellent job vetting bail applications by individuals with gun charges and vigorously opposing these bails where appropriate. In addition, there are existing mechanisms in the criminal code that make it more difficult for individuals charged with firearms offences to get bail," she said, noting there is already a special team of crown attorneys whose specific focus is on gun and gang offences.
"Without more data to support the idea that these offences are being primarily perpetrated by individuals who are on bail, the government's focus on bail is puzzling," she said.
Like DiGiuseppe, Michael Lacy, partner at Brauti Thorning Zibarras LLP and president of the Criminal Lawyers' Association, says there are already specialized Crowns that deal with guns and gangs, including serious gun cases.
"The creation of a legal SWAT team is based on a purported need to reform the way Crown's approach bail in cases involving gun violence," he said.
He added that crowns "already apply the Crown policy manual and oppose bail where appropriate."
"The direction to the new legal SWAT team to oppose bail in every gun case interferes with Crown discretion and their duties as ministers of justice. It is also inconsistent with the charter and the presumption of innocence and presumption of reasonable bail. It will lead to longer drawn out bail hearings even in those cases where the accused who is only alleged to have committed a crime is clearly releasable and will not change the result: if a person should be released a judge properly applying the law will release the accused," he said.
Editor's Note: Story updated Aug. 9, 2018 to include comments from Anthony Morgan, Michael Lacy and Stephanie Di Giuseppe.