MONTREAL — The man who killed and dismembered a Chinese student in Montreal in 2012 was found guilty of first-degree murder today, with the jury delivering the verdict after more than a week of deliberating the gruesome case.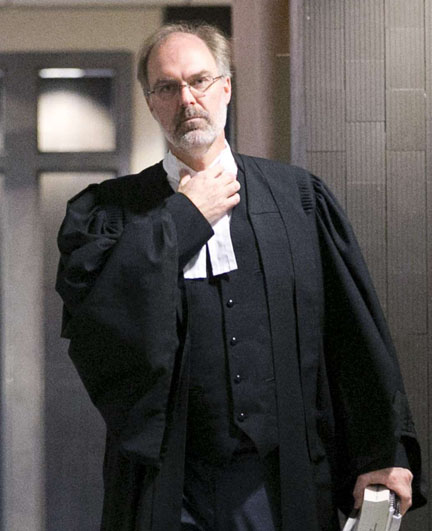 Luka Magnotta, 32, had admitted to killing and dismembering engineering student Jun Lin, 33, but pleaded not guilty on grounds of mental illness.
Magnotta was also found guilty of committing an indignity to a human body, publishing and mailing obscene material, and criminally harassing Prime Minister Stephen Harper and other members of Parliament.
The prosecution had argued that Magnotta was "a man on a mission" and had carefully planned his acts.
The verdict came on the 8th day of jury deliberations.
Magnotta, standing in a glassed-in, high-security prisoner's dock, showed no emotion and only lowered his eyes as the verdicts on each of the five charges were read out.
A first-degree murder conviction carries an automatic life sentence with no possibility of parole for 25 years.
Quebec Superior Court Justice Guy Cournoyer, told the court the case "was by all standards unique" and praised the jury.
"We have asked a lot of you but you rose to the occasion and indeed proved that real and substantive justice is a reality," he said.
The victim's father, Diran Lin, traveled from China to attend the trial. A lawyer representing him read the father's statement to the court after the verdict.
"The night Lin Jun died, parts of many other people died in one way or another. His mother, his sister and me, his friends . . . in one night, we lost a lifetime of hope," the statement said.
"I had come to see your trial system to see justice done, and I leave satisfied that you have not let my son down."
"We're not really surprised with the verdicts," Crown prosecutor Louis Bouthillier said outside the courthouse after the verdict. "We were expecting it and we're very happy."
"It's always a great feeling for a Crown prosecutor to hear the word 'guilty' come out of the mouth of a juror at the end of a trial," Bouthillier said. "We're all very happy, the police officers and I."
Describing the case as having "very difficult legal issues," he went on to "salute" the jury for all their work.
The jury had been shown a video of Magnotta's acts that he had posted online.
The prosecution said that six months before the killing, Magnotta had e-mailed a British journalist to say he planned to kill a human and make a movie of it.
"We had good evidence of premeditation and that the crime was planned and deliberate," said Bouthillier. "There was never any doubt in my mind that the jury would find Mr. Magnotta guilty of first-degree murder."
The jury heard that Magnotta, a gay escort, had sought psychiatric help about a month before Lin's death. Magnotta's father, who testified at the trial, also has a medical history of schizophrenia.
The case gripped Canada in the spring of 2012 after Lin's body parts were found in the trash behind a Montreal apartment building and in packages mailed to political parties in Ottawa and to schools in Vancouver.
The mailed packages contained hands and feet wrapped in pink tissue paper as well as notes and poems.
Magnotta fled to Europe after the killing and was arrested in a Berlin Internet cafe, where he was reading about himself.