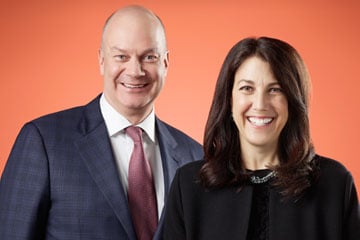 McCarthy Tétrault LLP has acquired e-discovery law firm Wortzmans in an arrangement that will see Susan Wortzman join the firm as an equity partner.
McCarthy's announced today that it has made the acquisition and that, while the Wortzman team will be integrated into the firm, Wortzmans will continue to operate as a separate e-discovery and managed review service for its clients.
"It's a little unusual for law firms to do deals like this, but we saw it was a great opportunity for us and we think it's going to be a great fit," says McCarthy Tétrault CEO Dave Leonard.
Wortzman says it's an opportunity for her firm to further develop its platform.
"We'd been thinking about this for some time and the reason we decided to do this now was because the fit was so good with McCarthy's," she says.
Wortzmans employs a large group of contract lawyers but in terms of permanent lawyers three will be going over to McCarthy's.
"We're a very multi-disciplinary team. We have lawyers, project managers and a forensic engineer and support staff," she says.
Leonard says the parties are still figuring out "exactly what the structure is going to look like," but he notes that as Wortzman's has a "tremendous brand" in the e-discovery area the firm wants to leverage that but must also work through all the potential conflicts.
"For the time being and perhaps for the foreseeable future, we will keep them as separate entities. As of right now, we are keeping them completely separate — both have their own physical space and only Susan's people will have access to the matters she is working on and vice versa with the firm," Leonard says. "We will see how that plays out and how our clients react and how Susan's clients react. So far, the reaction has been positive."
Ultimately, Leonard says he is hopeful the strength of Wortzmans will be "so strong" that other law firms will continue to engage Wortzmans for managed document review.
"We'll be having some discussions with some of those firms in the not too distant future about that," he adds.
Wortzman says it's currently "business as usual" for Wortzmans as it is dealing with clients to see who will go with them to McCarthy's.
"For clients it will be seamless because they will have the same pricing and the same team working on their matters," she says. "No question, it will be challenging for some but for corporate clients and public sector agencies it probably doesn't matter as much."
It was two years ago that Deloitte LLP acquired ATD Legal Services PC, launched in 2010 by former Davies Ward Phillips & Vineberg LLP partner Shelby Austin.
Wortzman, who founded the firm in 2007, said she was looking at other options but in the end McCarthy's was the "best model for me."
Other important factors to her include the fact McCarthy's wanted to keep the Wortzman brand alive and that it wants to leverage technology to manage data more for legal analytics.
"It's an interesting time and some of the accounting firms are interested in this space and in our business and so we're seeing this as an opportunity to have a good offering for our clients going forward," Leonard says.
While McCarthy's has had an e-discovery and information management practice, over time, Leonard says, it became "more of a challenge" to do it in the traditional law firm model as people like Austin and Wortzman started their businesses.
"We think this is going to be a great addition to our ability to deliver services in a more innovative, cost-effective way to clients but with the McCarthy's quality and Wortzman quality," he says. "Without having to outsource to a third-party vendor, we've now brought it in-house."
Leonard acknowledges that in a competitive legal market firms like McCarthy's are competing with the big four accounting firms and e-discovery is one where there will be more competition in the document review/information governance area.
"I think the whole area of information management — wherever you have large buckets of information that needs to be captured, analyzed and reviewed — we want to be one of the choices for our clients for doing that work," he says. "We're doubling down in that business because we see it as an area that is synergistic in the rest of the offerings we have for our clients."
Leonard would not disclose what the investment was in acquiring Wortzmans into the firm, but he says there was "significant scrutiny" on both sides and the McCarthy's board of partners unanimously endorsed the recommendation to proceed with the transaction. It was rolled out to equity partners of the firm just before Christmas.
"I've got nothing but enthusiastic responses. It's a tough market and we're all looking for growth and this is an area where we think we can make some gains," he says.
As Wortzmans is a law firm, the deal is similar to two law firms merging, and while there are rules of professional responsibility that have to be upheld and conflict issues that have to be managed, the transaction did not require law society approval.
Updated on Jan. 5, 2017 to include comments from Susan Wortzman.