Two of the world's largest law firms are picking off lawyers from Heenan Blaikieas it moves to wind down in the biggest collapse of a law firm in the country's history.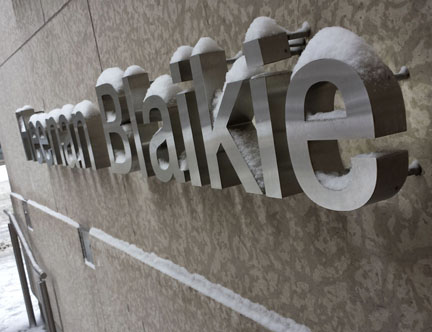 The demise of the firm has already resulted in the creation of a new litigation and labor-focused law firm — Gall Legge Grant & Munroe, based in Vancouver.
That firm will count Heenan Blaikie founder Roy Heenan, former Supreme Court justice Michel Bastarache, and former British Columbia attorney general Geoff Plant in its ranks.
Andrea Zwack, one of the firm's founding partner said: "We are excited about our team. I am proud to be working with a very fine group of lawyers and we all look forward to providing the very highest level of service to our clients."
DLA Piper, the world's largest law firm, is in talks to recruit a group of 55 to 70 lawyers from the firm's Toronto and Calgary offices, while Dentons, which ranks as the world's seventh largest firm, has hired five real estate lawyers and three corporate lawyers in Toronto and Montreal.
"There is a sense of urgency associated with this," said Roger Meltzer, co-chairman of Americas at DLA Piper, noting his firm was in "serious negotiations" with 25 to 30 partners in capital markets, mergers and acquisitions, tax, litigation, among other areas.
"They would become DLA Canada," said Meltzer of the firm's possible debut in the country. "In the best sense of the word, it is a middle-market transactional environment (in Canada) with some big players we think could service multinationals around the globe."
A Dentons spokeswoman confirmed the hires but declined to further comment. Two of the firm's lawyers in Canada did not respond to requests for comment about any future possible hires.
Other Canadian law firms have also been scouting for talent and hiring from Heenan's ranks. One source familiar with the situation said McCarthy Tétrault LLP will announce more hires in the coming week, while another source said Fasken Martineau DuMoulin LLP may also recruit a few more lawyers from Heenan's roster shortly.
Along with many of its Canadian rivals, the firm has been hurt by sharp revenue declines as many corporate clients, keen to keep costs in check, demanded steep discounts of 25 or 30 percent, sources in the legal industry said.
The collapse of Heenan is the largest failure of a Canadian law firm since the demise in 2007 of Goodman and Carr LLP, which at its peak employed more than 140 lawyers.
Heenan had roughly 500 partners and associates at the end of 2013. It also employed more than 600 support staff in offices in Montreal, Toronto, Calgary, Vancouver and smaller cities across Canada. The firm also had an office with a small team of lawyers in Paris.
The storied firm, founded by Peter Blaikie, Roy Heenan and Donald Johnston in 1973, also counted among its partners other prominent Canadians, including former federal Justice Minister Martin Cauchon and the current president of the Canadian Olympic Committee, Marcel Aubut.
Here's the full list of who'll be at Gall Legge Grant & Munroe:
Founding partners
Jillian Frank
Peter A. Gall
Robert W. Grant
John A. Legge
Craig T. Munroe
Andrea Zwack
Lawyers
David Edinger
Michael Elliot
Bruce Ellwood
Jillian Humphreys
Shaun Ramdin
Frederick Sheppard
Joana Thackeray
Melanie Vipond
Lauren Wihak
Of counsel
Michel Bastarache,
Brian Burke
Robin Elliot
Roy L. Heenan
Donald R. Munroe
Geoff Plant
(With additional reporting by Jennifer Brown)