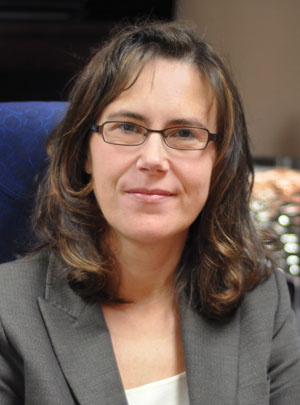 Once a month, Rachelle Verret Morphy, the general counsel of SaskPower, makes the two-and-a-half hour drive from the electrical utility's headquarters in Regina southward to Estevan. There she meets with the Crown corporation's engineering team as it commissions the world's first commercial-scale, operational power plant that captures CO2 emissions.

"We feel it's important as an executive to be on site as much as possible to give support to the team — I love going down there and talking to the engineers who are working on the plant. Being able to see the result of the paperwork that was done early on is humbling. It's one of the unique benefits of being able to work in an in-house counsel role in a company like SaskPower."

It's a role Verret Morphy knows well, having joined SaskPower's legal team in 2005 and promoted to vice president, law, land, and regulatory affairs (as well as general counsel and assistant secretary) in April 2011, the same month the Saskatchewan cabinet gave the go-ahead for the Boundary Dam Integrated Carbon Capture and Storage Demonstration Project.

The project consists of a rebuilt coal-fired plant, which will sequester carbon dioxide emissions that can either be stored in a deep well or sold. SaskPower has already signed a 10-year deal to sell the emissions to a Calgary resource company and hopes to market the carbon-capture technology around the world as an environmental breakthrough.

With the plant scheduled to begin operation this fall, all the contracts have been finalized for some time. "Our role is more limited now to advising the project team on interpretive issues that come up from time to time in a contract, and if there are deficiencies, we make sure they understand what our rights and responsibilities are, as well as those of the vendors," she says.

But Verret Morphy emphasizes her legal team wasn't just called in "to negotiate this or that contract." The law department was involved very early, and took a real sense of ownership in the outcome.

Federal environmental regulations required that all coal-burning power plants over 50 years old must either be shut down or converted to emit low levels of CO2 by July 2015.

"We knew the regulations were coming, but we were ahead of them: our project was approved before we knew what the regulations would require of us," says Verret Morphy. Although SaskPower has an environmental department, in-house counsel worked closely with the department, advising it on the implications of the regulations discussed at the federal level.

"We participated right in the early stages when discussions were about what this project was going to look like, what strategies we would use to procure all the pieces needed to bring this project together. That was really a key part of making the project come alive."

Almost everyone in the law department has worked on some aspect of the project. One of the lawyers has been dedicated full time to the concept of carbon capture and storage initiatives for six years.

Before the Boundary Dam project was approved by the provincial cabinet in 2011, several years of conceptual work took place behind the curtain. "This involved developing a plan on how we would undertake the project and developing a business case for the decision-makers."

Many of the key suppliers, including the sequestration technology vendor, were selected prior to (and conditional on) cabinet approval in order to provide some assurances on pricing and availability of resources. "We were able to negotiate contracts efficiently because the lawyers understood the business needs and the business people understood the legal issues," says Verret Morphy.

The enormity of the $1.35-billion project was the major challenge for Verret Morphy and her legal team. SaskPower is a small power company by North American standards, with a small law department compared to other utilities. "This would be a significant project for any utility," she says. "Being able to make sure we had the legal resources available to assist the project team [was crucial]. We don't just outsource to external counsel and go work on other things. All major decisions on legal strategy, on contracting strategy, were handled internally."

Verret Morphy, 46, was born and raised in North Battleford, 395 km northwest of Regina. For university, her parents encouraged her to gain exposure to another part of Canada, so she did her B. Comm. (Hons.) at the University of Ottawa.

She worked two years in the nation's capital, obtaining her C.A. designation before heading back to the Prairies with plans to become a tax lawyer. She did her law degree at the University of Saskatchewan, then articled with the federal Justice Department in Saskatoon.

She worked in private practice for seven years, the last five specializing in tax law and IT law at the province's largest firm, MacPherson Leslie & Tyerman LLP in Regina.

When she and her husband, Derek Morphy, also a lawyer, had their first of three daughters, Verret Morphy took some time off from her practice. She decided to go in-house at Concentra Financial, to benefit from the more predictable pace and regular hours.

She stayed two-and-a-half years and played a key role in engineering a major corporate reorganization. However, as the trust company's only lawyer, she missed the intellectual stimulation of working with other lawyers. So when she noticed a search firm was headhunting an assistant general counsel for SaskPower, she applied for, and got the job. "I liked that SaskPower had a legal department with six lawyers," she recalls. "I liked the collegiality and also that my role was not limited to finance. I was responsible for managing the lawyers in the commercial side of the department, which was separate from the litigation side."

Verret Morphy notes that SaskPower was a very different company when she joined it in 2005 than it is today. Regulatory changes have compelled the utility to reduce its environmental footprint while the province's surge in economic and population growth have boosted electricity demand by an annual average between 2010 and 2013 of 3.3 per cent — more than double that of the preceding decade.

SaskPower's need to replace obsolete infrastructure and move into growth mode had a significant impact on her legal team, says Verret Morphy. The number of in-house lawyers has almost doubled to 10 since she joined, but even that increase hasn't matched SaskPower's capital budget, which has jumped by 400 per cent in the same period.

Verret Morphy has pioneered ways to make more effective use of her legal team. The in-house counsel developed a suite of standard form contracts that SaskPower's business units can download from the utility's web site. "The agreements are structured so that the business users can conclude the deals without vetting by the legal department," she says. "We've routinized as many low-risk transactions as possible so the legal department can focus on more complex tasks."

This autumn, when the Boundary Dam plant powers up, Verret Morphy and her legal team can finally hand off one of the most complex of their projects.