Trinity Western University is not taking rejection by the lawyers of British Columbia well. Yesterday it announced it will sue the Law Society of British Columbia over its Oct. 31 decision to reverse its earlier recognition of TWU School of Law graduates.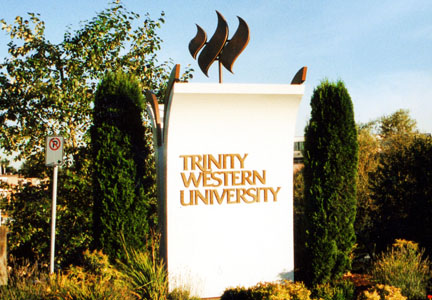 The LSBC as well as the Ministry of Advanced Education had initially approved TWU's law school. Just last week, Advanced Education Minister Amrik Virk
rescinded
approval for the school. That government's OK had been conditional on the LSBC's agreeing to accredit the fledgling law school.
"We have no choice but to proceed legally," said TWU president Bob Kuhn in a statement. "By prejudging our future law graduates not on their qualifications but the community covenant they agree to abide by while students at TWU, the law society has infringed on the human rights of TWU and its students."
At issue is the Christian university's community covenant that asks the students to refrain from "sexual intimacy that violates the sacredness of marriage between a man and a woman," a stipulation critics argue is discriminatory against LGBTQ individuals.
"What many critics overlook is that our community covenant says that all students and faculty are to love and respect other people," said Kuhn, "regardless of their background or personal characteristics. TWU is a community of diversity and acceptance. This campus is a Christian home for 4,000 students with an array of opinions and beliefs."
In an
unprecedented binding referendum
of the LSBC's members in October, 74 per cent voted for a resolution that would deny TWU law school graduates accreditation to practise in the province.
For the last few days, TWU has been
battling
the Nova Scotia Barrister's Society in court. It had voted in April to ban Trinity Western students from its bar admission program unless the university dropped or changed the covenant. The university took the society to court, arguing the ban amounts to religious discrimination. Arguments in the case are expected to wrap up today.
A similar case in Ontario, where the Law Society of Upper Canada voted 28-21 in April to reject TWU's law school bid, is set to begin the week of Jan. 19.
The university's law school has been approved by the Federation of Law Societies of Canada, as well as the provinces of Alberta, Saskatchewan, New Brunswick, Prince Edward Island, and the Yukon.
"Despite these multiple approvals, TWU now faces the necessity of legal action against the Law Society of Upper Canada, the Nova Scotia Barristers Society, and now the Law Society of British Columbia, related to their disapprovals of TWU's law school based upon the University community's religious beliefs," said a press release.