Richard Wagner has been named as the Supreme Court of Canada's next chief justice.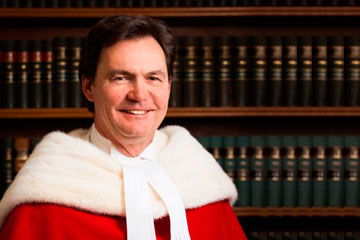 Richard Wagner, 60, has been named as the Supreme Court of Canada's next chief justice.
Wagner, who built his career in Quebec as both a lawyer and judge, was first appointed as a justice of the SCC in 2012. He will replace Beverley McLachlin, who retires Dec. 15.
McLachlin had been in the role of chief justice for almost 18 years, and left a significant legacy in the role.
Wagner, a graduate of the University of Ottawa's Faculty of Law, was called to the Quebec bar in 1980. He practised at Lavery, de Billy SENCRL / LLP (formerly known as Lavery, O'Brien and Lavery, Johnston, Clark, Carrière, Mason & Associés), from 1980 to 2004, when he was appointed to the bench at the Quebec Superior Court.
"There is a great deal of respect for Justice Wagner in terms of what he's done as a lawyer, his involvement in the community and his career as a judge. There was a lot of pride when he was appointed to the Supreme Court and all the much more so now that he's appointed chief justice," says Louis Charette, a partner at Lavery lawyers who worked with Wagner on construction and professional liability litigation files in the litigation team at the firm until Wagner was appointed to the bench in 2004.
Charette says Wagner brings a passion for the law but is more "reserved" in his approach than McLachlin.
"I think he's going to bring the same passion and rigour that Justice McLachlin brought, I think that's undeniable. In terms of his qualities he was passionate about what he did, he was rigorous and hardworking and that will continue. I think Richard is more reserved as a personality. Justice McLachlin had an ease with people and it was easy to speak with her. Justice Wagner is very reserved and perhaps that is a difference Canadians will see in terms of his approach in public speaking."
Wagner served as a judge at the criminal division, civil division and commercial division until 2011, when he was appointed to the Quebec Court of Appeal.
Wagner's appointment ends months of speculation about who would take McLachlin's place at the court. On Dec. 18, he will take an oath of office as chief justice.
"I have the utmost confidence in his ability to lead the highest court of Canada, an institution with a long and respected history of judicial independence and excellence," said Prime Minister Justin Trudeau, in a news release from the Prime Minister's Office.
"The judiciary, the legal profession, and all Canadians will be well served by his dedication to upholding the laws and Constitution upon which this country is founded."
Emmett Macfarlane, an associate professor of political science with the University of Waterloo and author of Governing from the Bench: The Supreme Court of Canada and the Judicial Role, says in the short time Wagner has been with the SCC, he has carved out a reputation for being "straight-forward" and "clear."
"In some ways, it's the obvious choice. I also think it's the correct choice," he says.
According to Macfarlane, Wagner displays the potential for "consensus building" among the justices, similar to the retiring McLachlin.
"It hasn't been that long since he was appointed to the court," says Macfarlane, who adds that in that time Wagner has shown he has a "collegial personality."
"He's very forthright in his public statements," says Macfarlane.
Macfarlane says the other name most commonly floated as the potential Chief Justice was Rosalie Abella, but she faces a mandatory retirement in 2021, which could be problematic.
"This decision allows for a little bit of stability," says Macfarlane. He also said the decision to appoint Wagner follows a pattern of Prime Minister's elevating someone to the position of Chief Justice, who was appointed by a Prime Minister of a different partisan stripe. In this case, Wagner was appointed by former Prime Minister Stephen Harper.
"This is not a partisan institution," he says.
He says an interesting issue to watch for will be if there are divisions that emerge amongst the justices in their decisions, as it's a "fairly young court."
Editor's Note: Updated Dec. 13, 2017 to include comments from Emmett Macfarlane.