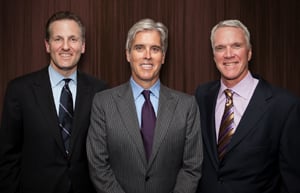 What could a law school do with $3 million? Plenty, says Western University law dean Iain Scott.
In keeping with its business law focus, Western Law has created the new W. Geoff Beattie Chair in Corporate Law and put additional funds towards the Torys LLP Corporate & Securities Law Forum following a $1.5-million donation from Torys and Geoff Beattie, president and CEO of Woodbridge Company Ltd., which Western University then matched for a grand total of $3 million.
Western's donation matching program was a key factor in obtaining this gift, says Scott. "For me, understanding the importance of leverage, being able to go to donors and say, 'Listen, if you give me this $1.5 million, I'm going to be able to match it for you so it's 2-1 on your dollar and we can do more things with your gift,'" he says.
Mitch Frazer, a partner at Torys, admits that was a selling point on the deal. "There's only so many dollars; there's a finite amount of money. So you want to get the biggest bang for your buck," he says.
These days, post-secondary institutions receive less government funding. As a result, deans are feeling the pressure to secure additional private funds.
Dalhousie University's Schulich School of Law dean Kim Brooks told 4Students that approximately one-third of her time is spent on alumni relations and fundraising efforts in
"The art of the ask"
.
Western Law's dean faces the same pressures. "In the current economic climate — which we're all living in — in my view, post-secondary education should be planning to have less government money coming their way," says Scott.
"So the more privately funded money that institutions are able to secure is going to enable those institutions to continue to put on top-tier programs. And so, Western has to diversify its income stream."
With more law schools seeking private donations, the pressure is also on law firms in terms of where to allocate their funds.
In this case, Frazer says it was an easy decision. "We've had long-standing relations with Western Law and a very big reason is our long-standing relations with Geoff Beattie, who was a former partner of Torys before he went on to Woodbridge," he says.
Beattie, along with numerous partners at Torys, is an alumnus of Western Law. Along with his role at Woodbridge, he is also deputy chairman of Thomson Reuters, a director of General Electric Co., and a director of RBC Financial Group.
"Geoff's had a great career and very much gets the importance of the breadth of a top-tier educational experience when you look at his own track record; being trained as a lawyer but being a seasoned business executive on a number of global boards. That shows you what you can do with a law degree," says Scott.
Western Law is commonly referred to as the top business law school in Canada and Torys is regarded as one of the leading business law firms, so its $750,000 gift to the law school just made sense, says Frazer.
"Business law is one of the more thriving areas of law in this country. Most of the time in law school people get a general education and it's really helpful for law students to try to see what is out there before they get into the practice of law," he says.
"As a business law firm, we value this training, and Western, year after year, produces great graduates. For us, with the business law focus, for them to already have this training really gives them a big leg-up."
Frazer — also a Western Law graduate — says the business law courses he took in law school have definitely benefited his career.
"When I look at how my practice has evolved, if I hadn't taken those courses I wouldn't be where I am today," he says. "If I hadn't taken corporate law or tax law — I'm a pension lawyer — and those are both parts of what I do every day and they gave me great grounding."