Most Ukrainian lawyers are enmeshed in the country's deep-seated corruption.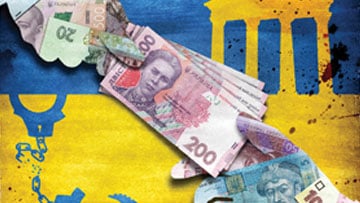 Most Ukrainian lawyers are enmeshed in the country's deep-seated corruption.
This past autumn, I was in Ukraine at the annual PEN International congress, held this year in the city of Lviv. Ukraine is a troubled country — it's politically unstable, divided, corrupt, threatened by Russia (hatred and fear of Russian leader Vladimir Putin is everywhere), pushed around by other countries, unsure of the future and crippled by civic unrest. The recent history of Lviv exemplifies the region's past. In the 19th century, the city was called Lemberg and was part of the Austro-Hungarian Empire. In the early 20th century, it became part of Poland and was renamed Lwów. At the beginning of the Second World War, it was occupied by the Soviets who called it Lvov. In 1941, the Germans occupied the city and renamed it Lemberg. In 1944, it became part of Ukraine and was given its current name of Lviv. The city's name has changed back and forth as armies have marched in and out. Who is to say that its name will not change again?
Ukraine has long been the most corrupt country in Europe. Transparency International's 2016 Corruption Perceptions Index ranked Ukraine 131 out of the 176 countries for integrity, sandwiched between Russia and Guatemala (Canada was ranked number nine). In 2012, Ernst & Young named Ukraine, Columbia and Brazil as the three most corrupt countries in the world. Corruption in Ukraine appears to pervade every corner of the country: It is in public administration, the police, parliament, business, health care, schools and universities. Bribery of everyone, from government ministers to plumbers, is rampant. Nothing happens unless money is passed under the table. If ever there was a country that needed a vital and honest legal profession and judiciary to protect citizens from a corrupt government and fight for democracy, stability and the rule of law, Ukraine is that country. And, yet, Ukrainian lawyers (there are about 40,000 of them for a population of 45 million) have dramatically failed to rise to the occasion. Few other countries demonstrate so vividly what happens to the state when essential honest and competent lawyers are, to put it politely, thin on the ground. A 2010 international survey of corruption in the world's legal profession placed the Ukrainian legal profession as the fourth most corrupt in the world, preceded by Guatemala (there's Guatemala again) at number three and followed by Peru at number four. Nearly 90 per cent of respondents from the Commonwealth of Independent States region (which includes Ukraine, Azerbaijan, Kyrgyz Republic, Moldova and Russia) saw corruption as an issue compared with 16 per cent from Australasia.
The recently elected president of the Ukrainian Bar Association, Andriy Stelmashchuk, said in his campaign for president (as reported in the Kyiv Post) that most Ukrainian law firms use complicated offshore entities and other dubious practices to minimize or evade their own taxes. As long as law firms persist in structuring their businesses in this way, Stelmashchuk said, "corruption will prosper and tax evasion and other illegal forms of doing business will prosper in Ukraine." He said many of his fellow lawyers don't see a problem with the status quo. "They see it as normal," said Stelmashchuk. Indeed, he said, the legal profession is actively complicit in a culture where bribes are demanded and paid to judges and officials to settle legal disputes. The Kyiv Post quoted him as saying that bribery would wither if law firms simply stopped being intermediaries in corruption. "Law firms can play a crucial process in transformation," argued Stelmashchuk. But there is no evidence that they are doing so.
Non-Ukrainian law firms that have been present in the country have not helped. Since 2013, several major foreign firms — Squire Patton Boggs, Norton Rose Fulbright LLP, Beiten Burkhardt, Noerr LLP and Clifford Chance LLP — have closed their Ukrainian offices because of so-called "market conditions," including civil unrest, the threat from Russia and the culture of bribery. In a curious and sinister sidebar, New York law firm Skadden Arps Slate Meagher & Flom LLP apparently indirectly received large payments for advice given in 2012 to the pro-Russian government of Viktor Yanukovych, who later fled the country (he went, guess where, to Russia). Bloomberg News has reported that it was Paul Manafort, the recently federally indicted former campaign manager for Donald Trump, who recruited Skadden to give legal advice to Yanukovych.
Judges as well as lawyers are active participants in the corrupt system. This past November, the president of Ukraine, Petro Poroshenko, swore in 113 new Supreme Court judges. The Public Integrity Council, a public body created to assess the professional ethics and integrity of judges, vetoed 25 of these new judges and supplied negative information about another 60. According to the Kyiv Post, the vetoed judges had "obtained ill-gotten wealth, participated in political cases, made unlawful rulings, or … were under investigation in graft cases." The vetoes and criticisms were ignored by the government. Last year, there was a public scandal when a Ukrainian judge was caught in a newspaper photograph wearing a watch worth nearly a third of his annual salary.
When I was in Lviv, I went to a lecture at Lviv University given by Philippe Sands, an international lawyer who lives in London but has strong family connections to Ukraine. Sands' emotional speech was based on his remarkable and complicated 2016 book East West Street. In part, the book tells the story of Hersch Lauterpacht and Raphael Lemkin. Lauterpacht originated the idea of "crimes against humanity," putting the individual at the heart of the legal order. Lemkin invented the competing concept of protecting groups rather than focusing on the individual and coined the word "genocide." And here is a remarkable thing: Lauterpacht and Lemkin were both Ukrainians and attended law school in what was then Lemberg at approximately the same time, in the 1920s.
How is it that Lauterpacht and Lemkin, legal giants who created the modern human rights movement, came from this benighted place?
Philip Slayton's latest book, How To Be Good: The Struggle Between Law and Ethics, was published in October.