Transaction to sell James E. Wagner to Trichome Financial Corp. required speed, issuance of licences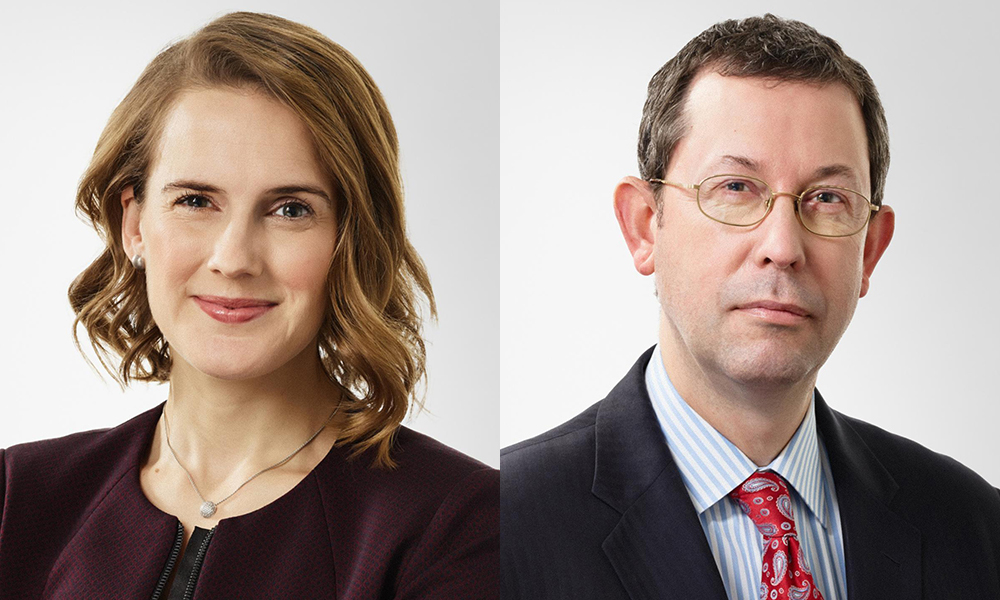 In a Canadian industry first, Davies Ward Phillips & Vineberg LLP facilitated a going concern asset sale of an insolvent cannabis company, seeing through a complete sale of the business, and the issuance of all-important Health Canada licences, to a third party in record time.
"It's been a really positive outcome for both the industry and stakeholders," says Davies partner Natalie Renner, who worked with colleague Robin Schwill on behalf of the court-appointed Monitor KSV Kofman Inc. in the insolvency hearings of James E. Wagner Cultivation Corporation (JWC). "It was so important to have the deal go through as a going concern sale." This helped preserve jobs, she says (though the workplace has been reduced from 160 employees to about 100) with no business interruption.
Schwill adds that selling JWC as a going concern "maintains the customer network, the supply networks and the goodwill value of the company."
Renner says the successful transaction was unique in both structure and speed, noting new entrants into the cannabis sector, such as the ultimate buyer of JWC, can wait up to 12 months to receive the necessary approvals and licences from Health Canada. The sale of JWC, based in Kitchener, Ontario, including new licences, took only about four months, a "remarkably short period considering what had to be accomplished."
"Absent those licences, you can't legally possess cannabis," Renner says. That was something the eventual buyer, in this case, Trichome Financial Corp., JWC's largest investor, was very concerned about having that settled before the deal closed.
"We didn't want someone to put an offer in and then wait a year or have no one bid because there was not enough clarity as to how long it would take to close the transaction," says Renner.
Speed was critical because Trichome was financing JWC's operations through the insolvency process. "The faster you could close, the sooner Trichome could have direct control and the sooner it could be making operational decisions," says Schwill.
Part of the "secret sauce" allowing the deal go through quickly, and as a going concern, Renner says, was working with Health Canada early in the process to devise a "novel structure" that helped facilitate the sale and issuance of new licences.
"I can't stress enough how important that was," she says. Health Canada was "really receptive to what we were trying to achieve, and we felt we were all working towards the same goal of ensuring the company continued to operate."
Schwill notes that, relatively early on, it was identified that the legislation dealing with licences in the cannabis sector did not provide for transfers of licenses upon an insolvency event. "And that is very problematic for lenders or potential buyers," he says. Engaging Health Canada early on to address the issue and find a solution "was a key part of the process."
JWC, founded in 2013 by members of the Woodworth family members, and named for their grandfather, started off growing medicinal cannabis, but expanded into the recreational market, with online and retail distribution.
One of its key assets is an indoor primary growing facility in the former Lear Corp. plant in Kitchener, making it capable of producing thousands of kilograms of cannabis. JWC had invested about $60m million in building the year, as much as $25 million of that in hard assets.
The company filed for insolvency protection under the Companies' Creditors Arrangement Act on April 1. Renner says JWC, like many in the beleaguered cannabis sector, had cash flow issues that didn't have prospects of improving. "It made the right decision, to find a solution before it became too late and erode the value of the company even further."
The stock ceased trading in July, at $0.01 per share, but had been trading as much as $1.55 in early 2018. As part of the sale of JWC to Trichome, investors in the publicly traded stock won't receive any payment, a typical outcome in insolvency proceedings involving public companies. As a private company now, JWC, which will keep its name and branding, has a clean balance sheet and the potential to become a thriving business, Renner says.
Another important factor in the sale proceedings was to keep things competitive. The process for selling the company involved a "stalking horse" bid by Trichome for JWC's assets, with a minimum bid set at $11.95 million. Other interested parties were able to submit an offer to purchase all JWC's assets for an amount equal to or greater than that figure.
According to the Trichome news release, the creditor-protection proceedings and acquisition process extinguished approximately $19 million of JWC's third-party liabilities.
Schwill says selling a business to a stalking horse bidder, such as in this deal, often means satisfying creditors and the court that the market was tested to get the most value of the assets. So, the stalking horse bid process used in this transaction shows that there was a "robust" sales mechanism that demonstrates what JWC was worth to a buyer.
Renner says this deal could serve as a template for future transactions in the cannabis sector, now going through a period of consolidation — Wayland Group, AgMedica Bioscience, Invictus Group and Canntrust are other companies that have entered creditor protection over the past several months.
Not only will cannabis companies in similar circumstances see that there is a pathway to selling the business as a going concern in an insolvency proceeding, says Schwill, "Health Canada knows that it has the internal processes to deal with the licence issue."
Adds Renner: "It opens up options in the context of insolvency and I think generally it's going to produce more competitive processes, as well as save jobs, and keep businesses running as a going concern. It's the type of story we like to see in the insolvency world."