A provincial court judge, a retired Superior Court judge and a criminal law lawyer are behind award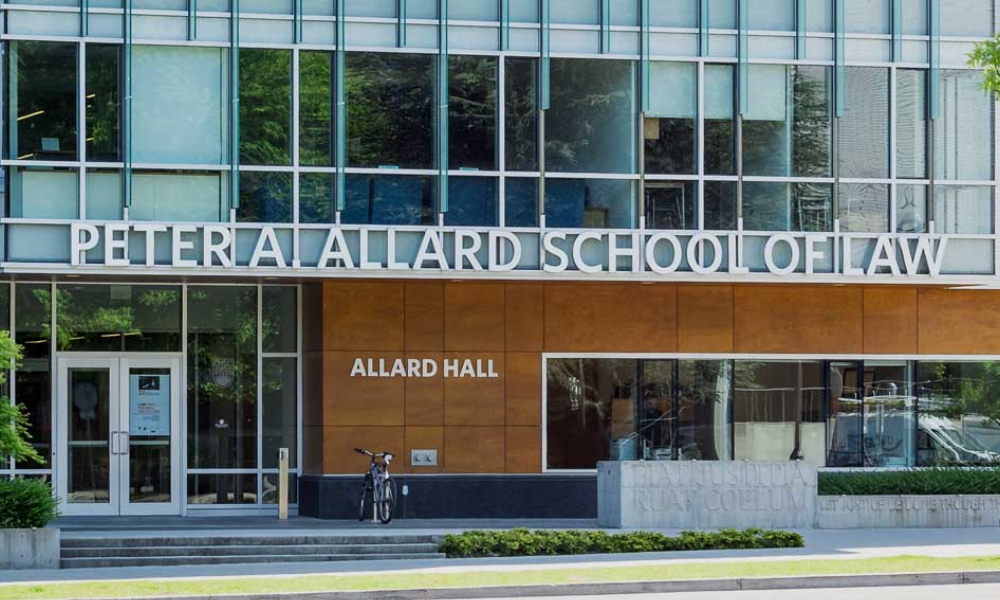 For David St. Pierre, a judge with the Provincial Court of British Columbia, the realization about what it means to be a Black man dealing with the legal system hit home when he was 19.
"I was playing in a band while I was an undergraduate at the University of Alberta," says Justice St. Pierre. "It was a kind of punk band, so I had on my leather jacket and a studded wristband that had no spikes. As soon as I got off stage, a couple of police officers hauled me off to a room at Northlands Coliseum."
The upshot of that encounter was a charge against Justice St. Pierre for carrying a prohibited weapon — the studded, but unspiked, wristband.
Eventually, the Crown dropped the charges, as the studded wristband was deemed not to be a prohibited weapon. But Justice St. Pierre also had a chance to stand before Justice Lionel Locksley Jones, the first Black judge in Alberta, "and that literally blew my mind — I had never seen a Black judge here."
Not only was that encounter with the police a key factor in Justice St. Pierre's decision to go to law school, but seeing a Black man on the bench was also instrumental in his realization of possibility — and the need — for more diversity in the legal profession.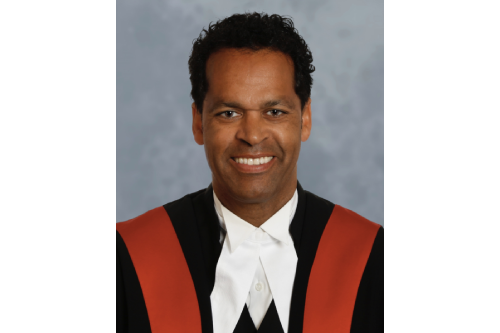 B.C. provincial court Judge David St. Pierre
He also acknowledges that while he was never convicted of a crime, the incident still follows him. "Every time I am interviewed for anything, including becoming a judge, I am asked about encounters with the police, and I have to explain the situation."
The anecdote also helps explain why Justice St. Pierre is one member of a group behind the first-ever award at the University of British Columbia's Peter A. Allard School of Law supporting Black Canadian students wanting to pursue a career in law. It includes a white lawyer, a retired B.C. judge and two anonymous donors.
This $225,000 fund, which includes a contribution from UBC, will support 15 incoming law students with their tuition and fees.
Justice St. Pierre practised criminal law as a partner of Cobb, St. Pierre, Lewis, Barristers and Solicitors before being appointed to the Provincial Court of British Columbia in 2009. Since being appointed to the bench, he says he has only encountered a handful of Black lawyers.
Fellow donor Justice Selwyn Romilly was appointed to the Provincial Court of British Columbia in 1974 and elevated to the Supreme Court of British Columbia in 1995. He was the first Black judge named to any court in British Columbia, and St. Pierre considers Romilly a mentor and role model who had a strong influence on the career path to become a judge.
Justice Romilly, 81, recently made headlines after Vancouver police officers handcuffed him on the seawall while looking for a suspect half his age. The Office of the Police Complaints Commission has since asked the Vancouver Police Board to review the incident.
The third named donor is Matthew Nathanson, a prominent criminal defence lawyer practising in downtown Vancouver.
In a statement released with the award announcement in early June, St. Pierre, Romilly and Nathanson said: "A representative justice system is a healthy justice system. More Black law students means more Black lawyers and more Black judges. This is an important first step towards real, substantive change. We are pleased to be able to play a part in propelling such change."
Justice St. Pierre says one of the most significant barriers to more diversity in the legal profession is financial. While those from higher-income, predominantly white backgrounds can often rely on family for financial support, that is not always the case within lower-income and Black students. "Especially when you are talking about the several years of school needed after the first degree to become a lawyer."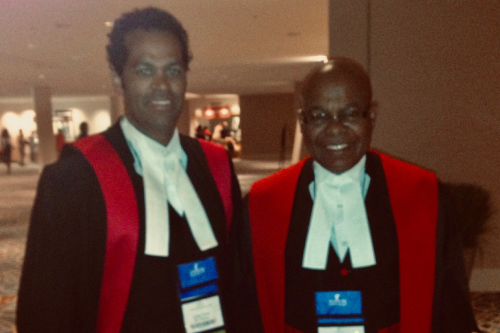 B.C. provincial court judge David St. Pierre and retired B.C. Superior Court judge Selwyn Romilly
While aptitude, academic performance and passion for the law will be considered when picking recipients, Justice St. Pierre says the process of choosing will not just focus on those with the highest marks. Financial need will be among the main criteria, he says.
The issue is not about "lowering standards" or affirmative action, Justice St. Pierre says. Instead, it is about giving more Black students the opportunity.
"There are a lot of amazing, academically gifted students that deserve the chance to become lawyers, but they don't have the same financial support as those students from non-diverse, wealthier families do. This is to give a chance to those who might otherwise not get to step up to the plate." Once they enter the legal profession, they will not only be able to help members of their community, he says, but also become role models for others from diverse backgrounds aspiring to a career in law.
Nathanson says that as a white criminal defence lawyer, he recognizes the need for diversity within the legal profession and adds that Black people coming into contact with the legal system need to feel represented within that system to trust it. "There are certain intangibles, shared experiences that can help build a bond between lawyer and client," Nathanson says, so having more diversity in the profession not only offers greater choice, but it also improves the system by creating greater trust and credibility.
Justice St Pierre agrees, saying that "it's important for everyone to walk into a courtroom and see that there are Black judges and lawyers, that there are Indigenous judges and lawyers, and that the legal profession represents the society we live in." This diversity makes the system legitimate in the eyes of those who encounter it.
Justice St. Pierre and Nathanson say they hope the award they created becomes a challenge to others to find similar ways of removing the financial barriers that prevent Black students or those from diverse backgrounds from becoming lawyers.
"We've received a lot of positive feedback on this award," Nathanson says. "But words are not enough. We need to see more announcements like this" — from individuals, law firms, educational institutions, professional organizations and corporations.
He adds that "ultimately the cost of helping students from Black and other diverse backgrounds is a drop in the bucket compared to the transformative and positive impact it would have on the legal system. It's very easy to say the right things about promoting diversity and tackling systemic racism. Now is the time to actually make it happen. And that needs concrete action."
Nathanson says he's already encouraged that the Criminal Defence Advocacy Society has agreed to give winners of the award first-year summer jobs at B.C. criminal law firms. "It shows that the B.C. criminal bar is going to support these students by mentoring them and giving them a real jump start on their legal careers."