Quebec's justice ministry has been the main driver in the development of so-called therapeutic or restorative justice projects, which look at crime through the accused's mental illness and global state rather than the legal details.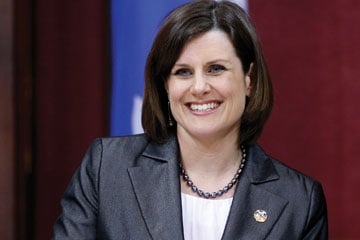 City of Montreal chief Crown prosecutor Julie Provost laughs when she recalls the trip that she and a dozen other Quebec legal and health-care professionals and bureaucrats took to Toronto in 2006 to see the Queen City's mental health court in action.
"Everybody went," says Provost, who has been with Montreal's Crown attorneys' office for 13 years. "It was like this big, multi-disciplinary expedition. But we learned a lot."
Once home, Provost was tapped to spearhead the creation of a similar voluntary social program in Montreal that would link the justice and health and social services networks and provide close monitoring and support for people facing municipal court-level criminal and penal charges — but who show signs of mental health problems — as an alternative to incarceration.
"We didn't want to reinvent the wheel," says Provost. "We adapted the Toronto model to our realities here [and] the differences in the organization of our courts and health services."
Dubbed the PAJ-SM program (for Programme d'accompagnement justice-santé mentale), the new municipal court opened in Montreal in May 2008.
In the 10 years since then, it has blossomed into a vibrant legal entity in which nine Montreal municipal court judges and dozens of prosecuting and defence attorneys work together — unlike in traditional adversarial-minded courts — to rehabilitate rather than punish people accused of crimes with maximum penalties of six months in jail or a $50,000 fine.
Held weekday afternoons year-round in room R-10 of the municipal courthouse next to city hall in Old Montreal, the court handles about a dozen cases a day and up to 1,200 of the roughly 14,000 criminal cases the city gets every year, the most of any municipal court in Canada.
"We don't have a lot of data on rates of recidivism," says Provost. "But my gut feeling is we are doing a very good job. I've seen some real successes here and everybody believes in it."
That faith is spreading to other municipal courts across Quebec.
There are now 11 mental health courts in operation, with a 12th in the works.
Many of the courts have their own unique touches.
Quebec City's court, which was created five years ago, has an 18-month program (compared to a year in Montreal).
Unlike Montreal, the court is also closed to the public, and accused who finish the program receive a certificate and handshake from the judge.
"It's a much more personalized approach," says Éva Bouchard, a legal aid lawyer in Quebec City who has represented about 20 people — many of them homeless — in the two years she has been practising law.
"It's really geared to getting people back on track, whether it's them having to take medication and going to medical appointments or joining a group or doing something positive that will help them."
Quebec's justice ministry has been the main driver in the development of these so-called therapeutic or restorative justice projects, which look at crime through the accused's mental illness and global state rather than the legal details.
In addition to providing information and training, the ministry has launched several recent initiatives that aim to increase the access to and efficiency of the justice system and to make changes that allow it to better deal with social outliers like the homeless and people dealing with mental health and/or substance abuse problems.
Those efforts got a big boost in early December when Justice Minister Stéphanie Vallée tabled bill 168.
The bill proposes 40 access-enhancing measures, many of them connected to mental health laws, action plans and strategies that have been developed in recent years to help Quebec deal with the legal and social fallouts from deinstitutionalization.
Despite the growing popularity of mental health courts and similar courts, such as drug courts, some legal observers say the jury is still out when it comes to their effectiveness.
"One challenge these courts face is they require much more time and energy than traditional courts, which can deal with minor crimes much more rapidly," says Emmanuelle Bernheim, who teaches mental health law at the Université du Québec à Montréal.
Bernheim also points to the results of a recent study of Montreal's mental health court that found that more than half of the people in the PAJ-SM program were homeless. "The authors raised the notion of a two-speed legal system that permits a control of poor or marginalized social groups under cover of therapy," she says.
She adds that the advent of mental health courts also touches human rights law, such as the legal limits of getting people who need drugs to take them.
"The justice system is pushing very hard for the acceptance of this notion of therapeutic justice, which is very fashionable right now," says Bernheim. "Only time and data will tell if it works. But right now, the enthusiasm of many of its proponents is not shared throughout the system."