Environmental issues are only increasing in prominence, says Stikeman Elliott's newest partner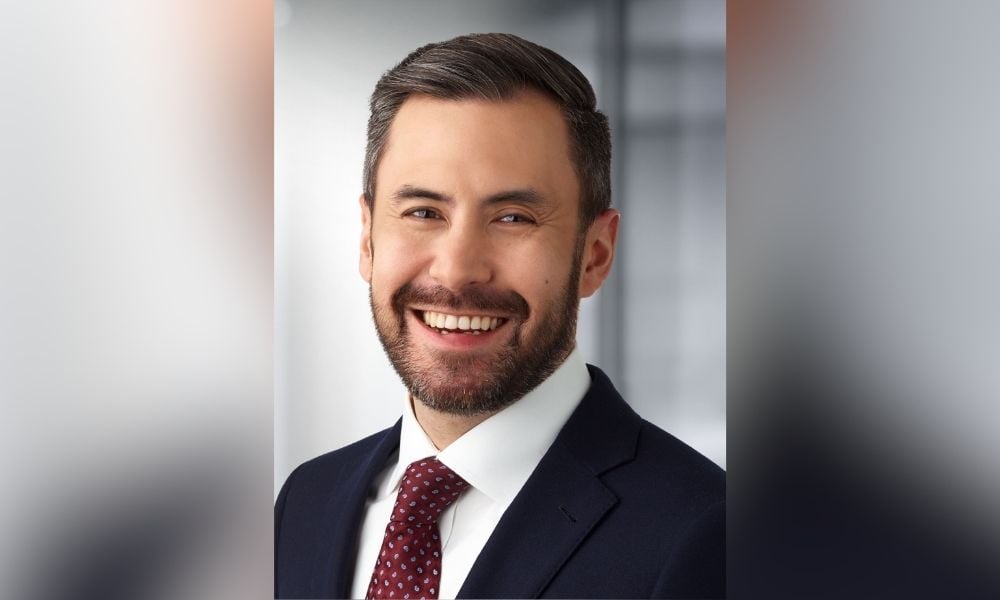 This article was produced in partnership with Stikeman Elliott LLP.
A movie fan and avid reader, Patrick Welsh always found himself most intrigued by "environmental whodunits." Pursuing history and biology during his undergrad, Welsh was inspired to go to law school by classics like A Civil Action and Erin Brockovich. It made sense that environmental law caught his eye. Despite being a relative niche field when he started in the early 2010s, it seemed clear to him that environmental law was a major issue for businesses in the future.
"I frequently invoke the Wayne Gretzky-ism 'don't go where the puck already is – go where the puck is going to be,'" Welsh, the newest partner at Stikeman Elliott LLP, says. "It was obvious to me where the puck was going to be: environmental issues were only increasing in prominence and would continue to do so, particularly with generational change and changing expectations."
Summering and articling at a full-service firm allowed Welsh to do multiple rotations. Still, when one of his mentors, retired lawyer Dan Kirby, asked for help doing environmental due diligence on a transaction and handed Welsh his first environmental report, Welsh was hooked on what he calls an "exciting marriage of the arts and sciences." Although in real life, it doesn't always track the way it does in Hollywood — you're not always doing detective work on the ground to solve the mystery like Julia Roberts' character, for example — Welsh found that similar perils associated with contamination, and the very human cost it can have, do come up in day-to-day practice. For example, much of the former industrial land in Toronto has environmental impacts associated with historical use, so sometimes work literally hits close to home. Welsh notes that you must approach these issues objectively and as dispassionately as possible, adding that he's as practical as possible when faced with a client's problem and "while we may not be able to solve it immediately, we can try and contextualize it and develop a practical solution." The practice of law may involve identifying risk, but while many people could do that and come up with reasons not to do something, the hallmark of a successful lawyer is always finding a path forward.
Environmental balance
Welsh enjoys the balance of his practice, which ranges from things like contaminated lands disputes between neighbours to much bigger projects, like pipeline approvals. The latter involves the typical challenge of attempting to gain social license — where sometimes creative solutions and out-of-the-box thinking are necessary to get things across the finish line — and "is often the most fun part of the job, as is, of course, getting your boots muddy onsite in a facility, a mine or quarry, or just in the field," Welsh says. Although these days, Google Earth and Google Streetview are far less costly alternatives, his old mentors would insist that visiting the site firsthand is the only way to understand the issues. Welsh also sees himself as a translator: he communicates the business problem to scientists and other specialists, then explains the technical solution to the businessperson. It's a back-and-forth where Welsh serves as a bridge, helping both sides understand the objectives.
In environmental law, the metaphorical puck is constantly moving. The rise of ESG, increasing climate activism, and overall greater recognition that those who cause environmental harm should be the ones to bear the cost of it are growing themes. In contrast, land contamination and environmental compliance are still significant issues for clients. Some of the biggest challenges these days are keeping an eye on emerging contaminants like PFAS — featured in the Mark Ruffalo movie Dark Waters, which spurred regulatory action, Welsh notes — or plastics as society collectively becomes more mindful of, and concerned about, what's put into our bodies and the environment.
"Emerging contaminants and other health risks can be a bit of a game of whack-a-mole as they're very difficult to stay ahead of," Welsh says. "More broadly, climate change and biodiversity loss are existential threats to society — and how we respond to these threats is inherently embedded in the practice of environmental law."
Guiding the next generation
As environmental issues and more widespread concern about them continue to ramp up, there's no shortage of interest from high school, undergrad, and law students in environmental law, and Welsh participates on as many panels as he can to discuss the area and its challenges. Turning once again to the versatile Wayne Gretzky expression, Welsh reminds everyone, especially junior lawyers or law students, to focus not just on the immediate work in front of them but also on where they see more prominent trends going and where they want to be vis a vis those trends.
Welsh advises young lawyers to take an active role in shaping their careers instead of being swallowed up by the law school-to-articling-to-associate system. Junior lawyers don't always have control over their file load or the opportunity to specialize off the bat, but they do still have a surprising degree of agency. Writing articles or blog posts as a way to pursue specific interests — that also, ideally, dovetail with the firm's priorities — are examples of how work "doesn't always have to flow from the top down." Welsh calls it the paddle analogy: you might feel like there's a swift current or you're in rapids, but you still have the power to steer yourself in the direction you'd like to go — or at least avoid a few rocks.
Stikeman Elliott: where environmental issues are forefront
Grabbing his paddle this year, Welsh changed course and, in January, joined Stikeman Elliott, where environmental transactional work, always by far his favourite type of file, is at the heart of the firm's focus. In particular, Stikeman Elliott has a strong presence in mid-market M&A, where environmental issues are at the forefront. In the future, Welsh plans to focus on cross-border work, strengthening cross-border relationships, and conducting business the old-fashioned way as in-person conferences and meetings ramp back up.
"I'm looking forward to working with great colleagues on exciting transactions and bringing my environmental expertise and problem-solving experience to the firm's clients," Welsh says, adding that what also made this move such an attractive opportunity was the chance to work with Larry Cobb, a senior environmental practitioner and "really just a legend in the environmental bar."
In his personal life, Welsh leans on his wife, a fellow lawyer, who understands the challenges and unpredictability of the career but, he adds with a laugh, "we try our best not to talk about anything related to the law." The couple has three young children to help with that goal, and with mutual patience and support, they make it all work.
In rare moments of downtime, Welsh hikes, plays guitar and video games, and has become a huge proponent of the Peloton — "It's honestly changed my life: my back doesn't hurt anymore after a day at the computer, and I just feel healthier in general," he says, noting he makes a point to share this with colleagues because the on-demand availability makes a big difference for practicing lawyers with multiple time constraints — but as much as he tries to turn it off at times, he's consistently struck by the many ways his work intersects with everyday life.
"Environmental law is a very exciting space to be in; it's constantly evolving," Welsh says. "You have to stay on top of it not just by reading legal articles but also scientific articles, news articles, and yes, even watching Netflix documentaries and Hollywood movies."