Total residential flood risk in Canada estimated at $2.9 billion per year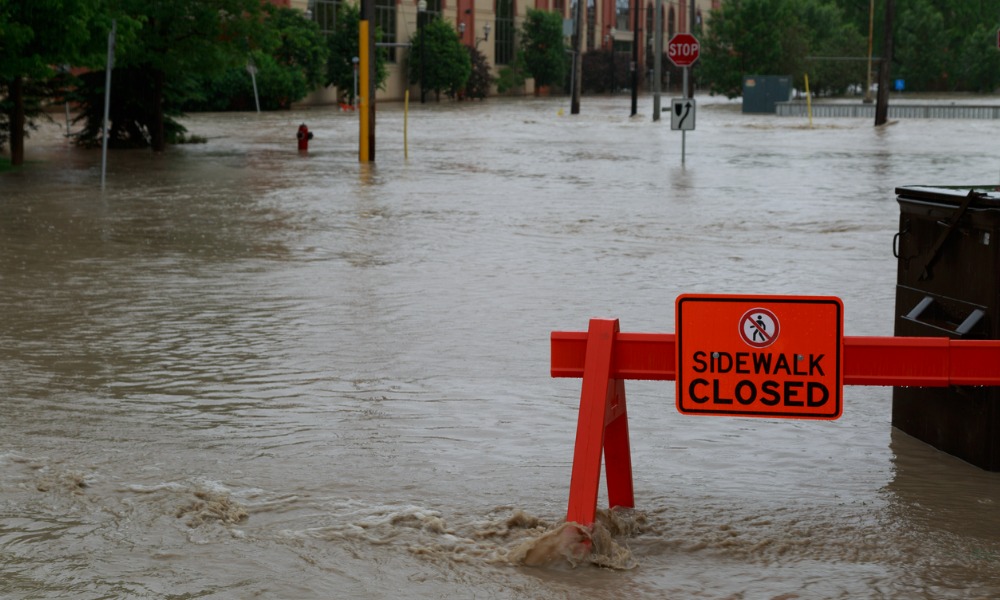 A recent government report has showed the need for Canada to develop a new, low-cost national flood insurance program aimed at protecting homeowners at high risk of flooding and without adequate insurance protection.
On August 30, Public Safety Canada (PSC) released a report entitled "Adapting to Rising Flood Risk: An Analysis of Insurance Solutions for Canada." The report came from the Task Force on Flood Insurance and Relocation, which was created by the federal government in 2020 to explore solutions for low-cost flood insurance for residents of high-risk areas and consider strategic relocation in areas at the highest risk of recurrent flooding.
According to PSC, the report provides a common understanding of the evidence and information required to implement viable arrangements for a national approach to flood insurance, with special considerations for potential strategic relocation of those at most extreme risk. It also serves as a first step towards reducing the impact of flooding, includes significant progress on flood modelling and actuarial analysis, and demonstrates climate change adaptation in action, PSC confirmed.
In particular, the report involves research on understanding Canada's risk landscape, analyzes social vulnerability in areas of high flood risk, examines models for flood insurance, and explores how relocation can help to reduce risk. The key findings of the report are as follows:
Current Flood Risk
The task force revealed that the total residential flood risk in Canada is estimated at $2.9 billion per year. Higher than the previous estimates, the amount includes the effects of "larger tail risk events" and reflects "more accurate" estimations of numerous residences and predicted damages, the task force added.
"The vast majority of risk is concentrated in a small number of the highest risk homes," the task force said. "Of the $2.9 billion, 89.3 percent is concentrated in the top 10 percent highest risk homes. 34.1 percent is concentrated in the top 1 percent of highest risk homes."
Insurance Considerations
The task force found that a "clear and standardized language" in flood insurance reduces confusion about coverage and allows for a more informed choice for homeowners.
"Making flood coverage more comprehensive and seamless through bundling of flood insurance products is likely to streamline the claim process, improving both financial and mental health outcomes post-flood," the task force said.
The task force determined that a carefully designed flood insurance solution could ensure better protection for Canadians, help to share the costs more broadly, and provide incentive for risk reduction. It also found that greater public intervention could more fully close protection gaps, "but at a cost."
Relocation Considerations
The task force found that relocation could be a "powerful risk reduction tool."
"Relocating the highest risk and repetitive loss properties removes risk rather than transferring or mitigating it and can be very impactful in improving overall viability and lowering the costs of insurance options," the task force said.
However, relocation is "highly complex" and could have "major impacts" on households and communities despite its clear risk reduction benefits, the task force found. Thus, relocation must be informed at the community level.
Equity Considerations
"Without supports for socio-economically disadvantaged groups, any program where insurance is optional will likely exacerbate their exclusion and marginalization," the task force said.
The task force suggested the need for "considerable effort" to remove barriers and support access to insurance. This includes promoting greater financial literacy around insurance, building capacity within community organizations that support housing for vulnerable populations, and ensuring that a national-level solution can adapt to regional or cultural contexts.
Finally, the task force urged that cultural connections of Indigenous peoples to water and land should be respected and recognized as "foundational" in informing how all stakeholders could approach flood risk management across Canada.
"I thank the Task Force on Flood Insurance and Relocation for their vital report, which will provide us with the insights and information we need to move forward on making flood insurance available and affordable for Canadians living in high-risk areas," said Queen's Privy Council President and Minister of Emergency Preparedness Bill Blair. "Developing a national flood insurance program is a priority for our government and we will continue working with partners to give Canadians the financial protection they need."