Background in science and technology helps her deal with complex cases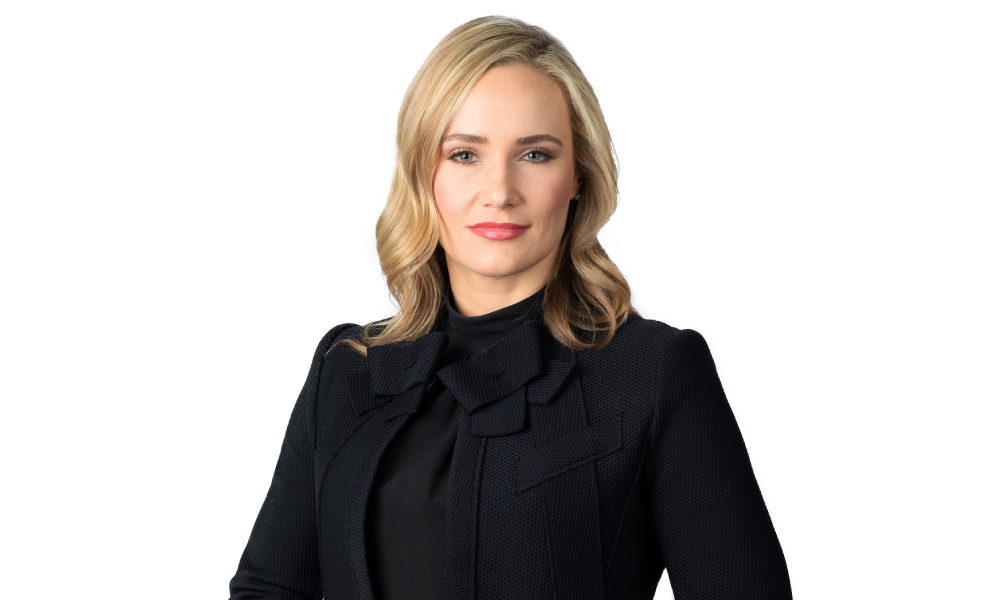 Melanie Baird, partner at Blake, Cassels & Graydon LLP, is a person who likes to keep her options open and enjoys nothing more than taking on challenges and learning new things. So, finding her niche in intellectual property law and litigation turned out to be a perfect combination, she says. Her clients would agree.
Baird says she has always been the type of person that "doesn't like to close doors," and "intellectual property law, especially IP litigation, in a strange way lets you work with different subject matter all the time." But then there's the challenge of taking the often-complex science or technical aspects of an IP case and "breaking down the elements to really figuring out what matters in the argument and what is the dispute really all about."
Growing up in a small Northern Ontario town of Bruce Mines (east of Sault St. Marie, population about 600), Baird did a combined bachelor's degree in genetics and media, information and technoculture – "sort of where hard science meets software engineering meets journalism."
After graduating, she thought about med school (she was accepted but deferred), doing a Ph.D. and becoming an academic, and law school. Law ended up ticking many boxes, she says, but then the question became what kind of law. "I tried IP law the first summer because it connected to my background, and it turned out I loved it."
Since being called to the bar in 2008, Baird has not looked back as she pursues her passion for IP litigation. And she has the accolades to prove it. She is listed in Lexpert as recommended in IP litigation and recognized in the Cannabis, Life Sciences and Technology special editions. And she's the only Canadian lawyer in both Managing Intellectual Property's Top 250 Women in IP and Benchmark Litigation's Top 50 Women in Canada.
As for the types of cases she has taken on, a small sample of her work includes:
A case representing Janssen (a division of Johnson & Johnson), the first to go to trial in Canada involving a biologic drug – an "innovator versus innovator" battle about the original branded biologic ustekinumab (Janssen brand name Stelara), a powerful monoclonal antibody that treats, among other conditions, psoriasis and Chron's disease.
Another case for Janssen, the first ever action in Canada with respect to a biosimilar, which is a copycat (generic) version of an innovator biologic. The drug in question, infliximab, (Janssen brand Remicade) is a chimeric (part human, part mouse) monoclonal antibody used to treat numerous autoimmune diseases. As the first case covering a biosimilar, it presented new challenges in terms of market entry and infringement analysis as compared to "old school" chemical generic drugs. At the time of the successful liability trial, it was the top selling drug in Canada.
Representing Genentech in its case against Amgen relating to Amgen's biosimilar for the Genentech biologic Rituxan (rituximab). Rituxan is primarily used as a cancer treatment and was at one time Genentech's largest selling drug worldwide.
Lead counsel to Facebook and Instagram in their first patent litigation cases in Canada, which related to methods for the sharing of content on social media.
In addition to taking on cases in pharma, biotech and technology, she also is involved in active IP disputes over a wide variety of innovations, including transgenic glow-in-the-dark fish and their branding, waterslides, cannabis, mine doors, apps, and construction equipment.
In a submission for Canadian Lawyer's Rising Star awards in 2020, Mike Timmons, Senior Counsel at Johnson & Johnson, wrote: "She [Baird] specializes in intellectual property litigation, one of the most legally, scientifically and technologically complex practice areas, for some of the largest and most sophisticated consumers of legal services worldwide. She is a fearless advocate, with impeccable technical skills, honed through years of working with (and against) some of Canada's best litigators. He also notes one of Baird's appeals "reversed decades of precedent by successfully changing the standard of review in the federal courts.
Baird points out that science and technology are moving at an "incredible" pace of development these days, and the importance of intellectual property is growing exponentially. "How to protect it, how to value it, these are big issues these days," she says. "It's a great time to be involved in IP law because there's so much that is new, and the speed at which things move is incredible.
Baird also likes the fact that no two cases will be exactly alike. There may be some similarities, but given the ever-changing nature of IP, there's always something new to consider, she says. And given how interconnected the world is today, branding of a product and IP protection in different markets is becoming that much more important to her clients. "How do you protect IP across borders? How do you protect it online? These are nuances that weren't necessarily there in the past."
Working with entrepreneurs, scientists and engineers at the top of their game can be exciting, Baird says, and they, in turn, appreciate her science and legal background. But litigating a case in court requires another particular skill – the ability to boil things down so that pretty much anyone – a judge, a juror, a witness can understand.
"That is probably one of the most fundamental skills to have under your belt to litigate IP cases properly," she says. Baird points out that litigation in IP is bound to grow as IP becomes more valuable and more disputes arise. One of the great opportunities and challenges for litigators will be breaking all the components of information down and explaining to make it accessible. Part of that litigation involves finding experts who know the disputed area intimately and learn how to explain that knowledge correctly in terms all can understand.
Another area of intellectual property that Baird is increasingly becoming involved in is putting a value on IP, especially in an M&A situation.
"IP is continuing to become more and more central to businesses," she says, whether it is products, methods or branding, or a combination of these factors. "It has become a key consideration in M&A transactions as well as being a constant source of litigation disputes.
A recent example of an M&A transaction Baird offers is when she was the Canadian IP lead on Nasdaq's US $2.75-billion deal to buy Verafin, an industry pioneer in anti-financial crime management solutions. This deal was Canada's largest software transaction since 2007. The technology, including a cloud-based platform to help detect, investigate, and report money laundering and financial fraud, is a crucial IP asset, Baird says.