This week's roundup for courthouses across Canada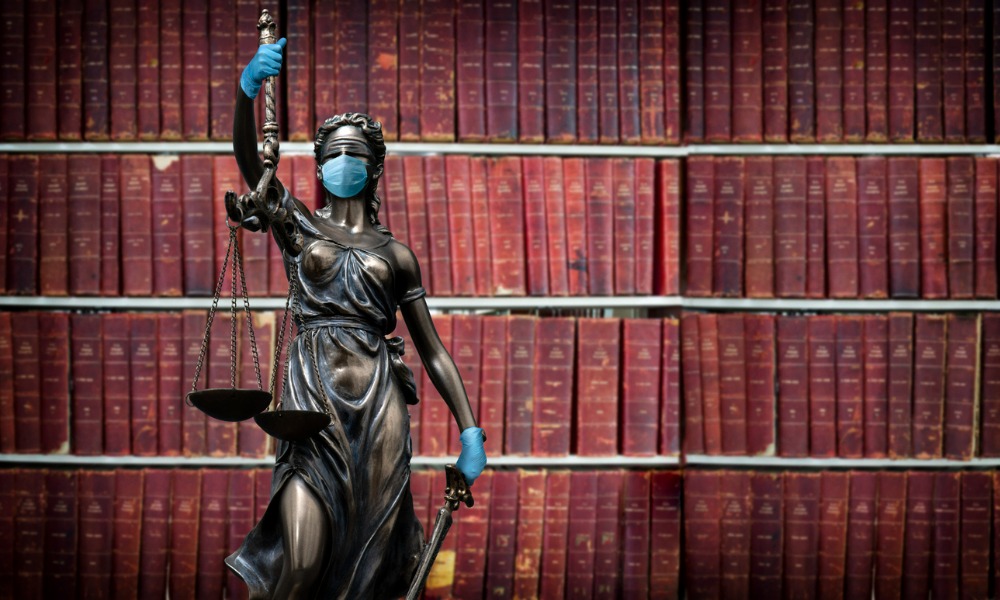 Courts across Canada have been taking measures to control the spread of COVID-19. Below is a roundup of actions that courts are taking across the country.
British Columbia
Provincial Court of British Columbia
Effective Apr. 11, 2022, the Court has rescinded NP 22 In Person Proceedings and Attendance During COVID-10: Health and Safety Protocols. As a result, it has deleted related introductory text of NP 19 Court Operations During COVID-19 and made changes to Access to Court Proceedings (ACC-1), para. 3 of CRIM 03 Daytime Judicial Authorization Applications, and NM 01 Accredited Media Access to Court Proceedings and Court Records During the COVID-19 Pandemic.
Also effective Apr. 11, those entering a courthouse no longer undergo health screening. The Court has lifted capacity limits in courthouses or in courtrooms and physical distancing requirements as of said date. Wearing face masks in courthouses is recommended but no longer required. Wearing face masks in courtrooms is optional unless the presiding judge or justice directs otherwise.
Hand sanitizers and face masks continue to be provided.
While there is no change to how court proceedings are conducted, the Court has warned that due to the large volume of cases, court proceedings are scheduled at least several months in advance of hearings.
Lifting of courthouse pandemic measures and changes to manner of attendance
Effective Apr. 11, 2022, the default manner of appearance for civil and family proceedings is in person except for regular chambers applications, which will continue by Microsoft Teams video. Long chamber hearings will proceed in person. Appendix A of COVID-19 Notice No. 42 defines "long chambers" hearings as those longer than two hours. COVID Order No. 009 dated Apr. 11, 2022 revokes previous COVID-19 Orders and authorizes regular chambers hearings to be heard by video.
For details about changes effective Apr. 11, 2022, refer to the Index and see the following notices:
Court of Appeal for British Columbia
Changes to pandemic-related measures in courthouses and courtrooms

Similar to the provincial court, the Chief Justice of British Columbia has directed changes to pandemic-related measures effective Apr. 11, 2022 outlined in the Notice Regarding Modified Court of Appeal Procedures and Access to Court Proceedings during the COVID-19 Pandemic, which replaces the like-titled Notice dated Feb. 9, 2022.
The sheriff no longer conducts a health screening for people entering a courthouse. There are no longer capacity limits or physical distancing requirements in courthouses or courtrooms. Wearing face masks in public areas of the courthouse is not required, while wearing one in a courtroom is subject to the presiding judge or registrar. Face masks, as well as hand sanitizer, are still supplied and plexiglass barriers remain in place.
Parties, counsel, and other participants may not bring their own water into the courtroom; water is supplied instead.
Ontario
Latest Announcements About Criminal Proceedings in the OCJ
The out-of-court adjournment procedures for Enhanced Designations of Counsel have been expanded to Hamilton effective Apr. 4, 2022 and Simcoe County (Barrie, Bracebridge, Collingwood, Huntsville, Midland and Orillia) effective Apr. 11, 2022. Accused persons in these locations whose counsel have filed an Enhanced Designation of Counsel may have their matters adjourned to the next court date without this being addressed in court.
Members of the media may attend court matters in person if space is available and virtually if not, in keeping with the open courts principle.