This week's roundup for courthouses across Canada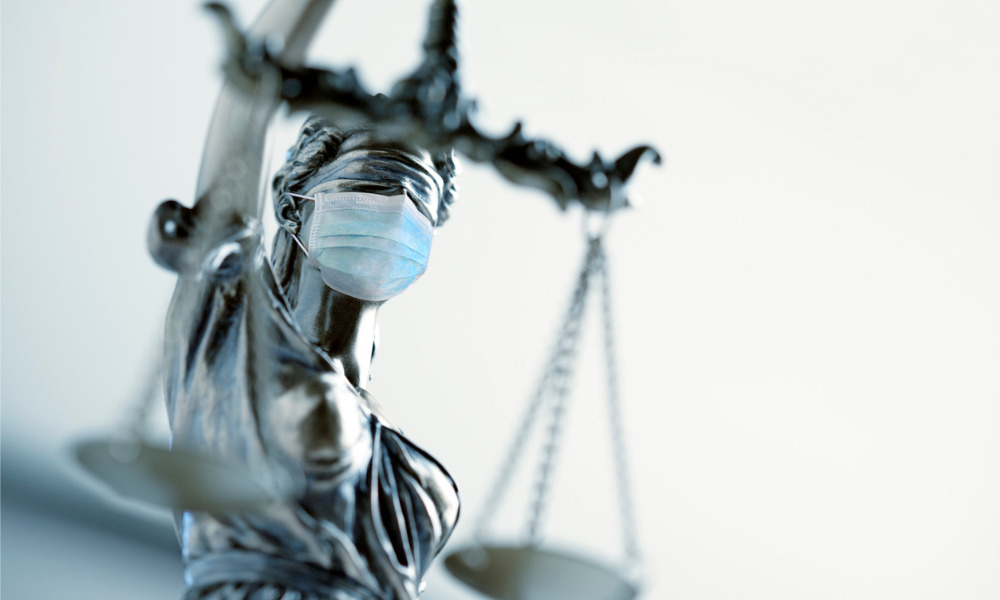 Courts across Canada have been taking measures to control the spread of COVID-19. Below is a roundup of actions that courts are taking across the country.
British Columbia
Counsel and litigants who wish to appear through videoconference must submit the Request to Appear Remotely Form at least ten business days before the appeal hearing. For chambers hearings, the Request to Appear Remotely Form must be submitted, together with the notice of motion or, in the case of a responding party, a response to the application, at least two business days before the scheduled hearing.
Alberta
Notice to the profession and public − COVID-19 − Electronic hearings extended to Mar. 25, 2022
The court will hear all appeal sittings, applications before three-judge panels and bar admissions remotely until Mar. 25. While appeal conferences, judicial dispute resolutions and single judge matters will be heard virtually until further notice.
Nova Scotia
COVID-19: Provincial Court will allow more types of in-person proceedings
Starting Feb. 14, the court will proceed with in-person trials and sentencing hearings if the presiding judge is satisfied that public health protocols are observed. All other matters will be heard virtually if there is sufficient court staff and equipment to do so. This directive applies to matters pending before the Provincial Court, Youth Justice Court, Night Court and Wellness Court Programs.
For in-person proceedings, the court will allow the presence of prosecutors, defence counsel and accused in the court unless the presiding judge directs otherwise. Whenever possible, witnesses may appear in person, but only one witness at a time will be allowed in the courtroom.
The presiding judge must be satisfied that in-person hearings are necessary for sentencing hearings.
The court will proceed with all matters involving self-represented individuals not in custody and scheduled to appear virtually. Those not in custody and set to appear in person should coordinate with the court staff to determine if their matter will be heard.
Whenever possible, the court will hear all bail hearings virtually. For contested bail hearings, judges in certain locations may require in-person attendance of local counsel.
Supreme Court returned to a safe services model on Feb. 14
Beginning Feb. 14, the court returned to a safe services model throughout the province. Counsel and parties will no longer establish that a matter is urgent or essential for the court to proceed in person.
The court may allow jury trials and in-person hearings to proceed as scheduled if they can be conducted following public health protocols.
Criminal Proceedings – bail hearings, bail review applications of accused in custody and detention reviews
Family Proceedings – requests for urgent relief relating to the safety of a child or parent, applications concerning medical decisions or wrongful removal of a child, applications to preserve property or assets, warrants under the Children, Youth and Families Act and applications under the Adult Protection Act
Other matters that a judge determines to be urgent may also be heard in person, while conferences will be heard virtually.