Retailer says order unfairly lets big-box stores, others, to remain open selling non-essential goods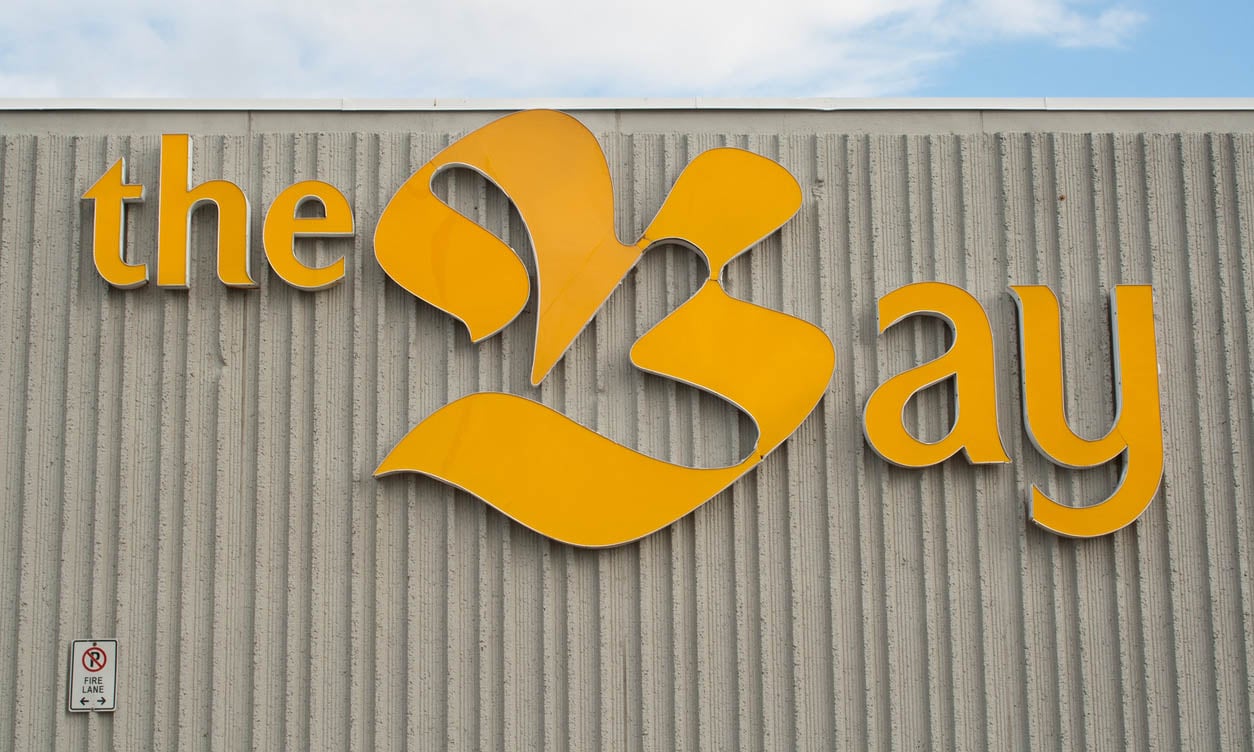 Hudson's Bay Co, forced to close its doors as large chain such as Costco, Loblaw, Canadian Tire and Wal-Mart continue to stay open during a pandemic retail lockdown, on Thursday filed for a judicial review by Ontario's Superior Court of Justice of the current regulations governing non-essential retail in Toronto and Peel.
The retailer, Canada's oldest, is asking for a declaration that the exclusion of department stores and department store-type retailers from the list of exempted retailers on a Nov. 22 lockdown order "irrational, arbitrary, and leads to results incompatible with the legislative scheme."
It is also asking for a declaration that the lockdown regulations are ultra vires. "They exclude department stores yet allow the large-scale sale of apparel and footwear, furniture, house and kitchenware, bedding and linens, small appliances, cosmetics, health and beauty products, electronics, seasonal goods, accessories, flowers, books and magazines, candy and confection, among other products, by the exempted retailers while prohibiting their sale by the applicant and other retailers."
It added that the government's health data shows retail shoppers are not contributing to COVID_19 in "any significant way."
As the alternative to the above declaration by the court, Hudson's Bay (HBC) is asking it to declare the lockdown regulations ultra vires "insofar as they permit the list of exempted retailers to offer for sale of goods entirely unrelated to essential products such as groceries, hardware, pharmaceutical products, personal care products, and safety equipment"
These are products that HBC is prohibited from selling.
The retailer also notes the first lockdown in the spring had an "immense impact" on HBC's business. "From March through May 2020, the 12 Hudson's Bay stores in the Toronto and Peel regions experienced a steep decline—up to 90%—in total sales from those same months in 2019."
The regulations give rise to the "perverse consequence" of increasing rather than limiting the risk of infections, the document says. The regulations have driven a surge of traffic to big-box retailers and hardware stores like Wal-Mart, Canadian Tire, and Costco—customers who might otherwise have gone to HBC department stores or other retailers, large and small.
"As a result, many of the big-box retailers and hardware stores that are open have experienced massive crowds with little or no adherence to physical distancing rules. The regulations have thus heightened rather than reduced the public health risks."
The HBC filing says that on the second reading of The Reopening Act in the legislature on July 14, Ontario Solicitor General Sylvia Jones said the proposed legislation would bridge the gap between necessary public health measures and those needed to support Ontario's safe economic recovery. She said the province would use "evidence-based advice from public health experts to guide it when it is safe to revoke certain emergency."
Read as a whole, and in its proper context, HBC says the Reopening Act's purpose is to allow for the safe reopening of the province through an evidence-based approach to public health risks. "The intention is to transition Ontario to recovery by ensuring that restrictions related to COVID-19 imposed on the public are justified based on scientific evidence and rationale.
"The legislature recognized that continuing restrictions must be grounded in a public health rationale that is open, transparent, logical, and medically sound. The burden on Ontario is higher now that the emergency is no longer in effect. The public health imperatives for restrictions must be demonstrated—not simply assumed or asserted."
The reality is quite different, the court document says. "The lockdown regulations have created an absurd result that bears no relationship to the statutory purpose and is causing great harm to retailers deemed non-essential and their employees and suppliers. The exempted retailers that remain open can advertise and sell a wide variety of non-essential goods that substantially overlap with HBC's and those of independent retailers, large and small."
The application adds Ontario itself has confirmed that the retail sector is not a material cause of spread for COVID-19 infections. "It is a negligible source of new infections," and department stores as a subset of retail represent a fraction of COVID-19 cases.
Since the end of October, Ontario's weekly epidemiologic summaries have been published to trace COVID-19 outbreaks on a granular level. The data confirms that retail stores, including grocery stores, account for only a small fraction of cases associated with COVID-19 outbreaks in the province—in most weeks, well under 1 per cent.
For example, the court document cited Public Health Ontario's weekly epidemiologic summary for Nov. 15-21 indicating that only 0.6 per cent of all confirmed COVID-19 cases associated with outbreaks in Ontario were related to retail settings (133 out of 24,051). As well, only per cent of all COVID-19 outbreaks in Ontario (82 out of 2,723) have been attributed to "retail" settings.
"There is simply no evidence that HBC stores are a source of COVID-19 infections," the court filing says. "The public health imperatives for restrictions must be demonstrated—not simply assumed or asserted."
Following the latest lockdown in Toronto and Peel on Nov. 22, businesses allowed to remain open included "supermarkets," "hardware stores," and "discount and big box retailers selling groceries."
Loblaw's Real Canadian Superstore remains open under this exemption yet continues to sell TVs, appliances, toys, and apparel. Costco sells groceries but continues to sell apparel, toys, home décor products, and small appliances.
Dollarama remains open, but it does not sell fresh food. It only sells some pre-packaged food items and snacks, which account for a small fraction of its floor space. Wal-Mart is permitted to be open, but it devotes significant portions of its floor space to apparel, toys, bath and linen products, cosmetics, and seasonal items.
Canadian Tire stores continue to sell appliances, seasonal goods, apparel, and other non-essential items. Mark's Work Wearhouse states that it sells scrubs, safety apparel, and personal protective equipment, but ordinary apparel, including dress shoes and fashion items, makes up most of its in-store and online offerings.
The application also points out Ontario has acknowledged that allowing so-called "essential" retailers to sell non-essential goods while other retailers deemed "non-essential" have been sidelined is unfair. Premier Doug Ford has stated, "100% it's not fair" but has defended the action on the basis that "after speaking to some of the big box stores, it'd be a logistical nightmare" to restrict those retailers to essential goods.
"These remarks are uninformed and unsubstantiated. Big box retailers regularly rotate and re-stock their shelves," the HBC filing says. "Retailers in other jurisdictions, such as Manitoba, have reorganized their stores to limit them to the sale of essentials goods. The admitted unfairness of Ontario's approach is only compounded by the unsupported justifications for its arbitrary actions."
HBC says it has attempted to engage Ontario in a dialogue about public health solutions that are less drastic than a full retail lockdown. In an open letter circulated in early December and other retailers proposed a 25% capacity limit on "non- essential" retailers. "This is consistent with the balanced, evidence-based approach taken in certain other provinces."
The court document concludes: "The effect of this is a massive transfer of customers from retailers that have been forced to close to big-box retailers like Wal-Mart, Costco, and Canadian Tire as well as pharmacies like Shoppers Drug Mart and discount stores like Dollarama—all of which continue to sell non-essential items in very large quantities. They do so at the direct expense of HBC and other retailers, large and small, that have been barred from selling their product offerings and in the absence of any public health rationale to support this differential treatment."