Rexall's VP, legal affairs discusses strategies to mitigate risks for frontline staff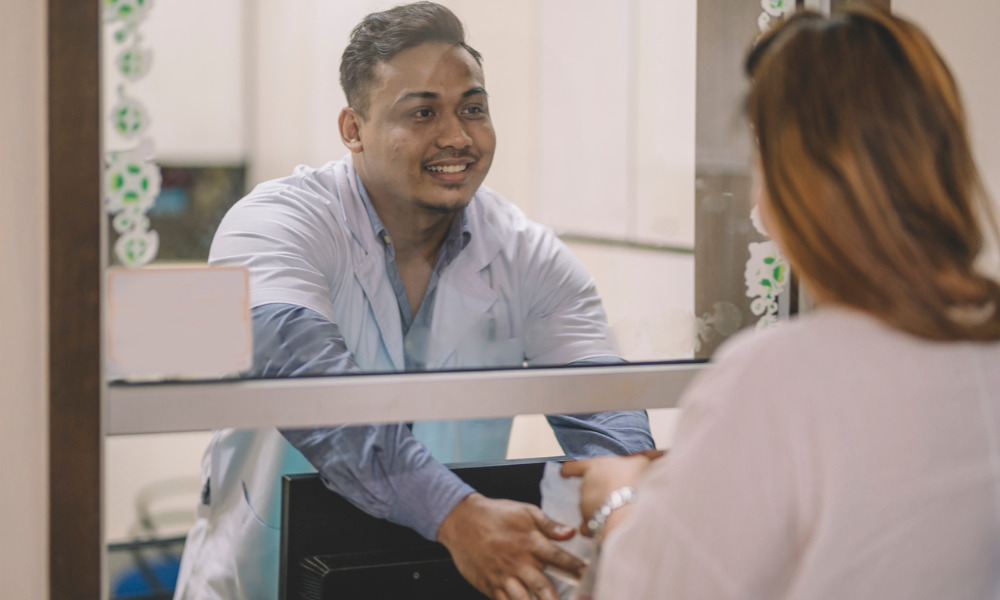 While many businesses have transitioned seamlessly to a remote working environment during the COVID-19 pandemic, some employees are unable to perform their duties at home, raising a host of legal concerns for employers. Frontline employees at essential businesses such as grocery stores and pharmacies continue to serve customers, just as many manufacturers and those involved in the supply chain of essential goods perform their regular duties. Other businesses that have been mandated to close are forced to lay off staff - at least temporarily. In fact, 500,000 Canadians were reported to have applied for employment insurance last week. Meanwhile, businesses deemed essential that are permitted to stay open are concerned with protecting employees as much as possible.
"Employers are enforcing frequent handwashing, hand sanitizing, giving masks, gloves and face shields and implementing social distancing by moving people apart as much as possible," says Kathleen Chevalier, partner in the employment and labour group at Stikeman Elliott LLP. "They are putting in quite strict requirements in terms of self-reporting so if you are feeling unwell you can't come into work, and some employers are even doing temperature checks at the door, so they have some quantitative data that allows them to make that decision."
As a provider of essential medical and pharmaceutical products, Rexall is among the few retailers in Canada that continues to open to the public during COVID-19 related closures, so strong measures are being taken to protect its 8,000 employees.
"We've had to act very quickly," says Beth Gearing, VP, legal affairs at McKesson Canada Corporation, the parent company of Rexall Health and various other health banners. "My job is to mitigate and manage legal, reputational and competitive risks for our retail businesses, so we are really on the frontlines of the crisis. We've been very responsive in developing the right policies and operating procedures in stores to ensure the safety of our employees and customers." Among the strategies in place, staff have been educated on infection control processes, and stores are being cleaned and sanitised more frequently. Signage encouraging social distancing is displayed at the front of stores. Opening hours have been condensed in an effort to give store staff more time to sanitize, rest, and take care of their health. Following recent announcements by Sobeys and Loblaw that plexiglass barriers will be installed to separate cashiers from customers, Rexall is also now working on a similar project.
"It's a high-pressure environment in terms of coming up with legal opinions and strategies to respond to the crisis, but we're staying on top of things and doing innovative partnerships to help Canadians," says Gearing. Last week, Rexall launched a partnership with Tia Health, offering a virtual medical appointment service for patients, which is covered by provincial health plans in Ontario and British Colombia but not other provinces. All Rexall employees across the country can use the service free of charge.
Many retail businesses are dealing with employees requiring time off due to illness or to care for a sick family member. If Rexall employees are asked by a health professional to self-isolate or go into quarantine during the pandemic, they will continue to receive pay for 10 working days, Gearing says. Most provinces have enforced job protection during sick leave caused by COVID-19, but the leave is usually unpaid.
"There are not a lot of requirements for paid leave being implemented by the various governments in Canada, and I'm inferring that this is because businesses are pretty extended right now," says Chevalier. "But you can now apply for EI that will cover the entire two-week period, whereas traditionally it would only have covered one of the two weeks."
As anxious shoppers stockpile essential supplies such as medicine and toilet paper, operating retailers face concerns about the pressure upon the supply chain. The Canadian Pharmacists Association is recommending a 30-day supply of medication for patients, unless clinically justified, and customers are asked to refrain from purchasing large quantities of medical supplies.
"A lot of it is unknown so we're trying to be forward-thinking and anticipate challenges as they come along," says Gearing. "It's a very fluid situation as things are evolving and developing very rapidly. The challenge I'm facing is dealing with COVID-19 crisis management on top of our regular day to day projects because we're still trying to run as a business."