While most online missteps aren't as bad as the infamous "cat lawyer," there's still a lot to keep in mind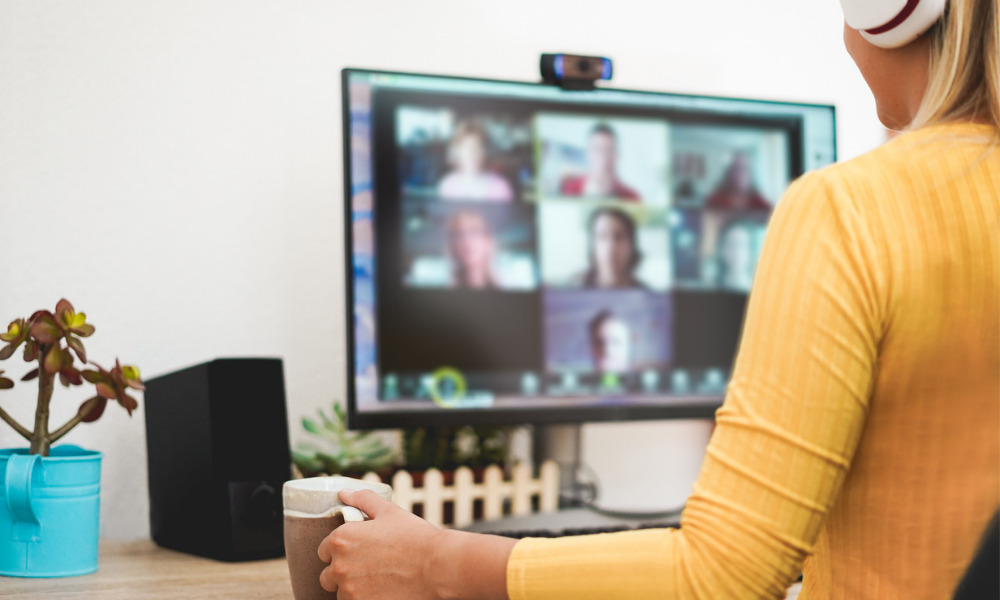 Sponsored article
We all remember the infamous "cat lawyer" — a lawyer in Texas who was unable to turn off Zoom's kitten filter during a virtual court appearance, leading to him telling the judge — and the thousands of viewers who watched the gaffe in the days to come — "I'm here live, I'm not a cat!"
While most online missteps thankfully aren't of that magnitude, there's still a lot to keep in mind when it comes to successful litigation in a digital environment, including how to avoid going viral. And although virtual courtrooms have come a long way in the past year, the risks associated with being on camera while at home have not disappeared completely. There are some common pitfalls lawyers should avoid — or risk becoming the next internet sensation.
"

Zoom bombing"/general cybersecurity risks
Zoom bombing is the term used for a new form of internet trolling, where hackers take over a Zoom call and bombard participants with any number of offensive images, videos or sounds. In response to these occurrences, Zoom has suggested a few ways to combat it, including using password protections and limiting screen-sharing abilities to help protect privacy during a call.
It's thankfully a rare occurrence, and these risks are more or less out of your control, but that said it's worth considering the measures you're taking to protect your own internet access and the rights of your peers in the courtroom. Take the time to check on what safety features you can employ, as well as make sure your cybersecurity is up to date and meeting your needs.
Keep yourself current on best practices and make sure you back up your computer — nobody wants to lose everything if something happens to their device.
Professionalism/decorum errors
It bears repeating — don't be the guy who left his cat filter on. Set yourself up early, check — and double check — your appearance and surroundings and make sure you know your technology well so you can manage any glitches that might occur.
Building on what seems to be the theme of working from home during the pandemic, despite our best intentions things can still go awry. If it's a small interruption that quickly passes — the dog runs by, your spouse calls out to you but quickly realizes you're on a call and stops — there's something to be said for letting the moment pass and calmly carrying on. A short apology and a "thanks for your patience" before continuing can also be effective for a small issue, and self-deprecating humour is also a helpful tool that can go a long way in lightening the mood.
Much depends on the individual situation: know your audience and judge accordingly where a joke versus a solemn "Apologies" might be the best option — and keep in mind that many issues can be avoided completely if you take the time to prepare beforehand. Having the right tools has never been more important, as we stand at the cusp of a fully digital legal world.
Be camera-ready
Many courts across Canada relaxed the dress code to "business attire" but it's important to remember it's still a formal proceeding — even if you are seated at your kitchen table with the breakfast dishes in your line of sight.
Wearing soft colours with little or no patterns lends a classic polished look, and it's also important to be aware of your lighting: a simple desk lamp to offset a harsh light/shadow mix from a window can go a long way.
Your background also bears thinking about. You want everybody focused on what you're saying, and not distracted by photos, memorabilia or other decor behind you. Finding a spot with a plain wall or using one of Zoom's backgrounds might be the best option.
Preparedness goes a long way
There's nothing like a "low battery" signal in the middle of an important call or Zoom appearance. Make sure your device is fully charged and remember video calls can zap power quickly. Having the device plugged in for the duration or close to a power source is key to keep you from scrambling if power is low.
Another good point is to make sure both your computer and Zoom itself are up to date. You don't want to be logging in a few minutes before a court appearance to find your computer is downloading and installing updates, or Zoom has some critical bug fixes to attend to. Try to keep ahead of these necessary "housekeeping" tasks and build that potential time into your plan for the day.
Focus
Close everything else out. There are many horror stories of people's browser tabs or autofill websites embarrassing them, or worse. Make it a practice to have no other apps running and no open browser tabs. Think about your phone — having it incessantly vibrating beside your laptop is not much better than it ringing out loud. Consider having it on silent or away from your workspace, so it can't distract you or anybody else in any way.
Make sure there's no noise in the background such as TVs or radios, even in other rooms where they can still be heard. Even things that seem safely off-camera can suddenly throw you off your game or interrupt your session. Be on the lookout for other devices, children's toys or even alarms going off in other parts of the home.
Many potential distractions can be managed by setting up a designated area for work calls, somewhere that has been thoroughly vetted and prepped so you can confidently focus on the serious issues at hand.
Manage your live-in

"

coworkers"
Speaking of cats, it's a good idea to keep your real-life versions away from the area you're working from, if at all possible. The same goes for other pets, as well as children, spouses or other people who live with you. Taking the time to explain your schedule to them, or creating a system where they know not to enter if the door is shut or there's a sign up, for example, are also good strategies.
Keep in mind that judges run their own courtrooms, so some may be more lenient when it comes to your home life interrupting — dogs barking at the door, an inopportune grocery delivery, children asking for snacks — while others are more strict. Read the Zoom room, so to speak, and do your best to conform to the expectations from session to session.
There's no denying these are unprecedented times. From witnesses to justices, we are all doing our best in a digital landscape without the benefit of those work/home boundaries. Perhaps the biggest lesson is to be prepared, and make room for things to go less than perfectly. Have compassion for yourself and others as everyone continues to navigate virtual litigation.
To see how Thomson Reuters' legal technology can help your firm, contact us for a free consultation.