Culture of the firm, calibre of its people brought him back to Toronto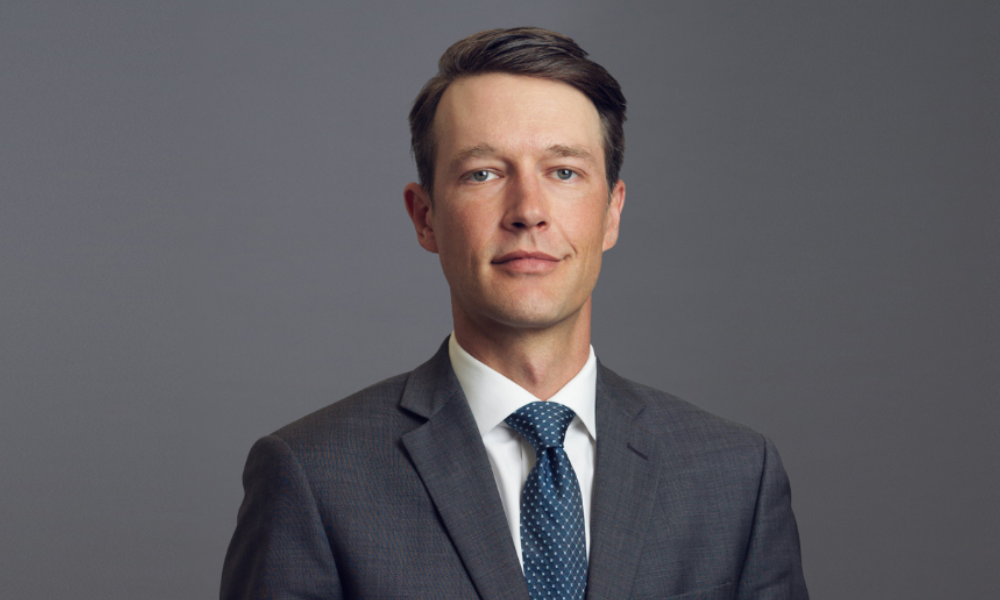 This article was produced in partnership with McLeish Orlando.
William Keele knew early on he wanted to be a litigator: on his feet, in court, fiercely advocating for his client. Informed that criminal law, family law, and personal injury law would give him early opportunity to do just that, after his first year of law school Keele decided to pursue personal injury and was hired as a summer student at McLeish Orlando LLP.
"That summer I worked on many different things – a police shooting wrongful death, a tragic products liability case where a very young girl was killed as a result of a dangerous gel candy ­– and seeing the impact McLeish Orlando was making in the lives of clients and others, I knew this was the field for me," says Keele, whose practice focuses on personal injury and fatality claims arising from motor vehicle collisions, occupiers' liability, product liability, commercial host liability, long-term disability, and wrongful death lawsuits.
"I never looked back."
After his call to the bar in 2010, Keele returned to McLeish Orlando where for the better part of a decade his skills and passion for the practice area steadily grew. He worked on the KP McNeil file, one of the largest motor vehicle judgments in Canadian history, and on the Tomec case, a LAT dispute regarding attendant care and housekeeping benefits and their interplay with catastrophic impairment, where he worked on the application for judicial review and appeals up through the appellate courts. Keele also had a decision on the production of raw data and test results from a neuropsychologist, another achievement that stands out to him during those nine years at the firm.
Keele regularly contributes to the profession as an author and speaker, a passion for which he credits Dale Orlando, Patrick Brown, and John McLeish. He learned from watching the trio "put on programs, organize programs, and speak at those programs," including conferences for the personal injury bar, and for the Oatley McLeish Guide to Motor Vehicle Litigation.
"By example, I saw that it's important to share the knowledge you've got with other personal injury lawyers who are just coming up, and learned that it's also helpful in getting your name out there and building the prominence of the brand," he notes.
In 2019, Keele made a career move and spent three years with another firm, but returned to McLeish Orlando in May. When the firm called to ask if he'd be willing to come back "it was an offer I couldn't refuse," he says, citing the culture of the firm, how it approaches its cases, and the calibre of its people as his main motivation – and returning to Toronto, a city he loves, didn't hurt either.
Keele brings back to McLeish Orlando his diligence in moving his cases forward, his laser-focus on championing the rights of his clients to ensure they get fair compensation, and a deep commitment to working cooperatively with colleagues across the table.
"I want to be known as an excellent lawyer, but also as a lawyer that's courteous, fair and reasonable" he says.
Currently, the industry is still grappling with the business disruption caused by the COVID-19 pandemic. Though everyone did an excellent job pivoting to online discoveries, mediations, and Zoom meetings, Keele says there's still a persistent backlog and "we're trying to find creative ways to move cases along as quickly as possible because we know there are potentially going to be delays in getting a pretrial date or a trial date."
Reflecting on his career so far, Keele says his favourite thing about what he does is always the look on his client's face when he confirms that he has been able to settle their case. Making that positive difference in the client's life is immensely rewarding, but it's still a stressful job. Keele stresses the importance of being able to unplug, unwind, and focus on other priorities which for him means family time: board games with his kids after work, playing catch in the back yard, or making a concerted effort to attend every one of his son's select baseball team games.
"Our clients are essentially trusting us with safeguarding the rest of their lives after they've had a serious injury. Many are never able to work again and that weighs heavy on you at times," Keele says. "You've got to be vigilant in blocking off time to do important things with your family or to just relax."
And looking ahead to the future of his career, Keele's goals are steadfast.
"My aim is to obtain the best possible results for my clients in order to make a positive difference in their lives," he says. "And to continue to build my name in this industry as a lawyer that's excellent to deal with and does a great job for his clients."
Since William's call to the bar in 2010, he has dedicated his practice exclusively to working for seriously injured clients and their families. In addition to personal injury and fatality claims arising from motor vehicle collisions, Will has a wealth of experience handling occupiers' liability, product liability, commercial host liability, long-term disability and wrongful death lawsuits. Will is passionate about helping his clients navigate the complexities of a negligence lawsuit and about maximizing their recovery.