McLeish Orlando's newest associate on tech skills, saying yes, and providing a meaningful service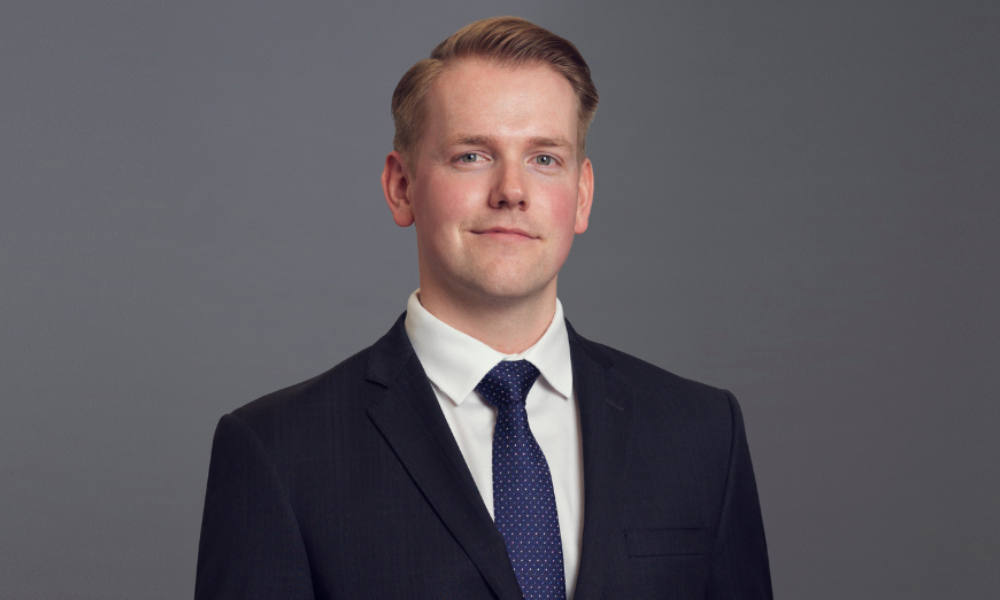 This article was produced in partnership with McLeish Orlando LLP.
Aidan Vining decided to pursue a career in the law because of his interest in problem solving and a passion for helping people. He wanted to spend his time doing something he was proud of and that made a difference in people's lives, and he saw personal injury as a unique way to combine his drive to be challenged by a variety of issues and complex problems with the reward of providing a meaningful service.
"Many of the people I get to work with are going through the most difficult period of their life," Vining, an associate at McLeish Orlando LLP since being called to the bar in June, says. "Whether recovering from their own injuries or the loss of a loved one, being able to use the tools I've developed as a lawyer to help them out is really rewarding to me."
With the COVID-19 pandemic beginning near the end of his second year of Western Law, reaching its height when he started as a summer student at McLeish Orlando, and continuing its impact throughout his articles and now into his first year as a lawyer, Vining faced "a lot of adapting and a lot of Zoom." But despite the disruption, "it forced everyone to grow in different ways and learn new skills that weren't being developed prior to the pandemic," he says, adding getting used to doing things virtually during the last bit of law school and then using those tools daily after joining McLeish Orlando – which was already running with a fully paperless system in place and remote technology ready to go – only increased his flexibility and efficiency.
The firm's approach to mentorship also addressed the loss of more organic teaching moments, with the mentality being if you're joining the firm in any capacity, you're rolling up your sleeves and getting your hands dirty immediately. While Vining is encouraged to reach out for direction, senior lawyers make it a point to include him – and other newcomers – wherever possible. For example, Vining attended an in-person jury trial during articling, a rare opportunity amidst virtual proceedings, where being involved and able to provide his thoughts and last-minute assistance "made it an invaluable learning experience – a crash course in how to conduct a trial and run a file."
Now as a junior lawyer, Vining is learning from the expertise of those ahead of him as well as bridging the gap between those more senior lawyers and partners and the current summer and articling students.
"I get to provide a less formal mentorship and it's been an interesting role to step into. I was just in their shoes and now, I'm helping some of the newer faces in the law – it's been a great transition," he says. "Everyone takes a collaborative approach, and the firm really invests in team building. It makes a better law firm and a better lawyer when you enjoy the people you work with."
What drew Vining to the firm initially was simple: "They're the best of the best, and I wanted the opportunity to work alongside an elite team of lawyers at the top of their field." But McLeish Orlando's approach to what they do, from fiercely advocating for clients to staying involved with the community – the firm is involved in various organizations like Bike Law, where they host events with Cycle Toronto, and Lids on Kids, where they hand out helmets to children – speaks directly to Vining's ultimate mission to contribute positively and do what he can to help others.
Looking ahead, Vining is recalibrating his goals since his main one – to get here – was so recently achieved, but most critical right now is "just soaking up as much experience as I can and learning as much as I can."
"Starting as a summer student, coming back to article, and then staying on as an associate, I've been building on top of each phase, working with the same group of people, and have the same mentors showing me the way," Vining says. "I'm in a great position to be exposed to many different aspects of this field. My plan is to grow by saying yes to everything, put myself in a position to help clients as best I can, and shape myself into the best lawyer I can be. That's the goal for now."
Aidan joined McLeish Orlando as a summer student in 2020 and returned to complete his articles with the firm in 2021 after earning his law degree from Western Law. Prior to law school, Aidan attended the University of Guelph where he received an Honours Bachelor of Arts degree with distinction, double majoring in Sociology and Criminal Justice/Public Policy. Following his call to the bar in June 2022, Aidan joined the firm as an Associate.