The collapse of Champlain Towers South in Florida brought these issues to the fore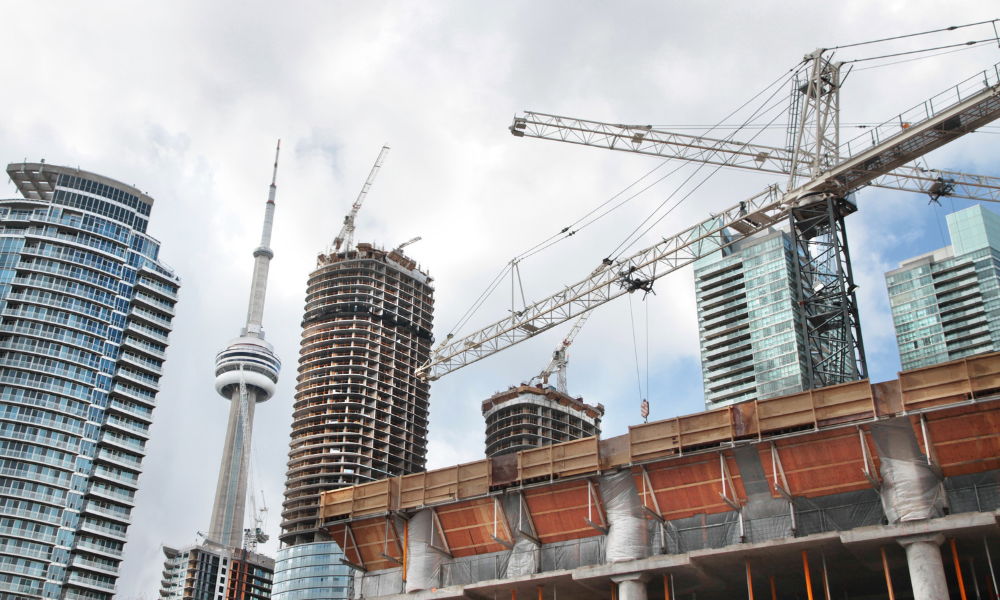 Looking at the devastation surrounding the collapse of the Champlain Towers South condo building in Surfside, Florida, it's easy to wonder if that kind of disaster could ever happen in Canada.
There is no definitive answer yet on what happened to the suburban Miami building. However, the incident revealed that deferred maintenance, construction issues, salt-related erosion and even some foundation problems created a deadly mix of circumstances that led to the collapse.
There has never been a similar tragedy in Canada — water leaks, popped-out balconies and windows that fall out are about as bad as it has gotten here so far. The Canadian Condominium Institute — which advocates for condo owners — says that among the 113,000 condominium corporations across the country, there has never been a major structural failure in a condo building.
Provincial governments (which have jurisdiction over condos) generally have stricter regulations than most of their U.S. counterparts, though some provinces have more stringent rules than others. Regular inspections are required to spot potential problems before they become catastrophic. And almost all condo buildings must put money aside in a reserve fund to pay for future repairs. Neither of those things is mandatory in Florida.
But these more rigid rules don't mean there aren't significant gaps or that condo boards have an easy time when it comes to telling their neighbours that major costly repairs are needed, which might lead to increased condo fees or even a special assessment.
"Owners, tenants and those who sit on condo boards need to take a lesson from Surfside when it comes to ensuring the structural integrity of their buildings," says Toronto-based condominium lawyer Denise Lash.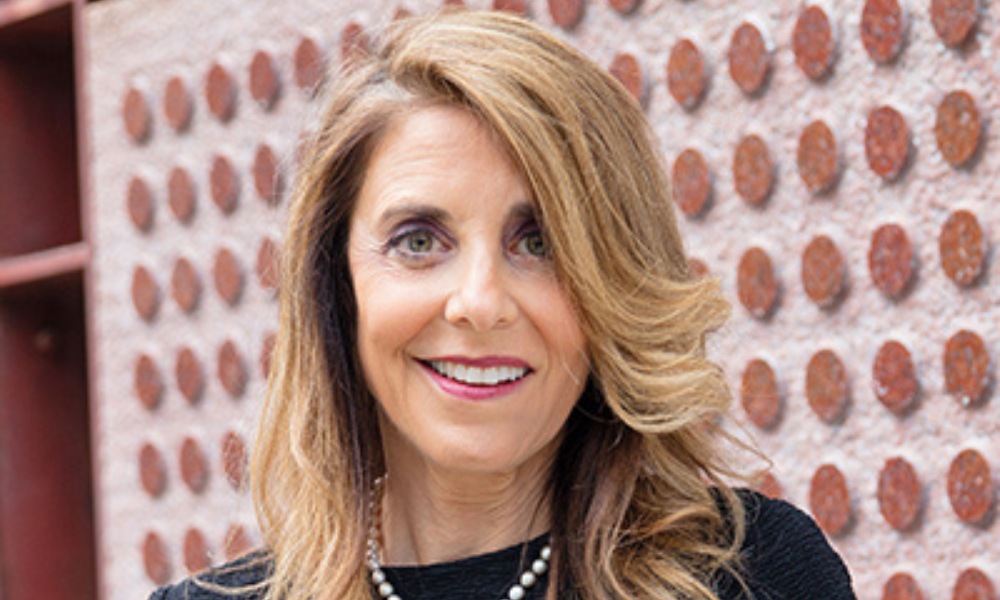 Denise Lash
She says Ontario has one of the more stringent sets of condo rules in the country. The province stipulates that boards must regularly commission reserve fund studies, which only designated professionals such as engineers can carry out. Reserve fund studies typically approximate the replacement value and lifespan of building components. But Lash notes that while these studies must be updated every three years, a physical assessment involving a site visit by an expert is necessary only once every six years.
As well, says Lash, "all the law requires is that there be a plan in place to fund the repairs." There is leeway in the act that allows the boards of directors to develop a plan that differs from the engineer's recommendations. "That is definitely one of the things that need to be changed," she says.
Lash adds that current laws also don't ensure that owners heed warnings from consultants hired to evaluate if enough money is being set aside for major repairs. The rules talk of there being "adequate" money in the reserve fund, but there is no actual definition about what is "adequate," Lash says.
In British Columbia, where condominiums are called "strata," its version of a reserve fund study is called a "depreciation report." Vancouver-based condo lawyer Jamie Bleay notes that while it's mandatory to have these reports done every three years, the report can be waived if three-quarters of the owners agree to put it off.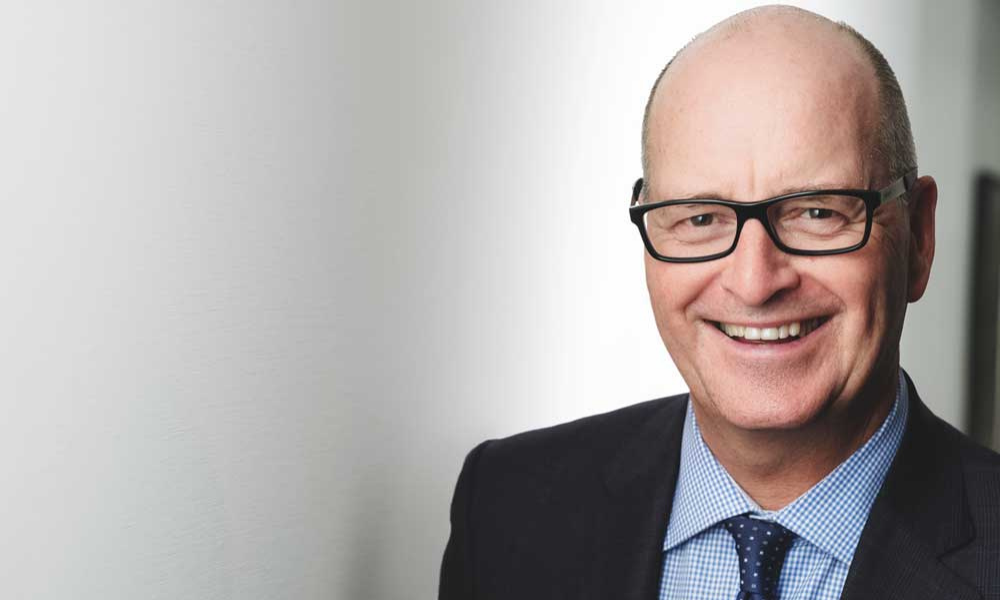 Jamie Bleay
The diversity of people who own or live in condos can be one of the biggest problems in tying the hands of a strata corporation board when it comes to depreciation studies and repairs. Of the more than million-plus people in B.C. who live in strata, you can have, for example, retired empty nesters, young people just able to find the money to pay the mortgage, and investors who own the units but may not even live in the country.
Bleay points to a case he has worked on where a strata board has tried to pass a special levy to repair the roof, which is 40 years old. "But they have a mixture of resident and non-resident owners and a few new owners who are probably stretching themselves financially," he says. There has been a vote three times, and it failed to reach the three-quarters majority needed to get the work done each time. "While the long-term interests in keeping the building maintained properly are the same, the short-term interests of the various owners can be very different."
The conflict of different views is at least part of what happened at Champlain Towers South. It was built in 1981 and only had the first assessment of its condition in 2018. It found significant structural issues that required millions of dollars in repairs.
The Champlain Towers South condo association did have a reserve fund, but after 40 years, it had less than seven per cent of the money required for the necessary repairs to the building.
While the inspecting engineers did not find signs of imminent structural failure, the necessary work was urgent. However, many residents balked at the US $9.1 million bill, refusing to approve the required work. It took three years of bitter infighting before an agreement was finally reached, and by then, the estimated cost jumped to US $15 million. Work had just begun when the building collapsed on June 24.
Some jurisdictions such as Australia have passed legislation that aims to address ageing condos — either by redeveloping, demolishing or converting older buildings based on the approval of three-quarters of the owners. Recent regulatory changes have focused on "softer" rules such as director training and dispute resolution in Canada.
There was no requirement for condos in Manitoba to even have a reserve fund study until Feb. 1, 2015. That's when new legislation came into place, giving boards three years to have one done. But Winnipeg lawyer Doug Forbes says that, so far, the majority of reserve funds he has seen are "grossly" underfunded, even with the new laws.
"If you want to buy a condo, and you're looking for one with a reserve fund that is funded to the max, you are going to have a hard time finding one," he says. Forbes says that most responsible boards are moving towards reliable funding of their reserves for significant repairs. Still, it will take time in many cases because "if you tried to fund them properly right away through increased fees, most condo owners would go bankrupt."
Alberta recently amended its laws governing condominiums, says Calgary-based lawyer Laurie Kiedrowski. In 2020, for example, the province placed more stringent rules on who is qualified to conduct reserve fund studies (for example, engineers and architects).
An earlier rule change goes back to 2018, stating that developers must specifically set aside money for reserve funds and a reserve fund study in its initial budget. Developers typically determine and set the first-year budget until an owner-represented board of directors is elected.
"Traditionally, a lot of the developers would provide budgets that didn't include monies for reserves or the reserve fund study," Kiedrowski says, which needs to be completed within two years of registration of the condominium plan in Alberta.
Furthermore, there are provisions in the legislation saying that if a developer underestimates the initial budget by more than 15 per cent, "they are obligated, under certain circumstances, to contribute to the condominium corporation to make them whole."
Adds Kiedrowski, "So now, when they market the condo, buyers are getting a more realistic picture of what their contributions are likely going to be because it includes provisions for reserves and a study."
Nova Scotia condo lawyer Devon Cassidy says that provincial regulation states a condominium with less than ten units does not need a reserve fund study. Still, it must have a reserve fund equal to a one-year operating budget. For those condos with more than ten units, an engineer must do an analysis and provide three options (a, b, and c, or as Cassidy says, "passable, nice and aspirational.")
Cassidy, who is also the president of the board for the condo she lives in, notes that owners and operators of office or rental apartment buildings have a clear financial interest in ensuring the structural integrity of their assets. But condos are directed by unpaid individuals, most of whom have no technical knowledge, and some may not even live in the building. The speculative nature of the condo market — where investor owners could be looking for top margins at the lowest costs — adds another layer of complexity.
"Sometimes I think that those who end up on condo boards don't understand what they've signed up for," Devon says. They are responsible for relatively large budgets and have a duty to work in the interests of the condominium owners. Yet, they are the neighbours of other owners who may think very differently about what needs to be done and how much needs to be spent on maintenance.
"At the end of the day, being on a board is difficult, because you're making decisions that affect peoples' homes or their investments, and everyone takes those decisions personally. And they know where you live, which adds another level of complexity to the decisions boards make."
Her advice is that condo boards rely on "good professional advice" when making important decisions so that they can live up to their fiduciary duty.
The other lawyers agree, adding their advice.
A "strong board chair is needed to keep meetings with owners moving, so you focus on the big picture," says Forbes in Winnipeg.
Adds Lash in Toronto: "Don't look for workarounds. And educate yourselves and your fellow owners. Boards don't do enough information meetings and rely too much on the annual meeting."
Kiedrowski points out that "once owners understand the need, they'll likely go with the plan. They might not like it, but they are prepared for it."
And Bleay in B.C. notes that while the laws on condos/strata are designed for consumer protection purposes, ultimately, "it is up to boards, and their owners, to protect their investments and get things done."
Percentage of households living in condominiums, 2016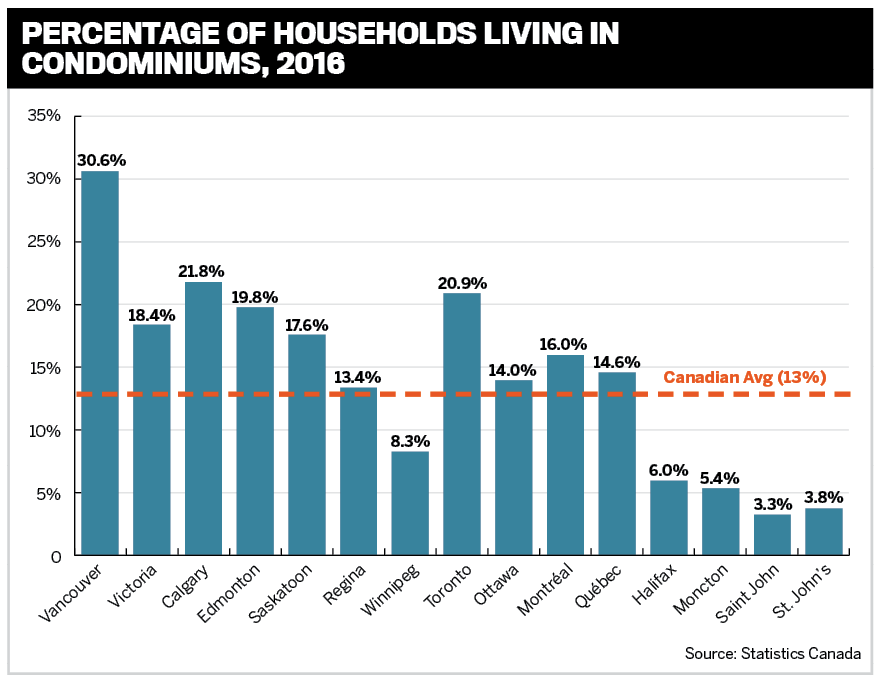 Source: Statistics Canada
Typical Condo Budget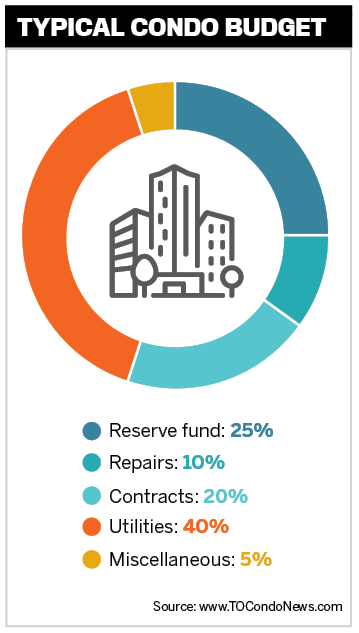 Source: www.TOCondoNews.com