Katy Pitch says taking part in 'Jewish Olympics' was like finding a 'fountain of youth'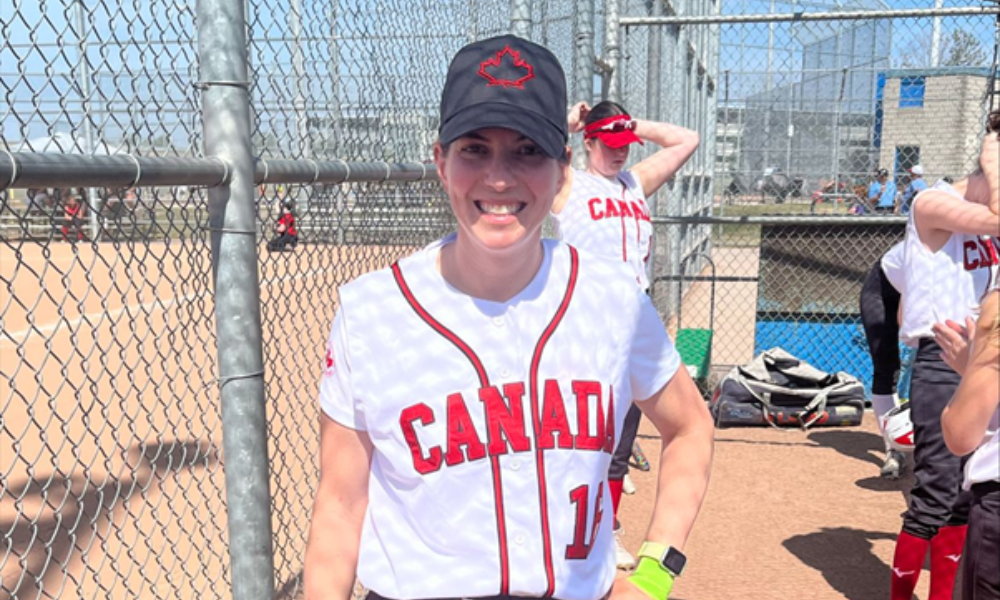 Yes, indeed, Katy Pitch does play softball. But, no, the Wildeboer Dellelce taxlawyer's specialty is not pitching.
However, Pitch's softball prowess is such that she was part of the team that represented Canada at the 21st Maccabiah Games, just wrapping up in Israel with closing ceremonies later today.
"I get asked a lot about the name," says Pitch, speaking poolside at a Tel Aviv hotel after her team ended the games with a bronze medal for their efforts. She adds the name is a shortened version of her grandparents' name when they came to North America from Russia. "It's not a common name, and I didn't change it when I got married, but I admit it's a great baseball name."
The Maccabiah Games – otherwise known as the Jewish Olympics – brings together Jewish athletes from around the world and is the world's largest Jewish athletic competition. It is the third-largest sporting event in the world, with over 10,000 athletes from 60 countries competing. About 3,000 athletes are from Israel, with the next largest contingents coming from the United States, Argentina and Canada. Even war-torn Ukraine managed to compete in the Games.
And it's been an experience she won't soon forget, says Pitch, who said many of the athletes spent a good part of their spare time trading souvenirs like t-shirts and pins with each other. "It was fascinating to see all these Jewish athletes from around the world – Cayman Islands, Cuba, Japan."
Pitch, who played left field during the tournament, became involved in the games when organizers for the Canadian contingent at the Maccabiah Games put out a call to local softball leagues looking for Jewish women who could come together to field a team. Pitch, who had played softball since high school, was part of a B'nai Brith women's league. Considered one of the better players in the league, she decided to try out, though thinking she likely wouldn't make it.
However, Pitch was chosen to represent Canada and, at over 40, is the oldest on the team. She developed a bond with her new teammates, though. "The team is made up of mostly 20-somethings, with ages from 17 to 43," she said, "but they really embraced me, and we became quite close."
Adds Pitch: "In some ways it was a bit like a fountain of youth. You wish you could bottle up this energy."
The team only met in person just before heading over to Israel. "We had emailed each other and had Zoom calls, but we didn't practice together until the day before we left, and one of the team members we didn't meet until we were at the airport," Pitch says. "So, it took a few days to get into the rhythm of playing together, but it really didn't take that long."
Before heading over, Pitch said she was worried that, with so many younger players, she would be on the bench a lot, but she was able to play and start, in every game, with the exception of the second game of a doubleheader."
"I felt like a key member of the team," she says, adding that she made several hits during her times at bat.
As for playing softball at the Games, Pitch said that the heat - often in the forties – made it challenging. "I had a hard time with the heat at the beginning. But all of us were going through the same thing, so you help each other get used to it together."
Pitch, who also plays hockey, says that she loves her day job as a tax lawyer, but playing sports is her way of decompressing. "It's my form of mental therapy," she says, adding that her firm has "always been very supportive" of her athletic past times and where they take her.
Pitch's practice focuses on all areas of domestic and cross-border corporate income tax law (both public and private), including mergers and acquisitions, corporate transactions and reorganizations, banking transactions, and the taxation of mining companies, investment and hedge funds, private equity and executive compensation.
While Covid-19 meant Pitch's family didn't attend the Games, she says that by playing sports herself, she hopes to set an example to her children - an 11-year-old girl and a 13-year-old boy - of the importance of staying healthy and fit through sports, along with the friendships that come with belonging to a team.
Pitch wonders if she would have the stamina to be a team member for the next Games to be held in 2025. Still, she says she "would definitely consider" coming back in a support capacity such as coaching.