Aiming for net zero in his law practice – and protecting a bit of forest too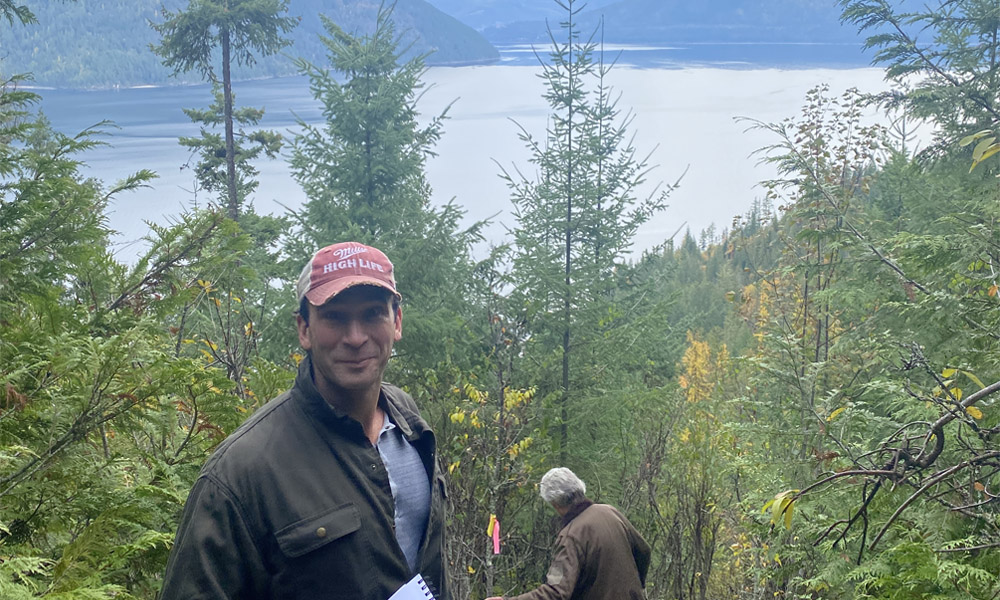 Calgary lawyer Jeff Kahane knows that if he had wanted to offset the carbon emissions created by his practice, he could easily have bought credits on the carbon credit market. But there is so much more solace for the soul, he says, in the purchase of a 15-hectare parcel of land in B.C. that he can guarantee to protect.
As well, in the process of buying his little patch of B.C. wilderness, along with other changes to his office, Kahane has been able to make his law firm carbon neutral. To prove it, he recently got a report from a professional whose job is measuring net carbon emissions.
The report Kahane received says the land "stores sufficient carbon, currently and in the future, to completely offset the office estimated emissions of 177 tCO2e (tonnes of carbon dioxide equivalent, the standard measurement) each a year." It's something of which he is proud.
"It just felt like the right thing to do," says Kahane, who doesn't see himself as a "tree hugger" in the sense of being the type to go out and stand in front of bulldozers to protect the environment. "I'm just a normal guy who really just wants everyone to play their part to the extent they can."
Kahane says that the goal of reducing or at least offsetting his carbon footprint started a few years back when he decided to replace seven furnaces in his building with ones that were more energy efficient. Then it was a change to LED lights and a concerted effort to reduce consumption of energy and office supplies, especially paper.
"And then it hit me. There's all this deforestation globally, so why don't I find some land that I can protect?" Kahane says, "you can pay for credits to do this, but there's just something beautiful about trees and nature that you can't get in the city."
Looking for the perfect piece of land
That nub of an idea led to finding a real estate agent on the lookout for a suitable spot — something that had a water source such as a stream and some older forest. He thought of looking for land in Alberta but realized prairie land wouldn't meet his carbon-neutral goal. He also was hoping to find a piece of land that was relatively far from a town or village but close enough that it faced the prospect of being developed one day, something he was hoping to prevent.
After a while in his search, his realtor phoned up, saying she found something that could be what Kahane was looking for.
And it was. It was a 15-hectare (40-acre) parcel, with two streams on it, forest, as well as an out-of-commission apple orchard that stopped producing decades ago when hit with blight. There are trees as tall as 60 feet tall and three feet wide on the property. The man he purchased the land from had bought the parcel in 1972 and "really kept in its natural state for all that time," Kahane says.
"He lived across the lake about 12 minutes away by boat, so for him it was just recreational — a place to go camping and hiking." It is located halfway between Calgary and Vancouver, off the Trans Canada Highway near a small town called Sicamous, across Shuswap Lake. It backs on to Crown land. "You could probably hike to it," he says, but the easiest way to reach the parcel is by boat.
Kahane says that once he met the seller and others in the community, he learned that one of the locals' biggest fears was that someone would purchase the land for commercial purposes, such as building a resort. (It was zoned for agriculture, hence the old apple orchard.) It is dominated by Douglas-fir and birch aged between 92 and 164 years. The land is about a four-to-five-hour drive from Calgary, an easy drive to visit, he says.
As for the cost of the land, Kahane doesn't give the exact price but says it's "less than the average cost of a condo in Calgary."
Getting to net-zero carbon
On the carbon-neutral challenge, Kahane says that, even with the most diligent attempts to reduce one's carbon footprint, it is difficult for someone living in Alberta to get to "net zero" without some offsets. That's because "you still need electricity, and the sources out here are mainly oil and coal, and there are services such as couriers that we use." You could try going all solar, he says, but that isn't always practical, especially during an Alberta winter.
In trying to figure out the carbon-offset impact of his land purchase, Kahane reached out to some government agencies to get more information. He was given the name of a certified forester knowledgeable in carbon dioxide emissions and trees, who agreed to do a carbon audit of his land.
The report he provided said the total carbon stored was 8,990 tCO2e, increasing if no changes were made.
An email accompanying the report, the forester says, "if you simply want to assert that you are keeping carbon on site in the absence of harvesting, you could claim that the carbon fraction stored in trees biomass (some 50 per cent of total forest carbon, or about 4,500 tCO2e) will continue to be stored. And this value is more than you need to offset your office emissions." The forester wrote Kahane could even increase the benefits by planting more trees, something he plans to do.
Kahane says he didn't want the audit for a tax break or any other reason. "I just wanted to know if what I was doing could make a difference."
He also knows that not everyone can do what he did. But he thinks those in the "service" professions such as lawyers can serve as role models. "The message I want to send is, we can make a huge difference if everyone tried to cut their carbon footprint even by 5 per cent or so," he says.