Anthology includes essays by 15 Indigenous and non-Indigenous academics of various disciplines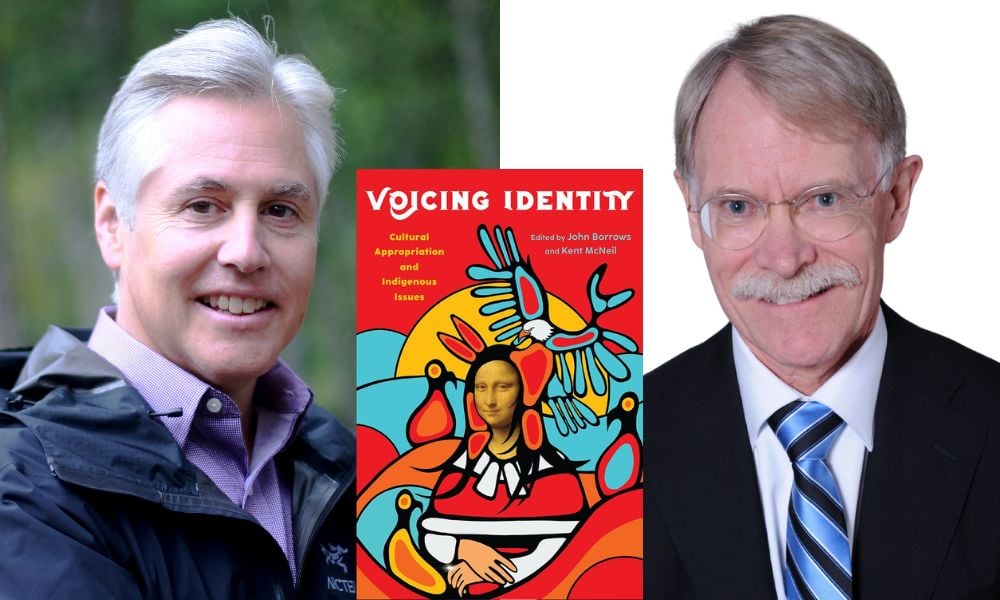 As the reconciliation process between Indigenous and non-Indigenous peoples leads the legal world into more acknowledgment and exploration of Indigenous laws, culture, customs and histories, a new book examines the dilemma of Indigenous cultural appropriation.
Voicing Identity: Cultural Appropriation and Indigenous Issues, co-edited by John Burrows and Kent McNeil, was released on Nov. 5 by University of Toronto Press. Borrows and McNeil assembled essays from 15 Indigenous and non-Indigenous academics. They come from various disciplines, including law, history, anthropology, and political science. The authors examine how to engage with Indigenous law and culture while navigating the line between representation and appreciation, and appropriation.
Voicing Identity is an academic work but Borrows and McNeil asked their collaborators to include their personal experiences.
"This book is a beautiful and fearless gift to those willing to be challenged about popular public claims regarding a range of cultural appropriation issues," says Dr. Val Napoleon, acting dean, professor, and law foundation chair of Indigenous Justice and Governance at the University of Victoria's Faculty of Law. "The Indigenous and non-Indigenous editors and contributors bring diverse opinions, they raise contradictions in the discourse, and they take the most uncomfortable positions to navigate within these tensions."
"In all, they have created a rich and contextual resource to generate critical conversations that we all need about forms of lateral violence and unproductive silencing, and our need for 'deliberate unknowing' so we have space for real learning, practical institutional change, and inclusivity."
John Borrows is a professor of law and Canada Research Chair in Indigenous Law at the University of Victoria Law School. He is from the Chippewa of the Nawash First Nation in Ontario. And Kent McNeil is an emeritus distinguished research professor at Osgoode Hall Law School at York University.
While the Canadian legal system has historically suppressed and denied Indigenous law, says McNeil, it has seen a resurgence in the last two decades. There has also been an increasing awareness of its existence in the legal community.
"There is a growing responsibility on law professors, for example, to take account of Indigenous law, integrate it into their courses," he says. As most professors were not themselves educated in Indigenous law, that can be a challenge. So is understanding what is and is not appropriate for non-Indigenous professors to teach, he says.
In the public debate around identity, the book focuses on the responsibilities professionals in various fields must ensure their work is "responsibly connected to the communities that they're interacting with," says Borrows.
"Our book is emphasizing the multiplicity of voices that can emerge within Indigenous communities, between Indigenous communities, and the broader public. And then, of course, in the broader public, there are many different perspectives as well."
"There have been controversies at different universities about who is, or is not Indigenous," he says. "These controversies are often addressed by developing a relationship with the local indigenous communities to get their feedback and their input about how to best structure that question of identity and appropriation. So, it's heartening to see that processes are developing that have reference to principles that include Indigenous law and Indigenous perspectives in helping to address these challenges."
McNeil, who is not Indigenous, had an experience which led him to think more about these issues before he and Borrows teamed up to edit the book. McNeil was publishing another book about a court case involving Indigenous rights. He wanted to use an image on the cover to "acknowledge the Indigenous presence." But his publisher rebuffed him, saying to do so would be appropriative. Ultimately, McNeil was able to sway them, arguing they were essentially excluding Indigenous artwork from a book about Indigenous people.
According to Borrows, controversy surrounding Indigenous voice and cultural appropriation has arisen in academia, the arts, clothing design, and other spheres. However, the book underlines the Truth and Reconciliation Commission's calls to action, which point to Indigenous peoples' laws in helping to answer some of these questions.
"Indigenous peoples have their own laws, and the ways to sort through when it's appropriate, or not, to do something should be referenced by those laws," he says. "By Indigenous laws, I mean the standards and principles and processes and criteria that Indigenous peoples, themselves, have used and continue to use to resolve their affairs, regulate their disputes."
"If there's more access to Indigenous people's own standards, then some of these questions could be decided on that basis."
But, through the Indian Act, Canadian law also defines who is Indigenous, says Borrows. For example, the Supreme Court of Canada sets out tests to determine who is Metis, and while the Inuit have identity provisions in their laws, they have them in their land claims agreements with the federal government as well.
"What you've got here is both Indigenous law and Canadian law attempting to define what identity is, who has identity. As a result, who has the obligation, the responsibility – sometimes, the right – to have say, control, or input over matters that affect them? The law is quite involved, both statutorily, constitutionally, and then, customarily, through Indigenous peoples' own legal systems."