Deadline is July 8 to put forward nominees from the legal profession born no earlier than 1982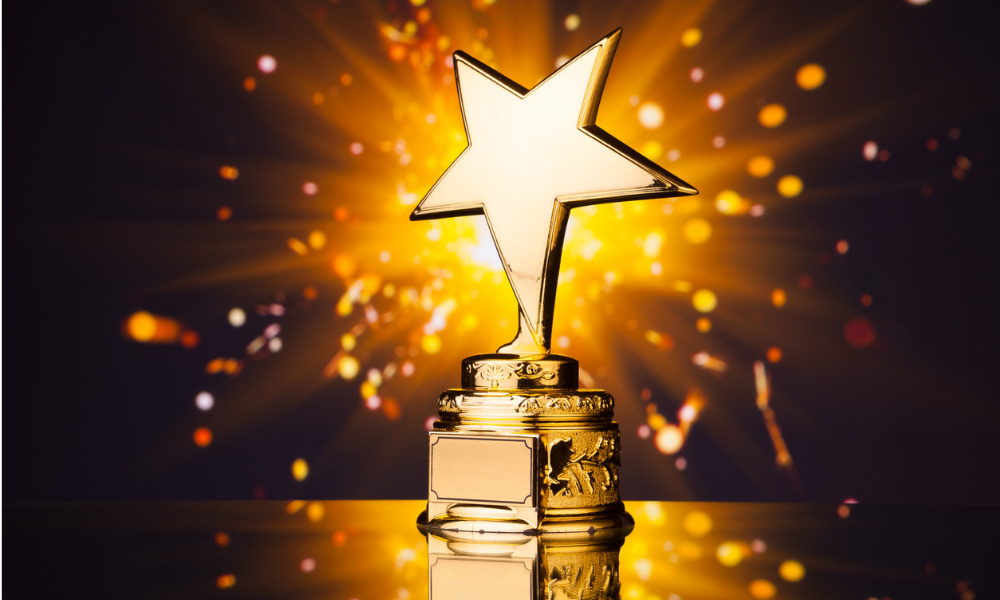 Nominations are open for the 2022 Lexpert Rising Stars: Leading Lawyers Under 40 Awards – the perfect chance to recognize the exceptional young lawyers working in law firms, in-house departments, government and academia.
Rising Stars winners are at the top of their game, representing clients in deals and cases at a notably high level of complexity.
Iris Fischer of Blake, Cassels & Graydon LLP, one of last year's winners, spoke to us at the time about a recent victory at the Supreme Court of Canada in the Sherman Estate v. Donovan case. "It's a very good day for court openness in this country," Fischer told Canadian Lawyer when the decision was released. Blakes represented the Toronto Star in its argument that the sealing orders on files were unjustified
"This award is definitely a milestone for me," said Fischer when she won last year. "But it's also a chance to thank the people who helped me get to this point. It starts with supportive family and friends, colleagues and mentors. And it also has a lot to do with the clients who trust you with their complex cases."
Sharon Singh, specializing in regulatory, governance, environmental, and Aboriginal law at Bennett Jones in Vancouver, had already worked on many complex, high-profile matters when she won. There has been a "fundamental shift in our thinking in terms of what economic reconciliation looks like, and it really does go beyond the simple benefit agreements framework," Singh told Canadian Lawyer in 2020.
In addition to the complex and high stakes work that the Rising Stars advised on, winners are often committed to giving back. They have outstanding track records of community leadership and pro bono work.
For example, since becoming a partner in 2020, past winner Melissa Miller has tirelessly worked to advocate for legal reform in long-term care facilities. She balanced a high volume of mass tort cases, many of which involved the elderly, with political advocacy work. "This is, in my opinion, an apolitical, bipartisan, moral and ethical issue, to have national standards for long-term care," she told Canadian Lawyer in a profile last year.
Many of previous winners are out-of-the-box thinkers who realized that the traditional skills that lawyers must have – being a fearless advocate and mastering the law – are not enough. Most lawyers must also have business skills, whether in private practice or in-house. For Rising Star Rahim Esmail, TELUS' lead lawyer for IT procurement, this means teaching law students about what corporate counsel do. Esmail had acted as principal to law students from the UBC's Allard School of Law as part of the Norton Rose Fulbright LLP Corporate Counsel externship. Esmail was also a regular contributor to TELUS' internal professional development sessions.
"At a high level, this award recognizes that TELUS Legal Services provides valuable opportunities that enable the success of young lawyers," Esmail said. "At a personal level, this award recognizes that I have successfully executed on those opportunities."
Many previous winners were already leaders at their firms or organization. At McCarthy Tétrault, Pavan Jawanda is highly regarded for his cross-border M&A, private equity and technology expertise. He was co-chair of the national tech M&A group and the Vancouver emerging companies committee and was extensively involved in U.S. and Asian business development initiatives at the time of his win.
"Pavan is a unique talent and leading light within his age group among lawyers in Canada. He is already a superstar in the early stages of his career," says Ted Koffman, head of business law (B.C.), at McCarthys.
Many of the in-house winners were also leaders in their organizations. Daniel Holden was senior vice president, human resources & general counsel at Nestlé Canada when he was awarded the distinction. Holden had a unique, hybrid role among in-house lawyers in Canada, simultaneously leading the legal and human resources functions for Nestlé's entire Canadian market. Nestlé Canada had 3,500 people in 20 locations across the country. To succeed, Holden advised young lawyers to focus on what they love doing. "Trying to be exceptional at something you don't enjoy is a hard road."
In a profession rightly criticized for lacking diversity in its senior ranks, the wide range of backgrounds among these previous winners has been heartening for the future.
"As a Black immigrant woman, the first person in my immediate family to attend university, and the first lawyer in my family – this award is not only an honour for myself, but also for my family," said Rising Star Sasha Hart, legal counsel at the Canadian Human Rights Commission, when she won. "It's a testament to all the support I've been fortunate to receive along my legal journey to date, including from a number of incredible mentors."
Nominees must have been born no earlier than 1982 to be eligible. The nomination deadline is July 8, 2022, at midnight EST.
The winners will be revealed and celebrated at the highly anticipated in-person gala on November 22 at the Liberty Grand, Toronto.
Learn more about the nomination process here. Winners will be notified confidentially before the event.
We look forward to receiving your nomination.