Builds up team with hires from Miller Thomson, Cassels Brock & Blackwell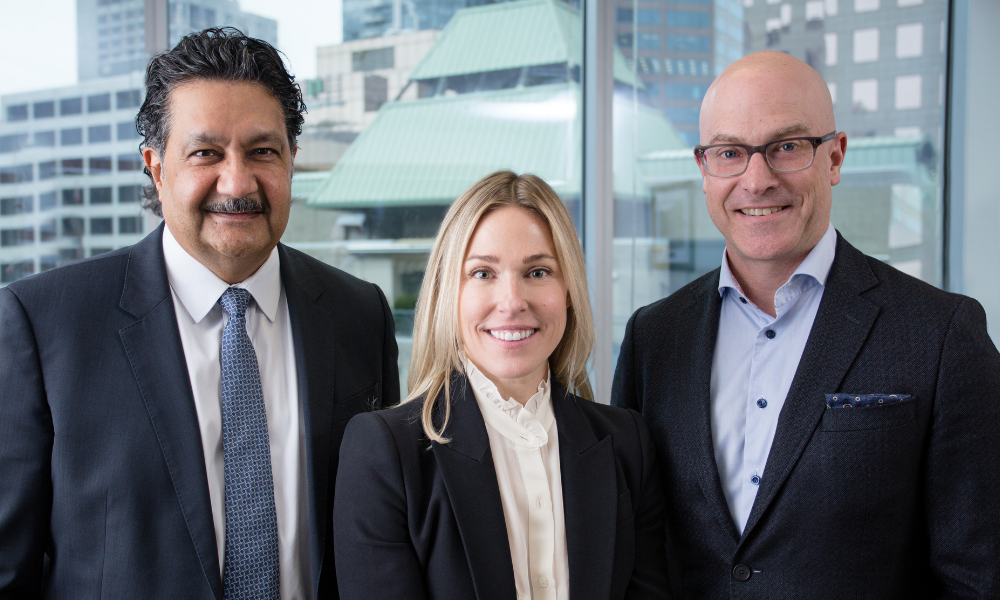 The importance and growth of mergers and acquisitions, especially cross-border transactions, are among the reasons U.S. law firm Cozen O'Connor LLP decided to increase its Canadian presence with a capital markets and securities group moving over from Miller Thomson LLP.
Cozen O'Connor announced in early March that they had opened a Vancouver office and hired Rory Godinho, Kathy Tang, Lucy Schilling, Brian Fast and Iain Mingo. These new additions follow Cozen O'Connor's hiring in June 2021 of five lawyers from Cassels Brock & Blackwell LLP, including Shane Hardy, Brigeeta Richdale, and Rebecca Sim.
Later in March, Cozen O'Connor firm announced that three other lawyers from Miller Thomson – Elizabeth Holden, Gosia Piasecka and Nicholas Krishan – have joined the firm. Cozen has now added ten lawyers to its Vancouver office, which Richdale says further bolsters its cross-border transactional and international litigation capabilities in Canada and the U.S.
Holden's background includes working with companies in the natural resource, technology, and entertainment sectors through equity offerings, private placements, bought-deal financings, public offerings, corporate financings, IPOs, and M&A transactions. Piasecka provides counsel on M&A, debt and equity offerings, regulatory compliance, startup matters, and corporate governance. Nicholas Krishan focuses his practice on regulatory compliance matters, securities transactions, commercial lending arrangements, and corporate governance.
Of the earlier hires, Tang joins as a shareholder and brings extensive transactional experience in securities, corporate finance, and corporate and commercial law. Fast works with public and private companies in negotiating and completing debt and equity financing and general commercial transactions. Schilling has almost two decades of experience in capital markets and securities and corporate law. She advises on corporate and commercial matters, securities, stock exchange requirements, continuous disclosure, corporate governance, and various securities and stock exchange-related issues. Mingo focuses on corporate law, specifically capital markets, corporate finance, mergers and acquisitions, and corporate governance.
Says Richdale: "Cozen really wants to be a full-service firm when it comes to corporate law in Canada. There's been a significant increase in cross-border transactions, and our clients want to be part of it. Toronto and Vancouver are obvious choices in our shift into full service."
She adds that a law firm increasing its resources by hiring several lawyers from another law firm at once can be a "sensitive" topic. However, the migration often allows the practitioners who know each other well to start fresh "and perhaps do a few things differently than before."
Before the recent developments, Richdale says that Cozen had already been in Canada since the mid-2000s – in Vancouver, Toronto and Montreal – but in the relatively narrow field of subrogation. "However, we saw the trends regarding transactional law and wanted to be part of it and become a full-service, cross-border firm in Canada."
Adds Godinho: "Vancouver is a city that punches above its weight in corporate transactions, so it was a natural first choice for an office expansion in Canada, with an entrepreneurial spirit that fits well with our style."
Godinho is the former managing partner of Miller Thomson's Vancouver office as well as the former co-chair of its national capital markets and securities group, with a background in advising corporate clients on matters such as initial public offerings, public and private equity and debt financings, mergers and acquisitions, reverse takeovers, qualifying transactions, corporate restructurings and reorganizations, capital alterations, and continuous disclosure requirements.
He notes that many Canadian companies seek U.S. counsel to access capital and U.S. investors and list with the U.S. stock exchanges. Clients now have access to lawyers in major U.S. cities, including New York, Chicago, San Francisco, Los Angeles, and Philadelphia, by joining Cozen O'Connor. "The idea is to make it as seamless a process as possible."
The interest also goes in the other direction, says Godinho, pointing out, "we're seeing an increasing number of U.S. companies that are interested in listing in Canada or raising funds in Canada, and maturing as public companies with a presence here."
Established in 1970, Cozen O'Connor has more than 750 lawyers who help clients manage risk and make business decisions. The firm advises clients on legal matters in all areas of the law, including litigation, corporate, and regulatory law. Representing a broad array of leading global corporations and middle-market companies, Cozen O'Connor has 31 offices across two continents.
Richdale says that strong securities and M&A practices also provide the building blocks for becoming a full-service business law firm. "The dealmaking is going to spin out business in other areas of law, such as labour and employment, tax, and regulatory practices."
Hardy, the managing partner in Cozen's Toronto office, agrees that a solid transactional practice brings other benefits. "As a transactional intellectual property lawyer, I have seen that firsthand and know how important it is to becoming a full-service national firm."
Hardy sees cross-border transactions as the driving force behind law firms in Canada, so success for a business law firm depends on "being able to provide the same types of service, or even better, than they've come to expect from Canadian firms," but with a weight of the U.S. operations behind it.
"We will do the Canadian law for sure," he says. "But we have access to partners and colleagues in the United States all within the same umbrella and the Cozen family – and that is what is going to set us apart."