Uptick in international litigation and cross-border transactions spurred hires in Toronto, Vancouver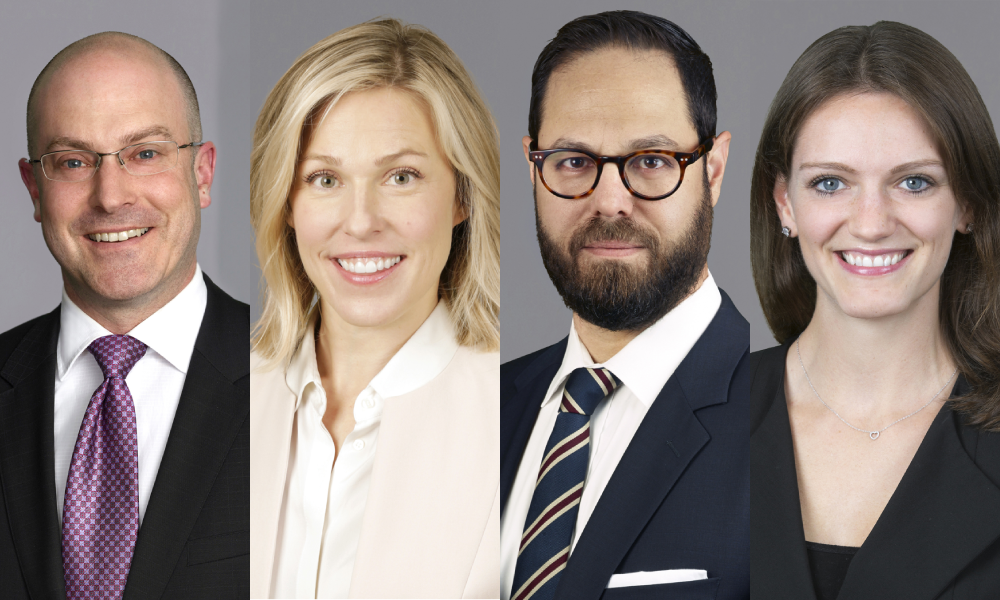 U.S.-based law firm Cozen O'Connor has expanded its presence in Canada with four new lawyers joining its Vancouver and Toronto offices this month.
The lawyers — Shane Hardy, Brigeeta Richdale, Peter Henein and Rebecca Sim — have all joined from Cassels Brock & Blackwell LLP. Hardy becomes Cozen O'Connor's chair of the Canadian Intellectual Property Practice Group, based in Toronto, and Richdale is a vice-chair of the White Collar Defence & Investigations Practice Group, in Vancouver. Henein joins the Toronto office as a member, and Sim as an associate in Vancouver.
A dramatic increase in international litigation and cross-border transactional activities spurred the hires in the Canadian offices, says Michael Heller, Cozen O'Connor's executive chairman and chief executive officer.
"Over the past 12 to 18 months, we've seen a significant uptick in both litigation and transactional activities, going north and south for our clients," Heller says, "so this seemed to be a logical time" to expand.
"In addition, we really do see — following the pandemic — an increase in commercial disputes, regulations, and new economic and environmental policies that are going to impact our clients, and so having the resources and the talent that these four lawyers bring to us, … it's a great thing for our client base."
Cozen O'Connor, a business law firm established in 1970 and headquartered in Philadelphia, opened its Toronto office in May 2005, followed by offices in Montreal and Vancouver in 2019. The firm also has an office in London, England, in addition to multiple offices across the United States including in New York, Chicago, Los Angeles and Washington, D.C.
There has been a significant increase in awareness and concerns about cybersecurity, data breaches, right of privacy, and counterfeiting in the intellectual property sphere, Heller notes. He says he expects to see increased client demand for legal services in these areas over the next three to five years.
The new Canadian hires, announced in mid-June, were part of the firm's strategic plan to continue building its international offices, Heller says. The four new lawyers were introduced to the firm through a friend of the firm, he adds, and were "exactly what we were looking for, on the white collar and the IP side."
Hardy, joining as the chair of the Canadian Intellectual Property Practice Group, brings extensive trademark practice and is recognized for his experience in both contentious proceedings and commercial transactions relating to intellectual property, according to Cozen O'Connor's news release. He was a partner in Cassels' Toronto office with an extensive trademark practice.
Richdale, as a vice-chair of the white-collar defence & investigations practice group, will focus on all aspects of enforcement actions and securities regulatory proceedings, and internal investigations. A certified fraud examiner and former prosecutor in the enforcement department at the British Columbia Securities Commission, as well as a former criminal investigator and special provincial constable, she brings risk-management advisory services and crisis response leadership to Cozen O'Connor. Richdale was a partner in the litigation group at Cassels in Vancouver, with a focus on securities litigation, regulatory matters and internal investigations.
Henein is an experienced litigator in the areas of intellectual property and entertainment litigation, as well as product liability and class actions, and frequently acts for clients in trademark, copyright, and patent disputes in the Federal Court of Canada as well as the provincial courts of Ontario and British Columbia. He had been a commercial litigator in Cassel Brock's advocacy group in Toronto, as well as product liability chair.
Sim is a corporate/commercial litigator focusing on securities litigation. She had been an articling student and later an associate in Cassel Brock's Vancouver office.