Society had asked for disbarment for failure to supervise employee accused of stealing $7.5 million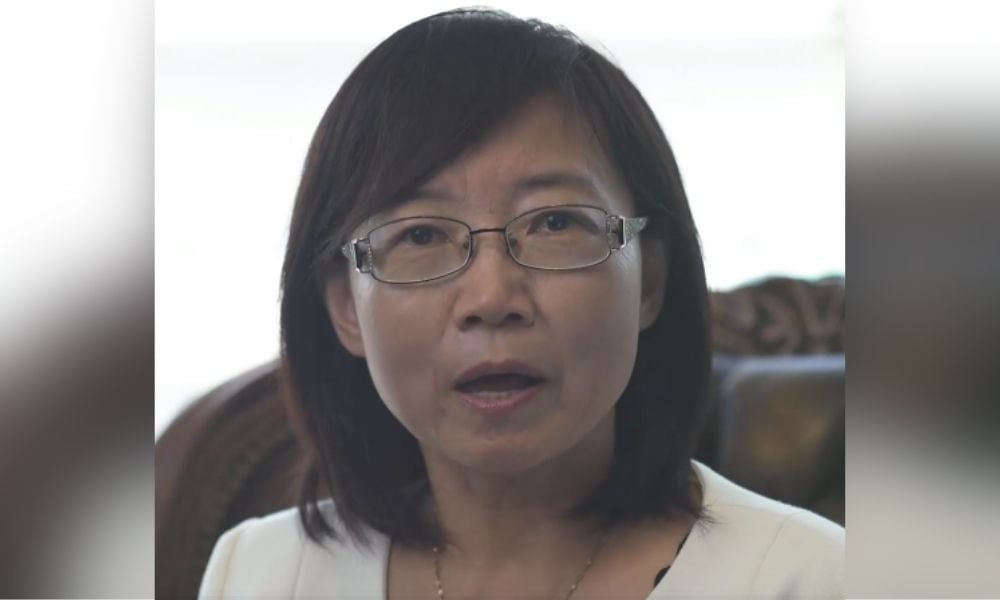 The Law Society of British Columbia has applied for a review of a tribunal decision to impose a one-year suspension on a well-known B.C. lawyer for failing to properly supervise her bookkeeper, who allegedly stole $7.5 million in trust funds and fled to China in 2016.
"Although the Law Society had sought Guo's disbarment as the appropriate disciplinary penalty for misappropriation, the hearing panel considered the misconduct to have been motivated by an intention to ensure pending transactions completed in time, and took notice that all clients were eventually indemnified," the society says in a news release issued Friday.
As a result of the request for a review, Guo's suspension has been stayed pending the outcome of the review. A date for the review board hearing has not been set and will be posted on the society's website when scheduled.
In an emailed statement, Guo said she had "begged for instructions" from the law society immediately after the theft. "I received no instructions from [the LSBC} regarding my clients' transactions, but [was advised] that LSBC insurance doesn't cover me."
"The bookkeeper...left the accounting book in a big mess. In the emergency I communicated with my clients and received their support and consent to do my best to close."
Guo added that she had a duty to her clients to close their transactions. "I did everything I could do fulfil my duty and protect my clients," she wrote. "At the end I closed all all the transactions for my clients successfully on time. Noboby suffered any loss, but I suffered great loss."
In late October, Guo was given the suspension for failing to supervise her employees, failing to comply with trust accounting rules, and leaving a series of blank signed trust cheques with her bookkeeper, which facilitated her bookkeeper's theft of $7.5 million client trust funds. She was to have started that suspension on Dec. 1.
As well, the society tribunal found Guo, who deals mainly with real estate and immigration law, had breached several undertakings and orders, which it had imposed earlier after investigating her practices.
In addition, the panel also ruled Guo, admitted to the bar in Saskatchewan Bar in 2000 and B.C. in 2009, misappropriated trust funds from some clients to replace funds missing from other clients' trust accounts needed to complete pending real estate transactions.
However, the tribunal dealing with the case said in its ruling on disciplinary action that the steps to mitigate the damage of the theft (which itself led to misconduct breaches as she moved money around) warranted a punishment less than total expulsion from the legal profession.
The panel also noted that Guo currently has no access to a trust account and is practising under the supervision of a lawyer.
"We accept that the presumptive sanction of disbarment would at first glance apply to the respondent., the tribunal wrote in its decision. "However, we agree with the respondent that exceptional circumstances exist that explain and mitigate her misconduct."
It pointed to actions by Guo that collectively amount to exceptional circumstances that mitigate against disbarment. For instance, Guo provided family funds of about $2.6 million ($1.69 million shortly after noticing the theft in April 2016, and the rest between 2017 and 2019) to help eliminate the trust shortage caused by the theft.
Also, with some exceptions, most, if not all, affected clients were eventually made whole through funds paid from the family funds and an employee defalcation insurance policy that paid out $4 million.
"To be clear, we do not condone [Guo's] actions in this case. However, for the purposes of deciding whether. . . disbarment should apply in this case, we find that the three circumstances viewed collectively amount to exceptional circumstances that explain and mitigate against an order of disbarment."
The tribunal made the point that while Guo created the circumstances that led to the theft, she was "essentially caught between a rock and a hard place," and many of her clients' pending transactions were impacted by the massive theft.
Guo deliberately manipulated her clients' trust funds to close pending transactions, the tribunal ruled. However, "we accept [Guo's] evidence that she believed that by manipulating her trust funds in the manner she did, she could minimize the global impact of the massive theft on her clients."
The tribunal also said Guo's intention of minimizing the adverse impacts on her clients was "not contrary to the public interest," although "her means of doing so by intentional misappropriation of trust funds constitutes professional misconduct."
In its argument for disbarment, the law society argued that Guo, who made a failed bid for Richmond mayor in 2018 while her case was being investigated, denied the extent of her misconduct, and attempted to downplay her role and responsibility for creating the circumstances that led to the bookkeeper's theft. Accordingly, it said, she should not be given credit for her "last minute" admissions of responsibility.
The case dates back five years when from late February to March 31, 2016, when her bookkeeper and another employee allegedly worked together to steal the $7.5 million in client funds. The two allegedly inflated the balances of the trust accounts while using the blank, signed cheques to funnel money into a separate account, according to the panel's decision. They then took bank drafts from that account, cashed them at a B.C. casino, and flew to China with the cash, the panel said.
The bank caught the final cheque when it was cashed, according to the decision, meaning the thieves got away with roughly $6.6 million.
On April 1, 2016, after returning from a holiday, Guo discovered the theft when she could not find her bookkeeper to review her monthly trust reconciliation statements. Guo told the society's disciplinary panel that her mistake "was placing trust in her employee who took advantage of her trust to commit a sophisticated scam," but that her actions didn't amount to professional misconduct.
Guo also faces other disciplinary allegations, according to the B.C. Law Society. They relate to conflict of interest in the purchase of a sawmill, a real estate development project, and a purchase of shares in a company. The allegations include that Guo improperly handled money for a company for which she was removed as a signing authority and for violating a 2019 order against practicing law when she was temporarily suspended from doing so.
The allegations in most of the cases have not been heard by a law society tribunal (the body that adjudicates disciplinary matters) and have not been proven. Of the eight cases, six were filed in 2020 and 2021.
In one of the eight cases, a hearing has been held, and Guo was found to have mishandled trust funds, where she deposited cash advances for legal services in relation to a share purchase and transfer, a marriage agreement, and several wills into her general account and not a trust account.
Guo had argued that advance payment for a "fixed-fee" legal service becomes the lawyer's property and therefore did not constitute trust money and didn't need to be deposited in a trust account. However, the tribunal disagreed.
Guo also lost a suit this summer over a disputed $740,000 renovation bill at her offices in Richmond.
She was ordered to pay $311,000 plus interest and court costs of $100,000 to IRL Construction after it was hired to carry out an extensive renovation project at her office building.