Nicholas Kasirer, a judge of the Court of Appeal of Quebec who previously served on the faculty of McGill University's law school for 20 years, is on track to be the next justice of the Supreme Court of Canada.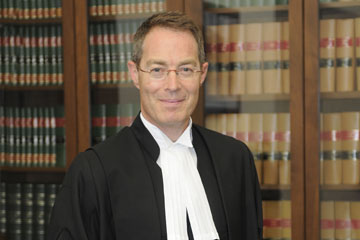 Nicholas Kasirer, a judge of the Court of Appeal of Quebec who previously served on the faculty of McGill University's law school for 20 years, is on track to be the next justice of the Supreme Court of Canada.
Prime Minister Justin Trudeau announced the nomination yesterday, which was made in order to fill the vacancy left by the retirement of Justice Clément Gascon.
"I am proud to see the seat of Justice Gascon, himself an alumnus [of McGill Law], be filled by another one of our distinguished alumni, and a former professor and dean," said McGill's Faculty of Law Dean Robert Leckey in a statement to Legal Feeds.
"Justice Kasirer will bring to his work in Ottawa a profound expertise in and passion for Quebec civil law, as well as the sensitivity to difference and openness to Canada's multiple legal traditions that have long been characteristic of the McGill Faculty of Law."
A graduate of McGill University in 1985 with a Bachelor of Civil Law and a Bachelor of Laws, following a Bachelor of Arts from the University of Toronto, Justice Kasirer received a post-graduate diploma in international law from Université Paris I (Panthéon-Sorbonne) in 1986. He went on to clerk for Justice Jean Beetz of the Supreme Court of Canada, and in 1987 he was called to the Barreau du Québec.
A professor at McGill Law from 1989 to 2009, Justice Kasirer taught in several fields, including the law of obligations, property law, family law, and wills and estates law in both civil and common law. He was also a visiting professor at several universities including the Université Paris I (Panthéon-Sorbonne).
He held the James McGill Chair from 2002 to 2009 and directed the Paul-André Crépeau Centre for Private and Comparative Law from 1996 to 2003. He has also authored over a hundred publications in fields including civil law, comparative law, and jurilinguistics, and since 1990 has been secretary and member of the editorial committee of the Private Law Dictionary / Dictionnaire de droit privé at McGill Law, as well as on the editorial committees of several other law journals.
From 2003 to 2009 Justice Kasirer served as Dean of McGill Law.
"As Nick Kasirer's colleague at McGill's Faculty of Law for the two decades he spent there as a professor, and as someone who worked closely with him when he was dean, I, like many others, have greeted his appointment to the Supreme Court of Canada with great excitement and delight," McGill Law Professor Rosalie Jukier told Legal Feeds.
"He is a genuine jurist, and while a civilian jurist at heart, he is well-versed in the common law as well. He therefore understands the independence and genius of these two legal traditions and recognizes the delicate relationship between them and the mutual inspiration one offers the other."
In 2009, Kasirer was appointed Justice of the Court of Appeal of Quebec. For the past 10 years he has rendered judgments in fields ranging from private law, to criminal law and public law, including constitutional law.
Justice Kasirer is "extremely well known in Quebec both as a jurist and a judge, [but] not outside," says Eugene Meehan, principal of Supreme Advocacy LLP in Ottawa and former executive legal officer to Chief Justice Antonio Lamer. "That's all about to change."
Meehan notes that Justice Kasirer has been referenced 20 times in Supreme Court of Canada decisions, and is cited in courts of appeal outside of Quebec twice; he also appears in 64 reported decisions with Chief Justice Wagner when they sat on the Quebec Court of Appeal together, from 2011 to 2012.
"A certain juridical familiarity with a colleague makes Justice Kasirer's transition to the top court that much easier," says Meehan. "It's like going to a new high school, when your older brother is already there."
Yesterday's announcement from the prime minister's office stated that on July 25, members of the House of Commons Standing Committee on Justice and Human Rights will participate in a special committee hearing in which the Minister of Justice and a representative of the Independent Advisory Board for Supreme Court of Canada Judicial Appointments for Quebec Seats will explain the selection process for the nomination in greater detail to Parliamentarians, and the reasons for this nomination.
Those reasons are evident to Justice Kasirer's former colleagues.
"Perfectly bilingual, extremely erudite and articulate, intellectually strong, honest and humble, he has the perfect judicial temperament and is a most judicious choice for this position on the bench of Canada's highest court," says Prof. Jukier of her one-time fellow faculty member.
"I couldn't be more delighted for him and for Quebec and Canada."