Demand for alternative dispute resolution growing in wake of Jordan. According to the lawyers at the arbitration chambers on the top 10 list who spoke to Canadian Lawyer, we're on the cusp of an alternative dispute resolution revolution.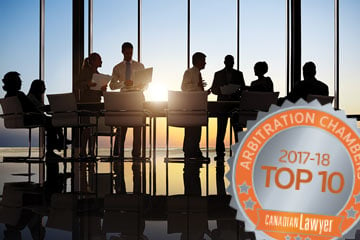 Demand for alternative dispute resolution growing in wake of Jordan.
According to the lawyers at the arbitration chambers on the top 10 list who spoke to
Canadian Lawyer
, we're on the cusp of an alternative dispute resolution revolution.
"People are about to realize they have to be a lot more creative," says Allan Stitt, owner of ADR Chambers. "I don't mean inside the box but a lot more creative."
He says he's heard about chess clock arbitrations, Redfern schedules and how discovery is moving from where you just discover anything that could possibly be relevant, and while he calls these interesting developments, he still feels they are operating within the box and failing 98 per cent of the market. He says the vast majority of disputes don't justify a full-blown arbitration process and there is an opportunity now for the arbitration community to start coming up with ways people can do arbitration in an expedited way.
"I think what's going to happen next is some lawyers are going to really try to be creative and other lawyers will have to be brought along kicking and screaming to say proportionality is going to have to become more important than due process in arbitration — and that's for me the crucial thing," Stitt says. "Once people take that step, then all bets are off. Anything goes."
Stitt says he's developed expedited rules and seen others try to use similar ones only to meet resistance. ADR Chambers has done a few cases using Stitt's rules and they've gone well, he says, but you need "really forward-thinking" lawyers on both sides. More often than not, one of them says no, but despite some pushback, he is sure this is where arbitration is headed.
Brian Casey, of Bay Street Chambers, agrees that arbitrators have to find ways to be creative in their delivery, but he warns that they also must be careful not to become slaves to a rigid procedure.
"We got into arbitration in part to avoid the sometimes overly rigorous rules of court and one thing you don't want to see is arbitrators simply developing a new set of rules that they think must be followed," he says. "Flexibility is key."
For Paul Torrie, president of Global Resolutions, the fact it's a non-regulated profession means for mediators to continue to be value added to the process, they need to "up their game on their creativity" through their effectiveness, energy and perseverance.
In line with Stitt, Torrie thinks that, going back to evolutionary process, "we reached one plateau of development and are about to launch into another."
He adds the Supreme Court of Canada's decision in
R. v. Jordan
has had the effect of essentially prioritizing criminal cases, which consequently pushes civil cases further down on the priority list.
"This means mediation becomes even more relevant and important," he says. "In the last few years, there's been a greater number of people offering mediation services and as a consequence I think there are a lot more options for counsel and their clients. I think that's very healthy and good for everybody."
Paul Iacono, founder of YorkStreet Dispute Resolution Group Inc., says all of the problems in the area of civil justice that created the need for ADR in the first place are still there — if anything, they're getting worse. Civil justice and ADR will always be joined at the hip, he says.
"What's happening now is maybe one per cent of all of the civil actions that are launched are actually getting to trial," Iacono says. "When they get to the courthouse, they take too long. So there will always be a need for ADR."
Casey agrees the demand for ADR is still high, adding the cases he deals with most vary year to year, though he's found it evenly divided between domestic and international work lately, with "a lot of work in the energy field in arbitration."
While the biggest area is still insurance and personal injury, this historical leader is losing some of its dominance, says Iacono.
"That business is shrinking because there's going to be fewer lawsuits, the threshold's higher, the deductible's higher," he says. "I think, eventually, in the area of accident benefits, that's probably going to turn into something like workers compensation."
Torrie agrees the majority of work Global Resolutions does has a negligence base to it, and he says that, for his firm, the second largest group after that is commercial matters.
The area of estates mediation is a rapidly growing area. These cases are more traditional mediation, Iacono says, noting it's becoming a huge source of litigation as "billions of dollars pass from one generation to the next and there is inevitably arguments," usually about money. They are straightforward disputes, he says.
One area that's challenging YorkStreet right now is work with First Nations, which Iacono says is groundbreaking.
"It requires what I call a 'hybrid form' of mediation," he says. "It really is a team approach because in these kinds of disputes there are so many moving parts. You need neutrals with special skills. You require someone who can bridge the cultural gap and someone who can sort through multiple layers of conflict."
He says he's been refining techniques because the mediation process is fluid.
"Going down the road we're going to be thinking about how can we refine our approach, how can we make it better? We've seen it work and now we have to take on some tougher challenges."
Another trend noted was an increased interest in ADR by younger partners and associates in litigation firms.
Though Casey says there is a higher degree of co-operation expected and he finds in some cases they still have to educate counsel on that fact, he speculates younger lawyers are more comfortable because they've taken a course in ADR, noting when he went to school there was no such thing.
"Canada is small, relatively speaking," he says. "If you can't get educated by experience, the only other way is to get educated by learning through books and courses and whatnot. I think in this country in particular education is the key."
Torrie, who has been practising ADR since the late '80s, says he's seen an evolution in mediation practice that has become a stand-alone discipline of mediation advocacy.
Most lawyers on the civil side accept their cases will most likely be argued in a mediation room than a courtroom, he says, and as a consequence the "skill package" they need is a combination of advocacy and negotiation — and there is a corresponding trend in the training of lawyers that he says is positive.
Torrie spoke to
Canadian Lawyer
from an empty classroom at Queen's University School of Law where he was waiting to speak to a class focused on mediation advocacy and skills.
"What we're seeing now are lawyers who are emerging from law schools into a practice where they're more focused on how they're going to be successful in a mediation as opposed to a trial," he says.
Osgoode Hall Law School at York University is also offering classes on ADR. Iacono spoke to students focusing on ADR early in March and told them if they decide to go into the practice of litigation it is very likely it will be 10 years or more before they get into a courtroom in front of a Superior Court judge, because of problems in civil justice. Because of the growth of ADR, on the other hand, they'll be mediating their first case within a week.
"It's a growing area in law school, and that's good — it's important," Iacono says. "It's a great procedure. For our fellow citizens, a lawsuit is a pathological experience. Arbitration is informal, relaxed, nobody bites them. It's a process that flows and you get a dispute settled in a day. What could be better?"
ADR Chambers
Toronto
adrchambers.com
ADR Chambers was founded in 1994. It is the largest private alternative dispute resolution company in the world, having administered more than 50,000 arbitrations and mediations over the last five years. ADR Chambers has more than 50 neutrals who conduct arbitrations and mediations across Canada and internationally. It has regular arbitration rules and expedited arbitration rules for faster and less expensive arbitration.
"It helps parties to reach settlement positions in an efficient manner."
"Ease of booking and reasonable fees."
Amicus
Toronto
amicuschambers.com
Amicus Chambers is a collaborative group of retired judges of the Ontario Superior Court. Extensive judicial experience leads it to independent practices that create distinctive and innovative dispute resolutions. Amicus manages complex matters efficiently and effectively through all levels of the process, from evaluative and interest-based neutral mediation to adjudicative arbitration. Its offices are located at Neesons Court Reporting in Toronto. As a collaborative group of retired judges, its services cover arbitration, mediation and complete "CASE Management" with superior bench strength.
"Excellent location with great facilities and friendly staff."
"Terrific accommodation and excellent transcripts."
Arbitration Place
Toronto
arbitrationplace.com
Arbitration Place is an arbitration centre located in the heart of Canada's financial district in downtown Toronto, with a second facility opening in Ottawa in September 2017. Featuring a roster of internationally renowned resident and member arbitrators, Arbitration Place offers an "all-encompassing approach": state-of-the-art hearing rooms, a full suite of administrative services including court reporting and transcription and an on-site commercial kitchen staffed by a team of chefs and in-house legal counsel to act as tribunal secretary. Recently ranked among the top 10 arbitration facilities in the world, Arbitration Place puts parties in the best possible place to resolve disputes. Arbitration Place also serves as a hub of Toronto's litigation and arbitration communities, and it frequently runs educational programs on domestic and international topics of interest.
"Commitment to arbitration, modern facilities, knowledge of arbitral proceedings, good selection of arbitrators, an in-house arbitral secretary, warm and helpful staff."
"The youth and zest of their panelists and their fantastic administration."
AR Group Inc.
Toronto
argroupinc.com
AR Group was formed in 2000 as a boutique arbitration and mediation firm providing dispute resolution services in the personal injury field. Its initial areas of focus included tort, accident benefits and LTD claims. When Shari Novick joined founding member Guy Jones in 2001, the firm expanded its focus to include similar services in the field of labour and employment law.
Jones and Novick have each conducted thousands of mediations, and they have also been very active in providing arbitration services, primarily between insurers.
"Experienced, efficient and capable mediators and arbitrators. Very good website with case law made available."
Bay Street Chambers
Toronto
baystreetchambers.com
Founded in 2012, Bay Street Chambers consists of senior barristers practising as arbitrators and mediators in international and domestic commercial disputes. Current active members are J. Brian Casey and Joel Richler, supported by a case manager. Former member Janet Mills has taken an appointment as an Ontario Superior Court master. Casey's 37 years' experience included a stint as head of the Baker McKenzie disputes group in North America, while Richler practised commercial litigation and arbitration for close to 40 years with Blake Cassels & Graydon LLP.
"Overall competence . . . attention to detail and spirited interaction."
"They go out of their way to support their clients."
Canadian Commercial Arbitration Centre
Montreal, Quebec City
ccac-adr.org
This non-profit organization was formed in 1986 to act as an independent manager of private, public and para-public alternative dispute resolution programs. It pairs up clients (more than 250 files opened annually) with more than 50 mediators and arbitrators, drawn from various professional backgrounds, ensuring, throughout the process, "that procedural acts, proceedings and choice of arbitrators, in view of costs and time, are proportionate to the nature and purpose of the claim and its level of complexity," according to president Michel Jeanniot.
"Seem to resolve many cases, which free up the courts. Well-run sessions."
Global Resolutions
Toronto
globalresolutions.com
Global Resolutions was founded in 1996 by Paul Torrie. Its panel consists of 12 members who specialize in mediating multi-party, multi-faceted cases in commercial, insurance and estate matters. Global has been involved in the resolution of class actions and mass torts covering land claims, business interruption, financial services, E. coli outbreaks, sexual assault and product liability. The recent additions of Christine Fotopoulos and Diane McDowell have expanded its expertise in municipal and professional liability.
"They are very fair and reasonable, and also concise in their approach."
"Professional, bright, good ethics."
Ottawa Dispute Resolution Group
Ottawa
odrg.net
Ottawa Dispute Resolution Group Inc. was founded in 2004 by James Chadwick, former Superior Court regional senior justice for the East Region, and two longtime colleagues of the Ottawa Civil Bar, Brian Parnega and Walter Langley. They were joined in 2014 by Albert Roy, former Superior Court justice for the East Region, who for 20 years presided over a wide variety of cases in both official languages. Together, the firm offers extensive judicial and civil litigation counsel experience in mediation, arbitration, settlement conferences and private trials, and individually, the members of ODRG work with all parties to resolve complex civil matters.
"Very professional and does a great job mediating."
"Efficacy and loyalty."
Vancouver Arbitration Chambers
Vancouver
vancouverchambers.com *
Vancouver Arbitration Chambers provides office facilities and a full range of support services for leading independent arbitrators and mediators. Resident neutrals occupy individually leased offices in a suite in Vancouver's downtown business district. VAC presently is the base of operations for independent resident neutrals — Henri Alvarez, Gerald W. Ghikas and William Everett, all three of whom were formerly partners at leading Canadian law firms. Alvarez serves as arbitrator of international disputes — including investor-state proceedings — while Ghikas serves as arbitrator of both international and domestic disputes. Everett has a domestic arbitration and mediation practice and also has been appointed a commissioner of the British Columbia Utilities Commission and member of the British Columbia Property Assessment Appeal Board. VAC is operated by Charest Court Reporting Services, which also owns and operates Vancouver Centre for Dispute Resolution in conjunction with VAC.
"Both Gerry Ghikas and Henri Alvarez are best in class in Canada (not just Vancouver) and between them have an incredible breadth of experience."
"The mediators and arbitrators they have are excellent."
* This website is currently being rebuilt
YorkStreet Dispute Resolution Group Inc.
Toronto
yorkstreet.ca
Paul Iacono founded the YorkStreet group in 2003. Recently expanding to serve southwest Ontario, YorkStreet now consists of 18 expert panellists who cover dispute resolution in all practice areas. They are a diverse group, experienced and ADR trained, including former Ontario Superior Court justice Harvey Spiegel, former Ontario attorney general Charles Harnick and former Grand Council chief John Beaucage, insurance executives, legal professionals and chartered accountants. Their expertise covers insurance law, municipal, life/health, First Nations, IT, estates, forensic accounting, construction, commercial and employment.
"Excellent arbitrators. . . . they take the time to listen and support settlement decisions."
"Excellent experience, provide expedient resolutions in various areas of litigation and are well respected in their industry."