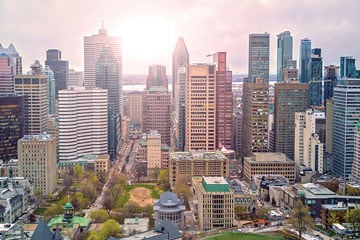 La metropole is experiencing a renaissance and many lawyers are benefitting.

Montreal has long been Canada's capital of chic and cool. But high unemployment, crumbling infrastructures and front-page corruption cases have in recent years tarnished the city's image as a world-class place to live, work and do business.

But suddenly, with little fanfare, Montreal has bid adieu to the bad times. One indicator is the city's jobless rate. It fell to 7.3 per cent in 2016, the lowest level since Statistics Canada started tracking numbers in 1987.

Similarly, more than one million people were working in la métropole in December, an all-time employment high in the city's 375-year history.

Economists credit a perfect storm of factors for the sudden turnaround. They include a low dollar, affordable housing and a slew of major publicity campaigns and public works projects tied to Montreal's milestone birthday celebrations this year.

The result has been upswings in public confidence, private investment and demand for the services of lawyers and other white-collar professionals in several sectors, including manufacturing, finance, technologies, culture and construction.

"There is clearly a buzz in the city that is being driven by all kinds of things," said Karl Tabbakh, managing partner of McCarthy Tétrault LLP's operations in Quebec, which revolve around the 140 lawyers who work in the firm's flagship office in downtown Montreal, next to the Bell Centre.

In addition to the positive attitude and decisive actions of Montreal Mayor Denis Coderre, which he says have helped city residents "turn the page" on the widespread corruption at city hall that was exposed by the Charbonneau Commission of Inquiry on the Awarding and Management of Public Contracts in the Construction Industry, Tabbakh says the many major infrastructure projects going on across the city have electrified entrepreneurs.

"There is an energy among them, and we feel it," said Tabbakh. "The city skyline is filled with highrises and cranes. That's a good barometer of the economic activity. And it's not just construction. We're very bullish on Montreal and the Quebec economy as a whole.

"We're very optimistic," he adds. "Things have been going very well since 2016, which was an excellent year for the firm. And 2017 has started exceptionally well, and the firm is extremely busy. Montreal is a great place to be in 2017. It's more promising than ever."

Carolena Gordon, a partner in Clyde & Co's Montreal office, has a front-row view of all the action from her office on the 17th-floor of a highrise that overlooks the city centre and the McGill University campus.

"The downtown is alive and full of energy," says Gordon. "Looking out my window, I can see three cranes working right now. There are many P3 infrastructure projects and condo projects going on. It's driving work for a lot of lawyers."

A commercially minded problem solver with extensive experience in both litigation and dispute resolution in complex cases, Gordon says Montreal's building boom is notably driving her firm's professional liability practice "both here and on the international platform."
She adds that Montreal's flourishing life sciences sector is also driving demand for a whole slate of legal services involving trademarks, intellectual property, employment and labour law.

Gordon believes the city's current hot economic climate has also been stoked by a clearer vision of political and corporate governance in Quebec as a result of the Charbonneau Commission.

"I think it served as a wake-up call," says Gordon. "It made people realize that the old ways of doing things are no longer acceptable. I think that's had a big impact on the confidence of investors."

For his part, Jean-François Gagnon, chief executive officer of Langlois lawyers LLP, is equally upbeat about Montreal's economic performance of late.
"Things are extremely dynamic right now and will remain like that for many years to come," says Gagnon, who moved to Montreal from Quebec City in 2006 when his firmmerged with Langlois.

He notably credits the city's burgeoning construction industry for driving demand for construction law services.

In addition to condo and other residential projects, he pointed to several multi-billion-dollar projects, including the building of the McGill and Université de Montréal mega hospitals and the construction of the new Champlain Bridge.

He called the latter "a veritable benediction for many law firms" in everything from contract writing, litigation and arbitration to negotiations and even expropriations.

Like Montreal's skyline, Gagnon says the city's legal landscape is also undergoing a renaissance of sorts these days.

"The legal scene in Montreal is extremely effervescent and dynamic, but it is also changing," he says.

Unlike a generation ago, when a dozen national and big regional firms ensconced in marble- and leather-laden offices that occupied several floors of downtown highrises monopolized big transactions and litigation, Gagnon says the Montreal legal market has become far less stratified.

"Big national firms are less adapted for the Quebec market, which is less sophisticated than other big Canadian cities, though that is changing," says Gagnon.

He says the political- and economic-inspired departures of several large company headquarters have resulted in fewer large commercial transactions taking place in la Métropole.

"That impacts on the positioning and competitiveness of big firms that charge $600 an hour compared to a regional firm like ours that charges $400 for the same services," says Gagnon.
"We're seeing the rise of boutiques that are small and agile yet high quality with competitive services. Big firms no longer have a monopoly on big contracts and skills."

The result, says Gagnon, is a readjustment that is resulting in a more competitive landscape among lawyers in Montreal.

"Big firms will feel the fee pressures from their higher rates and costs and more competition from smaller firms, and the smaller firms will become bigger and recruit away from the big firms," says Gagnon. "That's our plan anyway.

"We're living the best period of our existence right now," he adds. "We're positioned as an alternative to big firms at a lesser price with the best lawyers who want to work and live in a great city."

Benjamin David Gross, a partner with Lavery Lawyers, the largest regional law firm in Quebec, has an equally sunny forecast for Montreal's legal climate.

"I'm definitely seeing a very positive business environment," says Gross, who hails from Montreal and heads up Lavery's infrastructure team, which recently added a strategic financial advisor. "The numbers we're bringing in are better and better. We're not getting just a larger share of the market; big contracts are coming our way."

In addition to being involved in many of the big construction jobs going around the city, including the super hospitals, the Champlain Bridge and the new Radio-Canada building, century-old Lavery is well positioned to compete on its home turf for all manner of business law work against both national and international firms, says Gross.

"We have offices in every major centre across Quebec," says Gross, noting that the firm, with its 200 lawyers (50 of whom joined from Heenan Blaikie after the once-prominent national firm folded in 2014), is running "neck and neck" with Norton Rose Fulbright LLP as the biggest law firm in la belle province.

"It gives us a leg up on the competition," says Gross. "We are also nimble and quicker to turn around. Our rates are also highly competitive. We can offer 20 per cent to 40 per cent discounts for some services, depending on who is on the other side."

Gross also praises both the quality of lawyers and the practice of law in Montreal, a highly multicultural city with a dynamic cultural life, great restaurants, world-class museums, five universities and a relatively low crime rate.

"Like probably every other lawyer in this office, I have two law degrees and I'm bilingual," says Gross. "We operate in two different legal systems that work hand in hand here, trying to harmonize. I can and do work on deals with pieces all over the world, and because of the situation here, I get a feel for law elsewhere.

"There is certain professionalism among lawyers, a real polish that is very nice and is unique, I think, to Montreal," adds Gross. "And there is congeniality. There are maybe 30 top lawyers in the city, and they have lunches and dinners to hammer out deals much the way bankers and litigators do. Montreal is that kind of a place."

For Simon Tremblay, the outgoing president of the Montreal bar and a litigation lawyer who became a celebrity across Quebec for his role as assistant counsel in the Charbonneau Commission, the corporate legal scene in Montreal is undergoing a transformation.

"Billable hours and hourly rates are becoming flat rates," says Tremblay, who now leads the legal department in the city of Laval just north of Montreal. "We're also seeing more limited-scope mandates, depending on the issue."

There is also "a lot internalization," adds Tremblay, who has been on a lawyer-hiring spree over the past year in an effort to develop Laval's in-house legal capacities. "Some insurance companies in Montreal have some of the biggest litigation departments in the city."

For McCarthy Tétrault's Tabbakh, the increased competitiveness of the Montreal market is also resulting in a segmenting among top-tier firms, which he puts in three buckets: elite firms with high-stakes mergers and acquisitions and big litigation; groups of firms joining international firms to become full-service business law firms; and boutique firms that specialize in specific areas. "If you're not in one of those you will not be able to attract the same talent to succeed in the market and offer services to your client," he says.

Other challenges also cloud Montreal's otherwise sunny legal skies.

One is restricted access to justice, which hinders Montreal firms' efforts to deliver streamlined services that respond to client requests for combined costs and quicker responses.

"We need more Superior Court justices," says Gordon. "We have a very busy courthouse. This morning there were about 100 cases on the roll, and just as many lawyers in the holding room for motions. You can go in the morning and not come out until 3 p.m. That's not good for clients who have to pay lawyers to sit around all day."

She praises a spate of recent measures meant to speed up proceedings in both civil and criminal trials in Quebec.

A major reform is the new Quebec Civil Code of Procedures. Introduced on Jan. 1, 2016, it makes the search for settlements through alternative dispute resolution mechanics an obligation on judges, who are in turn pushing litigants to reach settlements and avoid trials.

Widely praised as a major improvement in access to justice, the change has nonetheless hurt small litigation and general business law firms in Montreal, like elsewhere in Quebec.

"Business has not been so good in the last five or six years," says François Richard, one of three lawyers in Videira Richard Avocats, a small firm in downtown Montreal. "It was better 10 years ago. We seem to be in the bottom of a cycle."

According to Richard, the new Civil Code of Procedures has given rise to a new way of doing things that is hitting his bottom line hard.

"We're still getting the same number of cases, but they involve fewer hours and less fees," he says. "That's why I took a business and civil meditation course and got a certificate in ADR. You have to adapt to remain relevant. Hopefully, things will pick up for us going forward."