Law firms and lawyers are deeply rooted in Canada's only officially bilingual province.
Law firms and lawyers are deeply rooted in Canada's only officially bilingual province.
There are 15 counties in New Brunswick that span roughly 73,000 square kilometres and are home to approximately 747,000 people. The dimensions and the demographics, however, belie another numerical reality.
At its heart, Canada's eighth smallest and eighth most populous province comprises four distinct centres. There are the three main cities — Saint John (not St. John's, please), Fredericton and Moncton — that jostle for prominence, status and market share. Then there is northern New Brunswick. This is Acadian country, and French-speaking communities predominate, closer in many ways to the Quebec border the region shares than to the rest of New Brunswick. Across the province, towns and villages, as opposed to cities, dominate the landscape.
The four distinct areas are also home to four distinct legal communities and four distinct markets, says Marc-Antoine Chiasson, partner with McInnes Cooper in Moncton, New Brunswick's largest and hippest city. "We do have cultural differences between the different markets."
Those distinctions, he adds, have less to do with the French/English duality of Canada's only official bilingual province and more to do with actual geography. "Lawyers from the three big centres do service clients outside the cities. We're not tied in to our own geographical area, but the nature of those areas is different — and it can be subtle."
Interactions between lawyers shift with the geography as do legal processes and approaches. For example, notes Chiasson, there are differences between clerks' offices.
Acknowledging and respecting those subtleties is second nature to lawyers who have been practising in the province for even a short time. That is linked in large part to the smaller size of the province. "As a result, the bar is more intimate," says George Cooper, managing partner with Cox & Palmer in Moncton.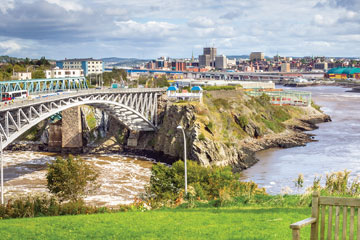 That intimacy can make for better lawyering — and it can chafe. Chris Stewart, managing partner with Stewart McKelvey in Moncton, says the legal community is simultaneously a "bit old school" and a "close-knit community."
"We're typically traditional Maritimes where a lot of us know a lot of us. I know the names of the kids of lawyers I practise 'against.'"
There's an upside to that familiarity, he notes. "When you practise with people you know, you develop a level of respect and community that keeps things rolling smoothly for our clients."
Indeed, collegiality defines the bar in New Brunswick perhaps more deeply and broadly than in other jurisdictions. "You always have your battles and your disputes, but for the most part, there is a high respect for each other," says Chiasson, whose practice focuses on commercial, construction and insurance litigation.
Dawn Wilcox, an associate with McMath Law in Fredericton, believes that respect is both multifaceted and genuine. "The legal community in New Brunswick is made up of professionals that care not only about the justice system but about their clients and their colleagues," she says. "Practitioners here remain committed to the ideals they were taught in law school."
Wilcox points to the support established lawyers readily provide junior colleagues as an example of that collegiality in practice. "I remember being told during our bar admission course not to be afraid to ask for help from more senior practitioners, even outside our own firms," she says. Although Wilcox felt this would be an imposition and hesitated to ask for assistance, she quickly discovered the recommendation was on point. "I've never been met with anything but helpful advice, enthusiastic support and direction to 'Reach out any time.'"
There are two other significant elements to the practice of law here that further distinguish the legal community from many others across Canada. As Canada's only bilingual province, New Brunswick has a legal as well as a cultural commitment to conducting life and business in both official languages. Slightly more than one-third of the province's population is bilingual, the highest rate after Quebec.
Stewart — the only lawyer in his office who does not speak in both French and English — notes that while bilingualism is not a requirement for working in the province's legal community, it has been more than a decade since his firm has hired a lawyer who isn't functionally bilingual. "It's not two solitudes. We have files that are in both languages simultaneously."
Chiasson, a francophone, notes that the bilingual nature of work and life in New Brunswick adds an extra and welcome dimension. "There is a vibrancy in the province because of the duality," he says. "There are cultural differences and you do see that in the legal community, but there is no cultural divide. . . . It adds a little spice."
The work/life balance is also different for lawyers in New Brunswick than in many other centres across Canada. Here there is a belief that life outside the office is as valuable as what happens at one's desk, and that belief receives more than lip service. "There are some days around here that it is not much different from Toronto — working long hours with lawyers across the country," says Stewart.
And still it is not the same as actually practising in Toronto, he notes."Frankly, quality of life is why I practised my entire career in New Brunswick. . . . It's practice in the mindset of a small town. We do real-time important work, but how we go about it [is different]."
Chiasson, for example, starts his day by dropping his daughter off at the bus stop and 10 minutes later he is at his desk. "I'm very happy with that," he says. "Montreal and Toronto — I love visiting those cities. I love coming back."
What it means to be sitting at your desk also takes on a whole new meaning in New Brunswick. From his office in downtown Moncton, Stewart, a sailor, is only 40 minutes from the Bay of Fundy, home to the world's highest tides and one of the Seven Wonders of North America. He's 25 minutes from the Northumberland Strait and Confederation Bridge, which links P.E.I. to the rest of Canada. The U.S. border is only a few hours away. "That allows you access to all kinds of things. . . . It's the best of both worlds," says Stewart.
The importance of lifestyle is not lost on firms vying to attract the best and the brightest. "One of the challenges we have tried to be more deliberate about, at least in our firm, is to be more sensitive to work/life balance," says Cooper. "The modern workplace must be more flexible and accommodating than was typical even 10 years ago, while still meeting client demands. We do not always get these things right, but we have sincerely engaged the problem."
Economically, New Brunswick is struggling. Home to the first incorporated city in Canada and one of the first universities on the continent, the province was once prosperous in large part due to logging and shipbuilding activities. That was, in some cases, at least a century ago, however. Today, the province is grappling with an aging population, one of the fastest growing in the country, and massive debt. According to the government's 2017-18 budget, the debt will hit $14.4 billion by the end of the fiscal year, roughly $1 billion more than forecast only a year earlier.
Despite this economic backdrop, building a legal practice in New Brunswick will mirror in many ways building a legal practice anywhere in the country. "Business comes from traditional sources such as institutional clients, owner-operated businesses and individuals," says Cooper. "We are also concentrating on developing market share outside Atlantic Canada, domestically and internationally."
Firms in New Brunswick, particularly the larger firms, also have a unique perspective on business development — and on the nature of the work they do. McInnes Cooper, Stewart McKelvey and Cox & Palmer have been called (and have been known to call themselves) "regional firms," a moniker that reflects the reality of doing business in Atlantic Canada. Unlike large Canadian firms that label themselves "national" yet have no presence east of Quebec, regional firms have a presence, often deeply rooted, across the East Coast.
That connection may be gaining strength. "We're all Atlantic Canadians," says Stewart. "There is a move to a regional approach as opposed to 25 or 30 years ago when the provincial borders were much darker lines. This is a reflection of market realities and also a function of good business sense and efficiencies."
It may be the affable nature of legal practice in New Brunswick or the best-of-both-worlds lifestyle, but lawyers in the province are often here for the long term. " Lots of us are still lifers. Being with a firm becomes part of who you are," says Stewart.
The University of New Brunswick law grad has some advice for lawyers looking to practise in Canada's picture province: Consider both your professional life and your personal life.
"They will be intertwined," Stewart cautions.
"We all think we have it really good here," he adds. "The people I practise with are not here by default. Far from it. They have made a conscious decision this is where they want to be."
New Brunswick by the numbers*
1,320 - Number of law society members in New Brunswick with active practising status
284 - Number of law firms in New Brunswick
98 - Percentage of firms in New Brunswick with 10 or fewer lawyers
0.7 - Percentage of firms with 50 or more lawyers
40 - Percentage of lawyers in active practice in New Brunswick who are female
63 - Percentage of all lawyers authorized to practise that are in private practice
$159, 462 - Average price of a home in New Brunswick**
*All stats but one from the Law Society of NB.
**New Brunswick Real Estate Association