It has been a jam-packed week for several law firms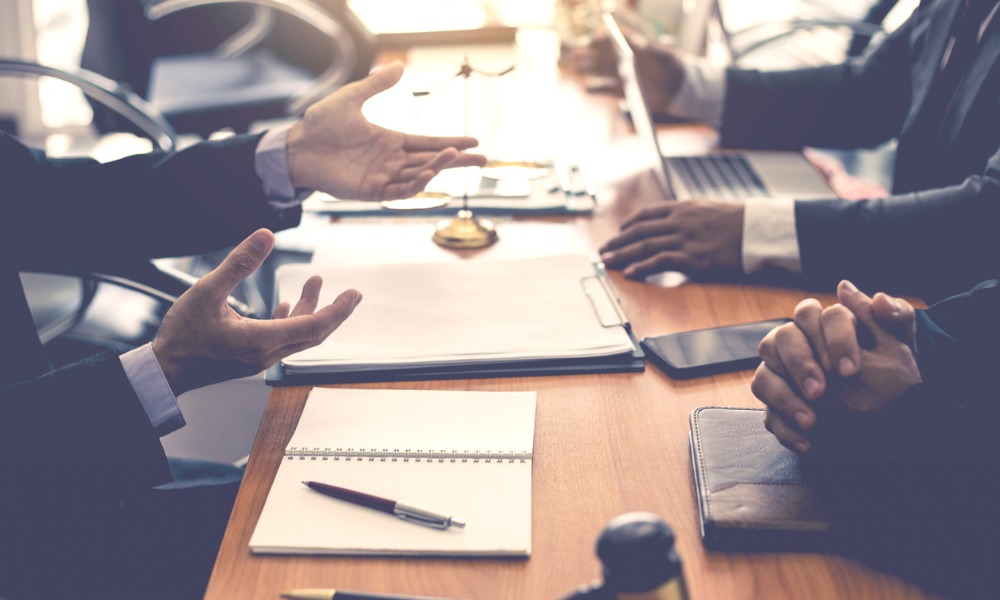 Welcome to this week's roundup of movements among major law firms, in which we sum up significant hires, promotions, departures, and other announcements.
Clyde & Co
The firm welcomed two new partners, one in London and another in the Middle East and Africa (MEA) region.
Corporate and M&A lawyer Mohamed Barakat joined as a partner in the MEA region and the global corporate and advisory practice. Barakat has over 17 years of experience in the United States and the Middle East, advising on complex transactions in the energy, financial services, infrastructure and real estate sectors. His appointment aligns with Clyde & Co's strategic corporate and advisory practice expansion.
Meanwhile, Tim Pipe joined as a partner in London's global energy, marine, and natural resources (EMNR) group. He focuses on emerging markets and upstream oil and gas businesses. He's also worked on reserve-based lending facilities, structured prepayment facilities and pre-export finance facilities, and other more traditional corporate lending transactions.
Davies
Davies promoted eight associates from various practices to partner, effective January 1, 2023.
Shari Cohen (Employment, Labour and Executive Compensation)
Joseph DiPonio (Mergers and Acquisitions | Capital Markets and Securities)
Sarah Elharrar (Fund Formation; Venture Capital and Growth Companies)
Brittany Finn (Tax | Private Equity)
Stefanie Milner (Commercial Real Estate)
Marc Pontone (Mergers and Acquisitions; Capital Markets and Securities)
Anne-Sophie Villeneuve (Tax Disputes)
Alyssa Wiseman (Capital Markets and Securities; Mergers and Acquisitions)
Dickinson Wright
Bret McClay is now of counsel in the firm's Silicon Valley office.
McClay has been with Dickinson Wright as a senior patent agent since 2018. His earlier career background in software engineering allows him to interface with clients in the technology industry easily.
Gowling WLG
The firm appointed Andrew Lamb as a partner to its energy group in the Calgary office.
Lamb's practice focuses on acquisitions, divestitures, secured lending, commodity, and financial transactions. He also has experience advising clients on joint venture, shareholder and partnership agreements, tax reorganizations, incorporations, and goods and services agreements.
In 2009, he founded and managed a business law firm in Calgary that advised clients across various industries, including oil and gas, oilfield services, construction, power generation, electricity distribution, retail and health care.
Harper Grey
Partner Owais Ahmed is now Harper Grey's chief diversity officer.
Ahmed has been a diversity, inclusion, and belonging committee member. His new role will allow him to lead efforts to identify, enhance, and implement best practices across the firm. He succeeds partner Una Radoja, who has held the position since 2018.
In addition, firm associate Neal Parker was also elected to the Board of the Vancouver Bar Association, effective January 1, 2023.
Lerners LLP
Partner Cynthia Kuehl will take her seat as chair in the coming new year. According to Lerners, she is a product of the firm's investment in women and a true reflection of its values and operating principles.
Kuehl maintains a significant trial and appellate practice in commercial, health law, and professional regulatory matters. She has been counsel before the Supreme Court of Canada and appeared before the Federal Court of Appeal.
Throughout her career at Lerners, Kuel has held several leadership positions, including executive committee member, deputy practice group leader of the health law group, and practice group leader of the appellate advocacy group.
For her work, she has been recognized with honours and awards from Lexpert and the Law Society of Ontario and other rankings.
Miller Thomson
The firm welcomed new partners Patrick Corney, Bertrand Giroux, and James Reid to its restructuring and insolvency group, bringing the team roster to almost 30 lawyers across Canada.
Corney's practice focuses on insolvency and restructuring litigation, acting for debtor corporations, monitors, receivers, government regulators, secured and unsecured creditors, and purchasers of distressed assets. He will be based in Toronto.
Giroux has more than 30 years of experience in insolvency and commercial litigation. His practice involves shareholder remedies, restructuring, and bankruptcy. Giroux will be based in Montreal.
Reid's practice focuses on corporate restructuring and insolvency law. He regularly advises clients in reorganizations, corporate arrangements, receiverships, bankruptcies, security reviews and enforcement proceedings. He will be based in Calgary.
Torys
Eight Tory lawyers will be promoted to partner and five to counsel, effective January 1, 2023.
The new partners are:
Matthew Angelus (Litigation, Montréal)
Jennifer Baugh (Corporate, Calgary)
Lauren Hulme (Funds, Toronto)
Braden Jebson (Corporate, Mining, Toronto)
Nicole Mantini (Litigation, Toronto)
Eli Monas (Financial Services, Toronto)
Danielle Traub (Private Equity, Toronto)
Meghan McKeever (Private Equity, New York)
The new counsel are:
Nooreen Bhanji (Real Estate, Toronto)
Raegan Kennedy (Corporate, Toronto)
Michael Portner Gartke (Corporate, New York)
Batya Nadler (Funds, New York)
Alex Tanenbaum (Real Estate, New York)
Rose Dispute Resolution
Firm principal Mitchell Rose received the Qualified Arbitrator (Q. Arb) designation.
Rose has been a dispute resolution lawyer for 25 years, focusing on employment law and business conflicts. With his Q. Arb designation, Rose looks forward to applying his knowledge and skill set to arbitration to distill complex disputes into a solution that addresses client needs.
Russell Alexander Collaborative Family Lawyers
The firm welcomed Aliza Muller and Annie Yektaeian as associate lawyers.
Muller represents clients in all areas of family law, including separation, divorce, parenting time, property division and cohabitation agreements. She believes that most family matters can resolve through a collaborative approach.
Yektaeian joined Russell Alexander Collaborative Family Lawyers with over 10 years of experience in litigation, alternative dispute resolution and, where appropriate, collaborative practice in which she is certified.
Submit all your law firm news, including appointments, moves and other professional news, to our legal publications by filling out this form.
You may also send information here.