Eight law firms made new announcements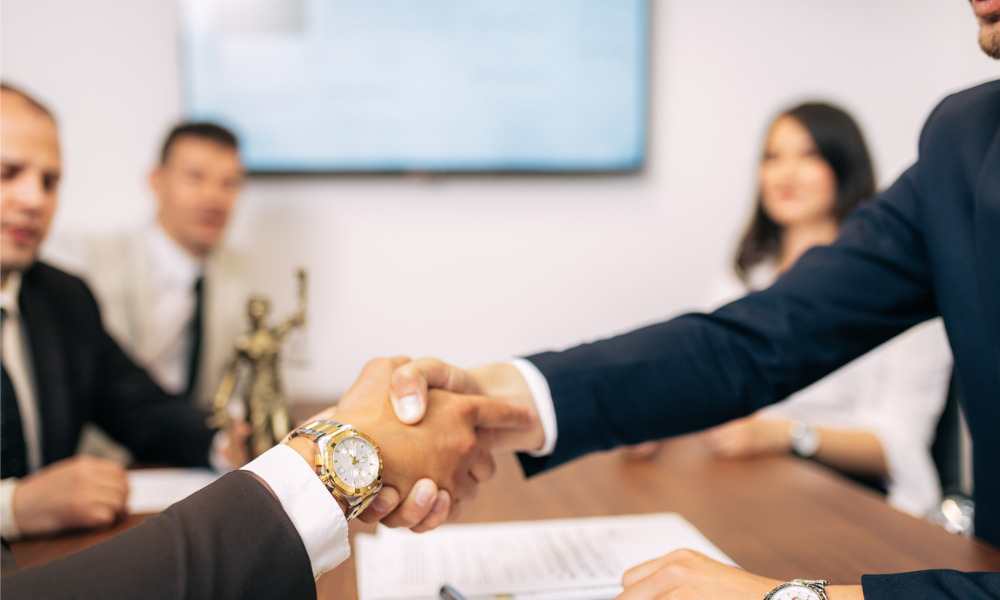 Welcome to this week's roundup of movements among major law firms, in which we sum up significant hires, promotions, departures, and other announcements.
Borden Ladner Gervais LLP
Peter Sullivan joined the firm as a partner in the Toronto office's banking and financial service group.
Sullivan has extensive expertise in project finance and securitization structures, complex syndications and agency arrangements, debt structures, acquisition financings, asset-based lending transactions, and general working capital credit facilities. He has represented many clients, including lenders, borrowers, trustees, collateral agents, and paying agents.
Besides his legal work, he is actively involved with LGBTQA+ initiatives and serves on several equity, diversity, and inclusion boards.
"Not only is Peter an accomplished banking and finance lawyer with an established cross-industry practice, but he also demonstrates a strong dedication to growing firm leadership and commitment to EDI initiatives, which will be an asset to our growing national team," said Stephen Redican, the firm's specialized business law national group head.
Davies Ward Phillips & Vineberg LLP
The firm welcomed Sumeet Dang as a senior counsel in the Toronto office's technology practice group.
Dang has specialized expertise in the life sciences and technology industries. He advises on commercial and collaboration arrangements, including IP and technology licensing, master services agreements, joint venture, partnership, and research and development agreements.
A registered trademark agent, he assists clients with privacy and data security matters and compliance with Canada's anti-spam law. Moreover, he provides regulatory, product marketing, and support to companies in the biopharmaceutical, medical device, and digital health sectors.
Dentons Canada
Megan Cornell joined the firm as a partner in the Ottawa office's corporate and venture technology and emerging growth companies groups.
Cornell is a seasoned lawyer with 20 years of industry experience. She advises on transactional and commercial matters, including M&A, corporate structuring and governance, commercial agreements, joint ventures and other commercial relationships, and public and private financings.
She has represented numerous clients in the technology, financial services, retail, and manufacturing sectors, including start-ups, founders, small local businesses, large public companies, and foreign-owned companies with Canadian subsidiaries.
The firm also welcomed Nathalie Duceppe as a notary counsel in the Montreal office's real estate group.
Duceppe has experience dealing with commercial real estate and mining transactions. She regularly assists clients with royalty purchase agreements, deeds of sale and deeds of hypothec, servitudes, superficies agreements, declarations of divided co-ownership, notice of lease, and applications for opening land files.
Her practice also involves revising title opinions, researching title problems, and implementing solutions to help clients manage and grow their real estate portfolios.
Lavery de Billy LLP
Alexandre Turcotte joined the firm as a lawyer in the Montreal office's business law group.
Turcotte specializes in corporate finance law, M&A, and securities. He has represented private companies and public institutions in major business transactions and operations.
"I decided to join Lavery to specialize my practice in business law and to develop my skills at a firm of excellence that offers great opportunities to young lawyers," Turcotte said. "But it was really the enthusiasm and passion of my future colleagues that really sealed the deal for me."
MD Lawyers
The firm welcomed Judith Hull as a counsel in the London office.
Hull has 25 years of experience advocating for clients suffering life-altering injuries, including catastrophic spinal cord and brain injuries, birth trauma, and wrongful death. She is also a certified specialist in civil litigation.
She previously served as president of the Ontario Trial Lawyers Association, board governor of the American Association for Justice, and director of the Advocates' Society. She is also a frequent speaker on personal injury litigation, advocacy, and practice management at numerous legal professional associations in Canada and the US.
MLT Aikins LLP
The firm welcomed seven lawyers in the Vancouver office:
Tom Hakemi – partner
Lisa Ridgedale – partner
Scott Marescaux – associate
Or Regev – associate
Leah Shepherd – associate
Marie Turcott – associate
Kristyn Weilinger – associate
Ross & McBride LLP
Renee Roy is now an associate counsel in the firm's family law practice group.
For nearly 20 years, Roy has advised clients on various family law matters, including prenuptial and cohabitation agreements, adoptions, custody agreements, separations, and divorce. She is also an accredited mediator with the Ontario Association for Family Mediation.
She is a member of the Hamilton Child Protection Bench and Bar Committee and a panel member of the Office of the Children's Lawyer and the Family Responsibility Office. She is a sought-after speaker who volunteers at legal training courses and facilitates settlement conferences across Southern Ontario.
Stewart McKelvey
Perlene Morrison was appointed King's Counsel.
Morrison is a partner in the firm's Charlottetown office. She was a management team member and previously led the commercial real property and lending group. Her practice involves negotiating and drafting agreements for utilities, businesses, governments and post-secondary institutions and drafting, interpreting and enforcing bylaws for municipalities.
In addition, she defends municipalities at regulatory appeals and represents land developers in establishing subdivisions and condominiums. She has worked with various clients, such as municipalities, developers, utilities, vendors, and purchasers.