Women General Counsel Canada and Canadian Association of Black Lawyers are supporting organizations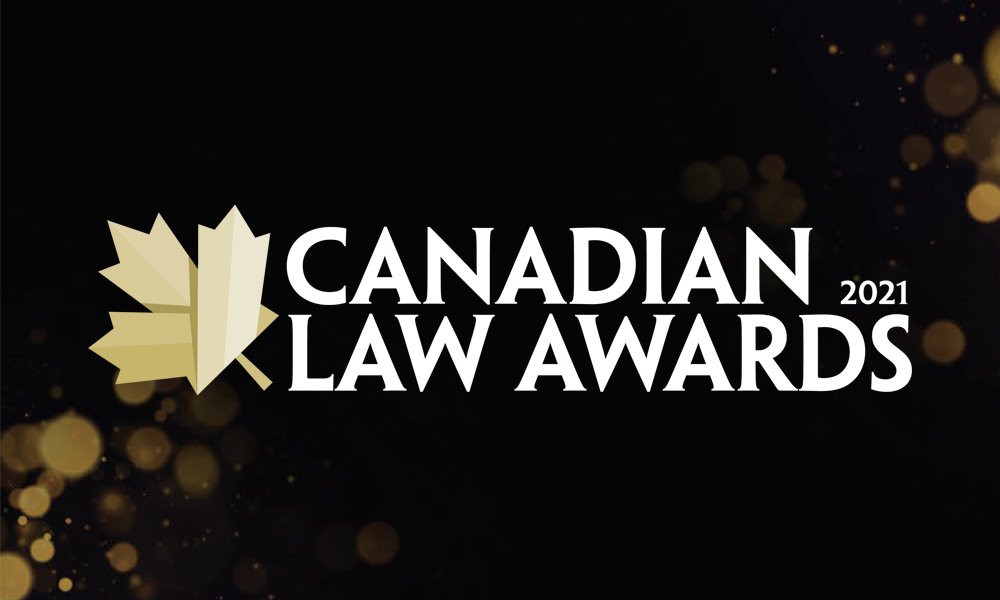 The 2021 Canadian Law Awards will honour the exceptional achievements of the Canadian legal industry during the 2020 calendar year. Among 26 prestigious categories, in-house lawyers and teams will be recognized with the following awards:
Banking & Financial Institutions Law Department of the Year
Construction, Infrastructure & Transportation Law Department of the Year
Energy & Resources Law Department of the Year
Canadian Law Department of the Year
Law Department Leader of the Year
Law Department Innovation Award
We invite you to nominate an outstanding colleague, your legal department or even yourself, by using our online nomination form. Nominations will close on Friday Feb. 5.
Hosted by Lexpert, and supported by Canadian Lawyer and InHouse, our second annual event will also be supported this year by Women General Counsel Canada and The Canadian Association of Black Lawyers.
"WGCC firmly believes in the importance of recognizing strong performances in the profession," says Elspeth Hagan, general counsel, global compliance at McCain Foods Ltd, and WGCC president. "We feel especially pleased to see members of in-house counsel – particularly WGCC members – recognized for the complex roles they play in organizations across Canada." As one of many members of our esteemed judging panel, Hagan looks forward to being involved in assessing the talent pool for this year's awards.
As senior counsel at TD Bank, and president of CABL, Raphael Tachie is also lending his expertise to our judging panel. Speaking of CABL's role as a supporting organization, Tachie says: "The legal profession should reflect inclusivity in terms of cultural orientation and also in terms of diversity of thought, so I appreciate the opportunity to participate in that process. Lawyers from my background don't always get seen in a professional context so I think it's important for Black law students, not just to see work that has been achieved today, but also to see workplaces where they can thrive and succeed in the future."
Also representing in-house counsel on our judging panel, Jeff Davis, chief legal and corporate affairs officer of the Ontario Teachers' Pension Plan Board, recognizes the Canadian Law Awards as an excellent platform for showcasing the achievements of in-house counsel.
"What is particularly unique about the Canadian Law Awards is that they have a broad set of categories that are being celebrated," says Davis. "I also like the focus on diversity and inclusion and the broad set of judges, so hopefully a good definition of what excellence is will emerge from that." Davis hopes to use his platform as a judge to help the awards to recognize the importance of the behavioural aspects of the profession, such as developing relationships and trust.
"Behavioural aspects of the job will give you a competitive edge," he says. "I want to recognize people who are striving for growth and excellence but aren't getting lost in the notion of perfection because I think that's a very dangerous thing that's going on in the legal profession."
Other awards open for nominations include Female Trailblazer and The Bereskin & Parr Award for Diversity Initiative of the Year.
All winners will be announced at our virtual awards show on May 20.