See who won out in our first ever Law Awards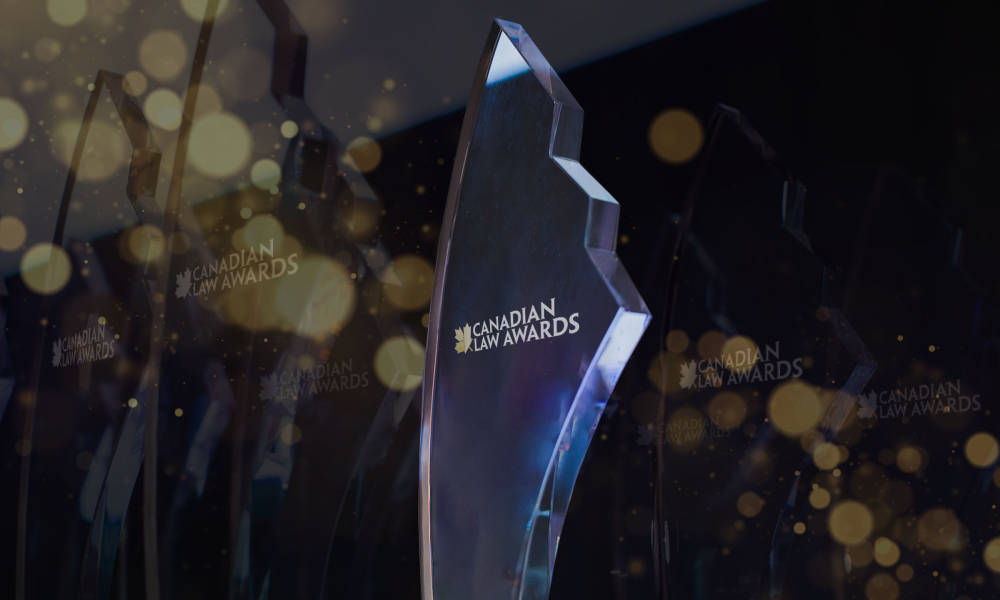 A global pandemic couldn't stop the legal profession. Lawyers and firms across Canada have persevered in this most trying year, forging deals, advocating for clients, and keeping the lights on and the office running. A global pandemic wasn't going to stop our celebrations, either.
Today the first annual Canadian Law Awards went virtual, hosting hundreds of attendees from across Canada.
Through the online format Lexpert and Canadian Lawyer were able to include a range of new experiences into the event. We held live panel discussions that sparked lively conversation and highlighted crucial insights. We facilitated peer to peer networking. The Canadian Law Awards, brought to you by Gowling WLG, were a resounding success.
"Although this has been a challenging year, it has also been one of opportunity," says James Buchan, firm managing partner - clients at Gowling WLG. "From building diverse and inclusive workforces to harnessing innovation to better serve clients in the era of social distance, we continue to raise the bar for ourselves and challenge what is possible.
"These awards provide a unique opportunity to recognize the tireless work of our peers in positively shaping the culture of our profession — even in the most difficult circumstances," says Buchan. "Congratulations to all of the finalists and nominees!"
"The legal sector has seen a great deal of innovation in recent years," says Martin Denyes, managing partner, Ontario at Fasken. "Never has that been more important than over the last seven months. Fasken is very pleased to be saluting and celebrating leading innovators in our sector."
"We are thrilled to be able to once again support the legal community in Canada as individuals, firms and departments are recognized for their excellence in driving innovation and efficiency in the profession as part of the Canadian Law Awards," says Zena Applebaum, Director Customer Insights & Strategy Proposition Thomson Reuters Legal, Tax & Accounting Canada. "While the event may be virtual this year, Thomson Reuters continues to be committed to our customers wherever they are working. Congratulations to all of the category winners."
"Bereskin & Parr's founding 55 years ago was grounded in diversity and inclusion, making it part of our DNA." says Scott MacKendrick, partner and litigation-group member at Bereskin & Parr LLP. "This is part of why we think it is important to recognize significant initiatives that promote diverse and inclusive workspaces."
The whole Lexpert and Canadian Lawyer and team wants to thank everyone who attended, sponsored, and supported the event, and offer a huge congratulations to our winners!
Here's a list of the gold winners from the 2020 Canadian Law Awards finalists from each category:
Capital Markets Deal of the Year
Gold Winner: TransAlta strategic partnership with Brookfield
Infrastructure & Projects Deal of the Year
Gold Winner: Wataynikaneyap Transmission Project
Insolvency & Restructuring Deal of the Year
Gold Winner: Catalyst Paper restructuring
The Thomson Reuters Award for M&A Deal of the Year
Gold Winner: Air Canada acquisition of Aeroplan
Private Equity Deal of the Year
Gold Winner: BC Partners buys GardaWorld
Cross Border Deal of the Year
Gold Winner: Newmont acquires Goldcorp/Newmont Barrick joint venture
Canadian Deal of the Year
Gold Winner: Newmont acquires Goldcorp/Newmont Barrick joint venture
Class Action Team of the Year
Gold Winner: Gowling WLG (Canada) LLP – Federal Indian Day School Class Action
Commercial Litigation Team of the Year
Gold Winner: McCarthy Tétrault LLP - Canada (Minister of Citizenship and Immigration) v. Vavilov, and the dual appeal in Bell Canada v. Canada (Attorney General)
Banking & Financial Institutions Law Department of the Year
Gold Winner: BMO Financial Group
Construction, Infrastructure & Transportation Law Department of the Year
Gold Winner: A tie between Aecon Group Inc. and Air Canada
Energy & Resources Law Department of the Year
Gold Winner: Pembina Pipeline Corporation
The Fasken Award for Law Department Innovation
Gold Winner: Ontario Teachers' Pension Plan
Canadian Law Department of the Year
Gold Winner: Bell Canada
Law Department Leader of the Year
Gold Winner: Kerry O'Reilly Wilks – TransAlta Corporation
IP Boutique Law Firm of the Year
Gold Winner: Smart & Biggar LLP
Litigation & Dispute Resolution Boutique Law Firm of the Year
Gold Winner: Lenczner Slaght Royce Smith Griffin LLP
Canadian Boutique Law Firm of the Year
Gold Winner: Lenczner Slaght Royce Smith Griffin LLP
Best Use of Technology in a Law Firm
Gold Winner: Norton Rose Fulbright LLP
Atlantic Canada Law Firm of the Year
Gold Winner: Cox & Palmer LLP
Ontario Law Firm of the Year
Gold Winner: WeirFoulds LLP
Prairies Law Firm of the Year
Gold Winner: Thompson Dorfman Sweatman LLP
Quebec Law Firm of the Year
Gold Winner: Lavery de Billy LLP
Western Canada Law Firm of the Year
Gold Winner: Farris LLP
Litigator of the Year
Gold Winner: Linda Plumpton – Torys LLP
Managing Partner of the Year
Gold Winner: Les Viner – Torys LLP
Pro Bono Initiative of the Year
Gold Winner: BMO Financial Group – "Closing the access to justice gap through pro bono activities"
The Bereskin & Parr Award for Diversity Initiative of the Year
Gold Winner: McCarthy Tétrault LLP – "Inclusion Now"
The Gowling WLG Award for Woman of the Year
Gold Winner: A tie between Audrey Boctor - IMK LLP and Claire Hunter, Q.C. - Hunter Litigation Chambers