Corporate law partner discusses how lawyers can make a lasting impression to excel in their careers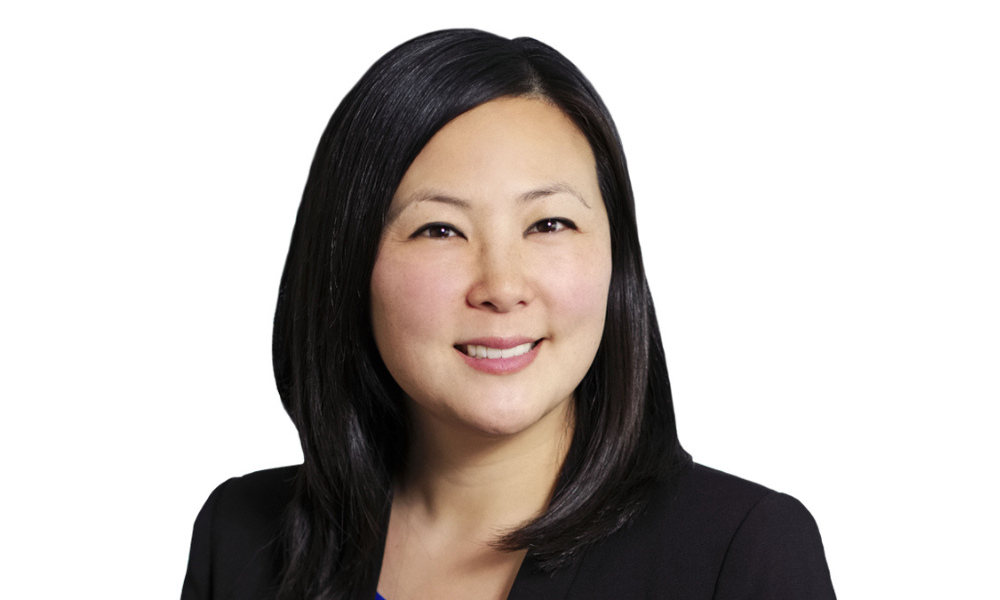 Young lawyers must prioritize the daily affairs of law and meet deadlines at the onset of their positions. But Jennie Baek, a partner at McMillan LLP, says focusing on your careers and not just your job is essential. Looking introspectively and playing to one's strength is crucial for developing skills, reaching work goals, and excelling professionally.
"You want to think about the long term," Baek says. "Where are you going, and what are you trying to build? Where do you see yourself in one, five, or 10 years?"
Baek says everyone deserves an advocate and trusted advisor to champion their rights, and that idea fuelled her interest in the law. At Queens University law school, she provided legal services to some inmates in Kingston prisons. However, she did not love the fight of litigation and focused on corporate securities law.
"I like the idea of helping people build something. Whether you're helping a company raise money, or take their company public or launch a new fund, it's about building something, and that's what attracted me to the area I'm in." She says lawyers should realize that everyone is different and what works for one person would not work for the next.
Baek practises capital markets and securities law focusing on the investment funds and asset management industry. Advising on various matters, she assists clients with forming, structuring, managing, and distributing public and private equity funds and has significant experience in share and asset transactions, mergers and acquisitions, corporate reorganizations, and other transactions. She also counsels on registration and regulatory compliance, corporate governance and reporting obligations, public and private financings, and stock exchange listings.
She will be one of the speakers at the Canadian Lawyer's Women in Law Canada summit on February 17, speaking on "Standing out from the crowd."
When young lawyers begin their careers, Baek says it is much about the work and volume and high stress, but it is essential to realize that the practice of law is more than just expertise. Going a step further and thinking about relationships within the firm or with clients can help grow and excel in a field.
"You need to be a good worker and be conscientious, but it's about developing relationships, collaboration and understanding. It's looking past 'someone asked me a question and here's the answer,' but thinking about what are they going to do with this answer? How does this fit into their business? What's the next step? How can they be more actively engaged or think innovatively?"
Baek says the practice of law layers on a business, and lawyers can stand out when they take the time to understand the business rationale, commercial considerations, and clients' thoughts. "Whether you're dealing with management committee or other lawyers in the firm and building relationships in your team or across practice groups, it is considering what's motivating people, taking that extra step to understand them and emotional intelligence."
Lawyers need to understand the business aspect of their jobs and their clients' needs and analyze operational considerations from the start of a deal to prevent problems that are not necessarily legal issues, Baek says. Understanding the layers of law early and building that into the work and the advice given to clients can enhance legal services and help lawyers dominate in their fields.
Lawyers should also gravitate towards opportunities they find interesting. For example, Baek says joining a committee, volunteering to be involved in student recruitment, or the United Way campaign is a great way to get involved in a law firm. "If you find something that you can get excited about, that will show through."
There are many opportunities to get involved in a firm that will help build relationships with people in different practice groups. Still, Baek says lawyers can take little steps and should not pressure themselves.
"I remember being a young lawyer, and I'd go to cocktail parties, and they were overwhelming. It seemed like everyone knew everybody else and was walking, laughing, and having a good time, and I'm thinking, how do I become that?"
Baek says young lawyers should not get discouraged but continue working on their careers. "Start developing or enhancing your networking skills. It's a process," she says.
"You can start little, and one day, you'd look around like, I'm that person who's having a great time at this cocktail party and look like I know everyone. I'm networking and talking to people and making connections."