Women are leading the movement to customize legal careers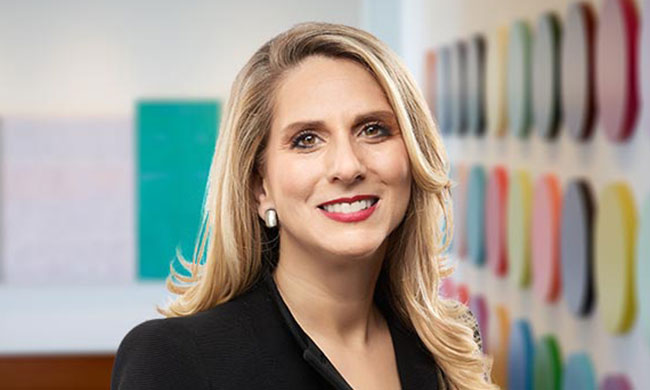 After years of pressure to "fit in" at law firms, Cheryl Reicin is spreading the word: The future of law is not about fitting the mould.
"I don't really believe in labels. I have associates running matters," she says. "If people are hiring you, they think you're smart. So, you know, just be out there. Don't be afraid to ask questions. Don't be afraid to express opinions. I often will change my mind because of something the most junior person on the team had raised. And I really value that."
In a world where everyone has their own unique coffee order at Starbucks, why limit law careers to two options: partner and associate? Someone may have an "outdated" stereotype about women in law, but in Reicin's eyes, her unique skills are just as deserving to be on the "menu."
"I really think in this world we are leaning more towards customization," says Reicin.
"A lot of people, women but also men, leave private practice because of the hours. We lose a lot of good people, and we spent a lot of time and energy training them up. And at different times in your life, you may have different needs . . . . lawyers sometimes leave law firms because we're used to getting good grades. We want to be good students and do everything at the top of our game. So, if we can't keep up with that, sometimes people just say, 'I need to leave.'"
Reicin, practice leader of Torys LLP's Life Science Group, will speak at Canadian Lawyer's Women in Law Summit on Feb. 12, 2020 in Toronto, where she will discuss defining her own success as a lawyer.
"I just try to focus and where my particular characteristics can be most productive and benefit the most. Because I can't change other people," she says.
It's an important conversation in a profession where private practice's "partner track" model is no longer a suitable goal for many people, she says.
"What if we gave people a choice?" she says. "You could say, 'This year my kids are young and they need me and I choose to work 80 per cent of the time, even if I'm paid less. Not permanently — I'm not off partnership track, but just I need one more year to take care of other things.' I think we'd be able to retain more women and men, by the way, and I think we'd have happier lawyers, I think it would be more productive. And I think there would be more collegiality in terms of people. Again, people wouldn't be comparing themselves to each other."
Reicin was the exception to the rule from the moment she was born: Her parents were both law students at a time when women in law school were relatively rare. At the time, it was front-page news, she says.
At about age 12, she recognized her penchant for advocating for justice and fairness and started thinking about a career in law. It was something her mother — who never completed law school herself — encouraged.
The original plan was to work a couple of years at a firm, and head to a career in business — but the work stayed interesting and Reicin stayed in law (although today she also lends her skills to numerous non-profits, as well.)
"You know, my family still laughs at me because I still say, 'I'm taking one day at a time,'" she says.
Law may be fulfilling, but that doesn't mean it has been easy. There have been a "million moments" when Reicin has wondered whether she should leave law or private practice, she says.
"When my son was one year old, I was a single mother and the hours were just . . . it was hard. I really had no backup," she says.
Luckily, much has changed in the generation since her mother attended law school. For example, the growth of the in-house community has provided more interesting opportunities for women to lead in law — and make referrals with an eye toward equity, she says.
"When I went to Harvard, 20 per cent [of students] were women. And, we actually felt quite comfortable, but we were still in the minority," she says.
"We're in a society that's moving quite quickly. There have obviously been some very strong women at the beginning, in the women's lib movement, and I would think the last few years with #metoo movement has been a major change in terms of people being extra careful in terms of their behavior. These are very exciting times. It's not just about women, but it's about inclusion for everyone."
Despite the progress the legal profession has made, firms can afford to be more experimental, says Reicin.
"I do a lot with startups, and those that are most successful are those that have people who come from a variety of backgrounds, have different opinions, have different things to bring to the table. Then the team can come up with something that hasn't been done before," she says. "We [in law] can afford to diversify in terms of styles, approach and opinions, that's how we get the best results and the best work product."
Despite her seemingly "always on the go" lifestyle, Reicin says she has learned to enjoy the rare downtime when she has it — wisdom she hopes to pass on to the next generation of lawyers she meets through hiring events.
"Don't take things personally. Sometimes in a law firm, you will be allowed to run free given a lot of responsibility, and the next very next day, working with the very same partner or lawyer, your work will be under a microscope," she says. "You can drive yourself crazy. . . . but here's the thing that I focus on. Every attribute that you have, if it's a detriment, it's going to be a positive somewhere else."
To hear more from Cheryl and other leading women in law, book your ticket to the Canadian Lawyer Women in Law Summit here.
Related stories