Marc Kushner and Michael Budabin have strong background in trans-border deals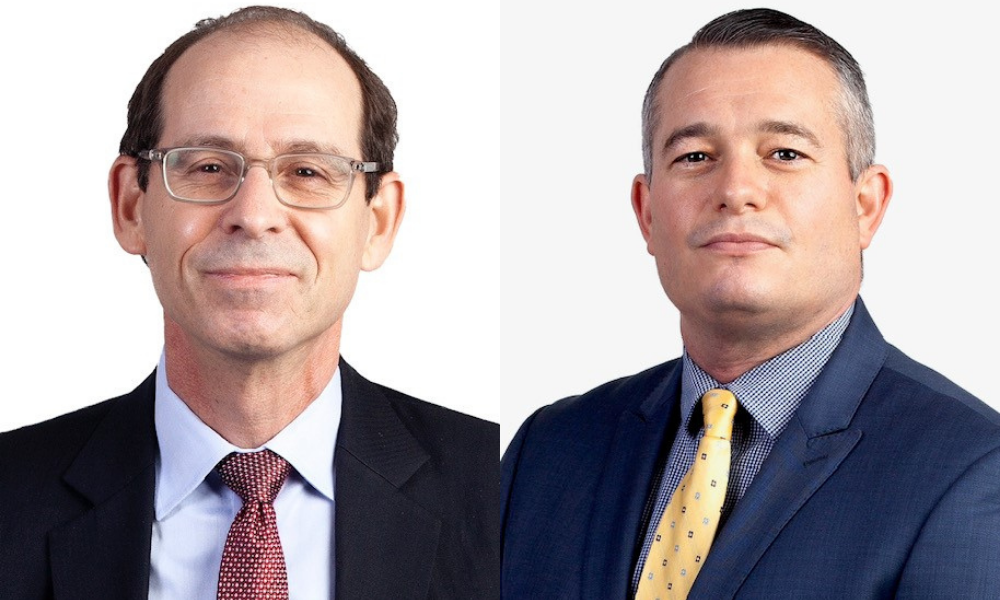 Global corporate law firm Dorsey & Whitney has beefed up its cross-border and merger and acquisition team in New York with two lawyers from Osler Hoskin & Harcourt.
Marc Kushner has joined Dorsey & Whitney as a partner and head of U.S. M&A, while Michael Budabin has joined as a partner. Both have extensive cross-border transaction experience. They also have particular expertise in deals involving representation and warranties insurance. Budabin will also serve as head of Dorsey's new Transactional Risk Insurance Group.
Budabin says that working for a New York office of the Canadian firm Osler will prove to be a valuable experience for the two lawyers now that they are at Dorsey. Having worked at Osler's New York office "means we probably have more experience on cross-border deals compared to if we had been working at a U.S.-based firm," he says.
Budabin was an Osler partner in the firm's corporate group in New York. His practice focuses primarily on private equity, technology, and cross-border mergers and acquisitions. In addition to leading the new transaction risk group, Budabin will assist clients in general corporate matters and counsel U.S. non-profit entities on incorporation, governance, and operations. He has experience with transactions in many industries, including chemicals, technology, mining, auto rental, and equipment distribution and services.
"It's a very good time to be involved in M&A deals that transcend borders," he says. Budabin adds that with the M&A market on the upswing in North America and globally, that cross-border experience will stand in good stead. After a temporary slowdown due to the initial COVID-19 outbreak, M&A deal volumes are increasing and will likely be strong for a sustained period.
There is also a lot of capital available, providing the "dry powder for deals," Kusher says, and adding that debt capital is still relatively cheap. As well, the prospect of rising inflation is "actually causing people to say 'Maybe I better get this money, I better get this deal done now before for the price of my debt goes up."
Kushner says that while many components of a cross-border deal are like domestic M&A, there are key differences. "There are different personalities and cultural questions that come up a lot, and you need to understand your clients' perspectives, and who you're talking to across the table."
One of the more exciting parts of being involved in cross-border deals is "melding the legal regime with the cultural concerns at play, Kushner says. That culture "comes through" during negotiations, he adds." So good cross-border dealing involves understanding what the other side is thinking and finding ways to bridge the gaps."
Kushner's practice has focused on complex U.S. and cross-border transactions. At Osler, he led the firm's U.S. M&A team and was part of a group recognized by Chambers Global with a Band 1 ranking for international and cross-border transactions in Canada.
His experience includes advising public and private companies, private equity firms and pension funds on mergers, acquisitions, divestitures, joint ventures, leveraged buyouts, minority investments, recapitalizations and other transactional matters.
In addition to advising Canadian clients on cross-border deals in the U.S., he has acted on large and complex international transactions involving companies worldwide, including in China, Singapore, Africa and Brazil.
Understanding cultural differences is helpful when negotiating, Kushner says, and having good knowledge of the legal system and regulatory framework for M&A in other countries is critical.
Budabin agrees, adding that lawyers are typically the "quarterback" on seeing the transaction through and foresee challenges that could lie ahead. Also, he says, understanding when it is essential, in some areas such as the regulatory regime, to "ramp up the attention in certain areas and when to calm things down" is key to successful M&A transactions. "So being attuned to why your clients might have those concerns is really important, and to deal with them appropriately, allows you to give good client service."
Kushner adds that while cross-border transactions that bring into the equation issues of strategic importance or national security – for example, mining materials such as cobalt and lithium – might sound concerning, clients "tend to overestimate" the risks in getting a deal done.
"I think good lawyering can really help people get to the right results," he says. "Countries are interested in both protecting themselves and facilitating foreign investments. That's what national security reviews are about. So you really need to focus on how to position your clients in the right fashion for these things. Because, you know, most regulators are actually looking to find ways to facilitate foreign investment."
Dorsey has recently grown its New York office extensively, adding 16 lawyers over the last two years. With the addition of Kushner and Budabin, Dorsey will have expanded its New York presence by 62 per cent.
Dorsey & Whitney Dorsey was founded in 1912 and now has locations across the U.S., Canada, Europe and the Asia-Pacific region. While it has experience in a wide number of sectors, Dorsey has particular expertise in banking and financial institutions, development and infrastructure, energy and natural resources, food, beverage and agribusiness, healthcare and technology, and major non-profit and government entities.
"Marc and Mike bring a wealth of cross-border merger & acquisitions expertise and experience and add additional depth and new dimensions to our New York office corporate group," says Bill Stoeri, Managing Partner of Dorsey & Whitney. "We're excited to announce the formation of a new Transactional Risk Insurance Group, which Mike will lead, and offer our M&A clients additional expertise in the increasingly important area of managing and mitigating a wide variety of transaction-related risks."