Former Executive Director of Manitoba Human Rights Commission heads museum facing own controversy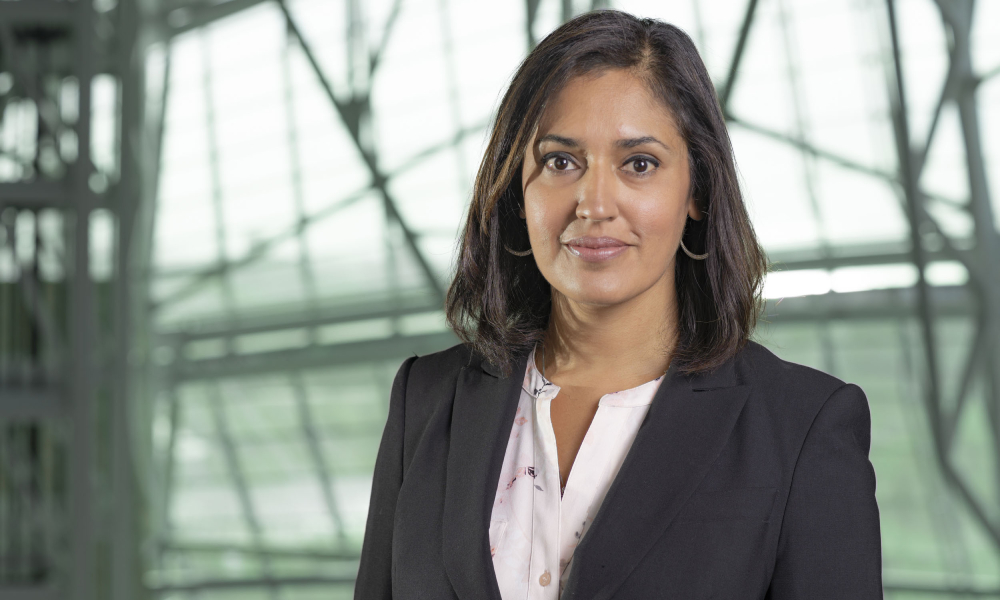 As a human rights lawyer, both in private practice and with the Manitoba Human Rights Commission, Isha Khan has championed many cases of individual discrimination. But in her new role as director of the Canadian Museum for Human Rights in Winnipeg, she is looking forward to taking on the wider role of advocating for the end of systemic discrimination.
In traditional law practice, she says, "you don't get quite as many opportunities to be innovative or use education to bring about change" when it comes to fighting systemic discrimination, though she points out that she has handled such cases and seen success in championing individual cases of human rights violations. "But I was at a place in my career where I was ready to veer in that broader direction."
The federal Minister of Canadian Heritage, Steven Guilbeault, announced in mid-August that Khan would be taking over as the museum's director, starting her five-year term on Aug. 17. She is the first woman to hold the position on a non-interim basis since the museum opened in 2014. She is also the first person of colour in the job.
Khan did her undergrad at the University of Manitoba and went to the University of Victoria for law school. While practising law in Calgary, she focused on labour and employment issues. She moved back to Manitoba about 10 years ago to work with the Manitoba Human Rights Commission.
Khan, who was special counsel to the commission and later its executive director, says the prospect of being part of the museum's mandate to educate people on issues relating to human rights appealed to her.
"It is so much more than just a building that houses artifacts," she says. "It's a place where people can learn about human rights, they can talk about human rights, have their ideas challenged and challenge others on their ideas. That setting, where I could be part of leading those kinds of conversations, is really interesting to me."
Khan says that while human rights "have always been fundamental," there have been various points when society "has looked at what do our rights really mean, and this is one of those times."
More than ever, she says, especially considering issues such as the Black Lives Matter movement and the status of refugees, for example, "people, in particular young people, are thinking about what it means to have human rights, and they are watching what's going around in the world, in our country, and they are wanting to understand what this means to them personally."
For some, that might result in activism, for others, it is advocacy work or helping by putting money behind human rights. "But at the end of the day, people want to be part of that discussion, part of that change," she says. "I see the museum as a key as an institution that can be a key player in bringing those people together around these issues."
Khan hopes the museum can position itself as a resource for people to learn about human rights issues, learn the history of human rights, but, more importantly, a place that fosters knowledge that can bring about a change in thinking, which translates into action. "I think the museum really can be a player in that way."
Khan says her work at the Manitoba Human Rights Commission has given her "the privilege of having advocated for, and alongside, people who have had their rights infringed, and that gives you a very special insight into what it feels like to have your rights infringed, and why equality is an important thing we need to talk about."
However, Khan acknowledges the museum is facing its own public battle, as the museum has been under scrutiny for allegations of racism, homophobia, sexism, and censorship.
In June, the museum posted images on its website of a Justice for Black Lives Rally. Subsequently, a group called CMHR Stop Lying posted stories from employees alleging they had to censor displays about LGBTQ history at the request of some school groups that visited the museum. Others said it was hypocritical of the museum to bring up the rally because of racism that staff faced at work.
Pauline Rafferty, the museum's board chair who had been the interim CEO until Khan was appointed, apologized earlier this month after an independent report found employees experienced systemic racism and mistreatment. The report included 44 recommendations, including:
The Diversity and Inclusion Committee of the museum will require no fewer than one Black, one Indigenous and one person who identifies as LGBTQ2+.
All current and future board policies will be screened for bias.
All board members will take ongoing anti-racist and anti-oppression education.
The board will set goals for the new CEO to promote a culture of equity, inclusion and accountability.
The new CEO will be required to engage in meaningful relations with Black, Indigenous and LGBTQ2+ communities.
Rafferty said in a news release announcing Khan's appointment that the new director is an important step towards building trust and taking the museum "through the difficult process of self-reflection and positive change that has already begun."
Khan says she has read the report, seen its recommendations, including those, such as mandatory work-harassment training and mandatory anti-racism training. The report isn't "going to be something that is just put a shelf," she says. "This is ongoing work and changing workplace culture can take some time," she says, but "ensuring a workplace culture that is healthy and respectful and inclusive and diverse" is one of her top priorities.
Khan was born and raised in Winnipeg to a family of Pakistani descent, and she sits on the executive committee of the local chapter of the Canadian Council of Muslim Women. However, while she doesn't generally identify herself by her ethnic or religious background, she doesn't want that misinterpreted.
"It's who I am. I am a Muslim. I am of Pakistani heritage. I am a woman. I am a first-generation Canadian," she says. "Those are all things that are important and are very much a part of me," she adds, and hopes her appointment can be a role model for creating more diversity and inclusion in organizations.
"But I really look forward to a time when being a woman of colour who has received an appointment like this, in charge of a national museum, is no longer considered something remarkable. It's 2020."