Section 12 of the Canadian Charter of Rights and Freedoms applies only to living beings, court finds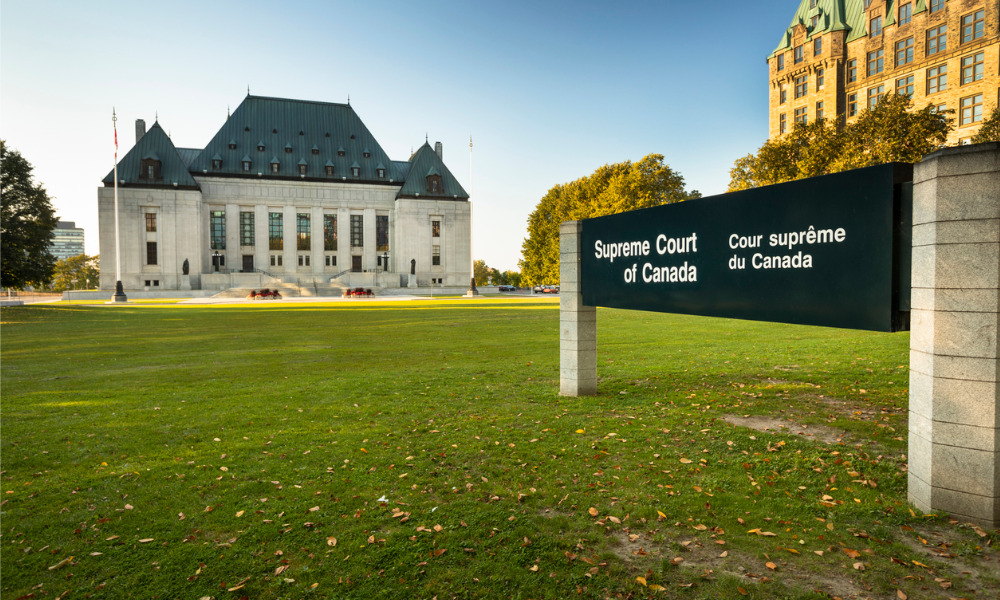 Corporations cannot benefit from Charter protections against cruel and unusual punishment, the Supreme Court of Canada ruled today in a unanimous decision with three sets of reasons.
In rejecting a Quebec building contractor's Charter claim to have been the victim of such punishment, the Supreme Court found that section 12 of the Canadian Charter of Rights and Freedoms — which provides that "Everyone has the right not to be subjected to any cruel and unusual treatment or punishment" — applies only to living beings.
Quoting from Quebec Court of Appeal Justice Jacques Chamberland's dissenting reasons in the case, "'[o]ne would not say, it seems to me, that a group of workers who demolish a building using explosives (rather than going about it more gradually, brick by brick, plank by plank) are being cruel to the building,'" Justices Russell Brown and Malcolm Rowe wrote for the majority.
"'Nor would one say that a group of consumers who boycott a business's products, creating a real risk that it will be driven into bankruptcy, are being cruel to the company that owns the business.' … We therefore agree with Justice Chamberland … that the words 'cruel and unusual treatment or punishment' refer to human pain and suffering, both physical and mental."
As legal persons, corporations have the benefit of certain Charter rights such as protection against unreasonable search and seizure, the right to trial within a reasonable time, and the presumption of innocence. But on Thursday the Supreme Court decided that non-natural persons did not have the benefit of being protected from cruel and unusual punishment.
In Quebec (Attorney General) v. 9147-0732 Québec inc., a Quebec company was found guilty of carrying out construction work without holding a current license for that purpose. Under Quebec's Building Act, the Court of Quebec imposed the then minimum fine for corporations of $30,843.
At trial, the Court of Québec rejected the company's assertion that it had simply made a mistake in billing the work to the wrong corporate entity. It also held that it was not necessary to rule on the issue of the application of s. 12 of the Charter to legal persons because the minimum fine at issue was in any event not cruel and unusual, and that expanding the protection of rights linked to individuals to include corporate rights would trivialize the protection granted by s. 12.
On appeal the Quebec Superior Court agreed, finding that the purpose of s. 12 was the protection of human dignity. A majority at the Quebec Court of Appeal allowed the company's appeal, though, ruling that s. 12 of the Charter can apply to legal persons, and corporations can face cruel treatment or punishment through harsh or severe fines. It cited the Supreme Court's decision in R. v. Boudreault, 2018 SCC 58, [2018] 3 S.C.R. 599, which found that mandatory victim surcharges were unconstitutional. It also applied a "living tree" approach to constitutional interpretation, which posits that the Constitution is a living, breathing text, capable of change and evolution over time, and keeping up with social, political and cultural changes.
In dissent, Justice Chamberland found that s. 12 does not apply to corporations. Suffering is peculiar to living beings, and it is important not to overshoot the purpose of a right or freedom.
In Thursday's judgment the Supreme Court found that the protection against cruel and unusual punishment under s. 12 of the Charter "exists as a standalone guarantee."
"For a fine to be unconstitutional, it must be 'so excessive as to outrage standards of decency' and 'abhorrent or intolerable' to society," Justices Brown and Rowe wrote, citing R. v. Boudreault. "This threshold is, in accordance with the purpose of s. 12 , inextricably anchored in human dignity. It is a constitutional standard that cannot apply to treatments or punishments imposed on corporations."
In concurring reasons Justice Rosalie Abella, with Justices Andromache Karakatsanis and Sheilah Martin agreeing, placed a greater emphasis on international and comparative law in the interpretive process. In Abella's opinion, a "textualist approach" to the Charter that the majority favoured more would "make Canadian constitutional law more insular. …
"Narrowing our approach by putting unnecessary barriers in the way of access to international and comparative sources gratuitously threatens to undermine Canada's leading voice internationally in constitutional adjudication, a role based on its willingness to go wide and deep in the global search for the best intellectual resources it can find," Abella wrote.
For the majority, this was "a significant and unwarranted departure from this Court's jurisprudence," and Abella's "claim that all international and comparative sources have been 'indispensable' to Canadian constitutional interpretation … does not hold true when considering this Court's jurisprudence and the varying role and weight it has assigned to different kinds of instruments."
In separate concurring reasons, Justice Nicholas Kasirer also adopted the dissenting view of the Quebec Court of Appeal's Justice Chamberland and saw no need to consider other issues of international law or comparative law.
"The decision rendered this morning confirms the position supported by the Attorney General of Quebec, namely that only human beings — and not legal persons — can benefit from protection against cruel and unusual treatment and punishment," the Attorney General's office said in a statement to Canadian Lawyer.
"We are continuing our detailed analysis of the reasons for judgment."