Dogs and babies join Zoom conferences, and courtroom technology adoption has improved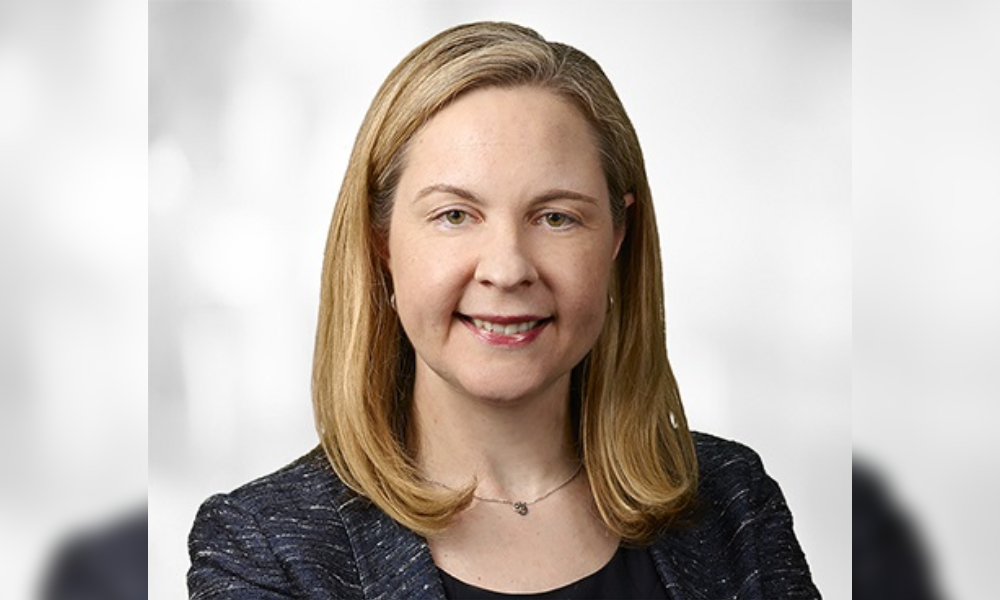 Nowadays, it's not unusual for a toddler or a dog — or both — to show up on a Zoom meeting with clients or colleagues. It's the reality of working at home, remotely, during the COVID-19 pandemic.
And it's not without its challenges, particularly for female lawyers and litigators.
"Because of the nature of the work, and particularly in the time before my son went back to daycare, it became very difficult to try to do my day job," says Tina Lie, a partner at Paliare Roland Rosenberg Rothstein LLP in Toronto.
"Scheduling conference calls and doing hearings from home while having a child at home and also a dog was difficult. I was basically trying to schedule hearings and meetings to coincide with what I hoped naptime would be," she says. Lie and her husband, also working from home, would aim to co-ordinate their schedules to ensure one of them was able to watch their 18-month-old son when daycare centres were closed in the spring.
Despite best efforts, Lie's toddler and the family dog have shown up on Zoom meetings with clients, "and that's actually not rare anymore."
Female litigators who spoke to Canadian Lawyer described the challenges but also the silver linings that the pandemic has brought.
Although Lie says the formal networking has suffered owing to fewer events, "I've found that the pandemic has also allowed female lawyers, and lawyers with kids, to support and commiserate with each other in a way we didn't before."
The first few minutes with opposing counsel will be spent discussing coping with kids, including both female and male lawyers with young children. "There's a dynamic there that didn't necessarily exist before, a bit of a silver lining, because you're able to connect with people [over] this shared experience of trying to cope with this pandemic."
Marina Sampson, a partner at Dentons Canada LLP in Toronto, has two school-age daughters and a husband who likewise has a busy litigation practice. "Their scheduling took precedence over ours, and we were dealing with those challenges constantly, my husband and I pinch-hitting for each other," she says.
"Focusing on what it is to be a woman litigator, and with children, we're already susceptible to feelings of falling short at home or at work. . . . Our clients are in the same position as us; they have big demands and expectations that have not let up but have only increased as a result of the pandemic and all the uncertainty it's created."
At the same time, virtual mediations have became more common and examinations for discovery have proceeded, more often than not, in keeping dates and advancing the litigation.
"In June and in August, from my vantage, the court could not have been more accommodating and responsive," she says. There are practices that will be put into place post-pandemic for e-filing and more, but for an injunction with which Sampson was dealing, she was able to deliver materials by email on the same day and have a Zoom hearing on very short notice. The two judges with whom she dealt were prepared and provided reasons that same day.
"Everyone ensured that things went seamlessly," she says. "That was the court at its best."
Sampson also points to a new tool that will allow lawyers to search an online database rather than sending a process server to the courthouse.
"All of that, specific to litigation, it's certainly a silver lining. In some ways . . . this way of working from home is not the 'by choice, flexible working from home' that represented an accommodation," she says.
At the same time, she says, "Now that we've demonstrated that we can successfully work remotely, this goes to the question of ensuring a more equitable treatment. Working from home or remotely isn't only a women's issue. It has been done by everyone and successfully. The caveat is that I don't think it's the be-all and end-all going forward."
That's due in part to the difficulties of mentoring, and for young lawyers in being mentored, as everyone works remotely.
"For women and other underrepresented groups, mentorship is particularly important, and that's hard to obtain and provide with everyone working from home," says Catherine Beagan Flood, a partner at Blake Cassels & Graydon LLP in Toronto. "A lot of training is observing litigators with more experience, and with team members isolated, there are fewer opportunities for that type of learning."
Many of her firm's students who are from outside Toronto or attended school outside Toronto didn't even move to Toronto for the summer, she adds. "It means they also lost out on the social aspects of getting to know other students in their group in the same way that you would if everyone were having their summer together."
Still, the firm is continuing its weekly drinks get-together (albeit less often and remotely), which helps to welcome students to their new vocation.
And firms have been supportive of their lawyers and staff, litigators report.
"There's been a strong emphasis on making sure people have downtime, and partners have been asked not to intrude on people's weekends," says Cheryl Woodin, a partner at Bennett Jones LLP in Toronto. "We've been asked to give people time off, mentally and emotionally, because we need it more than ever right now. Our firm, and maybe others, have tried to be sensitive to that. The burn rate working from home is high, you're getting back your commute time, but you're also trying to do a lot more in many circumstances."
The isolation factor is also wearing, although Woodin's firm is continuing its Friday afternoon social hour remotely and continues to have regular group meetings via Zoom.
"We're trying to make sure our practice groups and firm groups are meeting and have an opportunity to see each other [in home environments] regularly. We have the chance to see people's faces and make sure they're OK."
Working hours have become more diversified as people work disparate hours — early in the morning, late at night — often to accommodate children's schedules. (Woodin herself has three children.) "The effect of that is the constant pitter-patter of people working."
But, like Sampson, Woodin sees a silver lining in the transition to working remotely and the increased use of technology.
"There's certainly been lots of discussion about whether motions by telephone or e-hearings have caused a deterioration of traditional advocacy," she says, "but I'm not sure that is such a big loss. I think advocacy and litigation have been evolving for a long time [and] advocacy has become more informal," with an increased use of mediation, arbitration and case conferences.
"It's making justice easier to access [and] more accessible in terms of getting issues resolved more informally," she adds. "So I don't see conversion to telephone or e-hearings to be a bad thing; they're a good thing."
Cross-office collaboration has also been simplified with everyone working remotely. "I think we've made more progress on that in the last four or five months than in the last 10 years," Woodin says.
"It's amazing how quickly lawyers and their clients have adapted to working the way we do, and the courts [as well]. There's been an enormous amount of progress in the past six months in the court system, and judges have adapted to it so quickly. The crisis has forced a rapid evolution."
Digital evolution of the courts
On May 21, in Rovi Guides, Inc. v Videotron Ltd., the Federal Court of Canada set the parameters for a remote trial to be conducted by videoconference, following a trial management conference. Given the local public health restrictions, the matter proceeded with a remote hearing using the popular Zoom app.
Source: Norton Rose Fulbright LLP