Canadian Law Awards panel moderator King cites more female-led litigation teams, near parity on SCC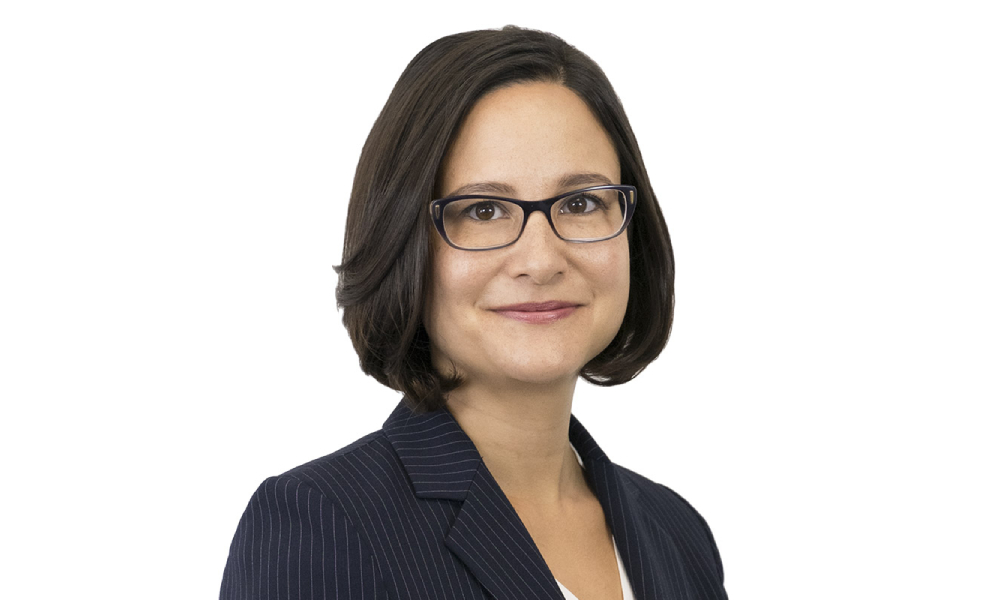 What a difference a decade – or more – makes.
Jennifer King, a partner at Gowling WLG in Toronto and chair of the firm's Recruitment and Retention committee of its Diversity and Inclusion Council, describes a recent conversation she had with another Filipina lawyer in the Federation of Asian-Canadian Lawyers. The other lawyer had been called 10 years before King, whose call year in Ontario was 2007.
"There has been progress" in the advancement of women in the law, says King; "there's a difference in her experience versus my experience, … coming a decade after her. There's more diversity in law schools, and then when we entered the profession there's more diversity. I think that it's easier for people of different kinds of backgrounds to fit in."
On Oct. 6 King will moderate the Gowling WLG Award for Woman of the Year Panel at the Canadian Law Awards on the topic "How Today's Leaders are Redefining Success and Breaking New Boundaries."
This past year, King says, has been "a unique year in thinking about diversity and shining a light on it."
Recent discussion has turned to the legacy of United States Supreme Court Justice Ruth Bader Ginsburg, who died on Sept. 18, and how she helped advance the position of women in society. But although Ginsburg "really pushed forward" that progress over the course of her career, says King, there has also been a rollback in human rights and advancement.
"We can't be complacent, because although there has been some progress, there's still the glass ceiling; there's more women in leadership positions, but still underrepresented.
"I can see the progress, but I can still see the frustration," she says. Far more women are graduating from law school and working in law firms, but "there's still a drop-off by the time you get to partnership."
King quotes a lawyer friend, Adrian Ishak, as saying that "women have been in the majority of graduating lawyers since the mid-nineties. Unless you really believe that women are worse lawyers than men, then if there aren't at least 50 per cent of them around your partnership table you don't have the best lawyers at that table."
That said, there is "absolutely" progress, including the near parity between female and male justices on the Supreme Court of Canada, and more women leading teams of litigators.
King, an environmental lawyer whose practice includes litigation, says she now goes to court with senior female lawyers. "A couple of years ago I went to court with Sandra Barton, who is a phenomenal litigator, and when I was in court with her I realized that I did not regularly go to court with a lawyer who was senior to me and who was a woman." A female articling student told King how meaningful the experience had been to her.
"These are all successes," King says. "There's a lot. There's more and more representation within our firms and in the different bodies we're part of across Canada."
The panel discussion on Tuesday is expected to focus on the successes of the past year, and King acknowledges that it has been a challenging one for women in the profession.
"We're all aware that this [period] might disproportionately impact women," who continue to bear a greater responsibility for childcare and home. But that, too, is changing; King, like many lawyers, is married to another lawyer and "we really do share responsibility for our family. I see a real difference in this generation."
Another difference from when King started practising law may be more of a willingness to discuss experiences as female lawyers, she says, where previously there may have been a greater concern about sounding like the squeaky wheel.
Clients are also expecting more diversity in their lawyers to reflect themselves, she notes, though she cautions law firms not to call on these lawyers to advance diversity in their firms without accounting for that time spent, since compensation at law firm is traditionally tied to billings. Individuals also need to do the work themselves -- for example, in unconscious bias training -- rather than simply being led by their diverse colleagues, she adds.
King is pleased about the array of panellists in the discussion she'll be moderating on Tuesday: Audrey Boctor of IMK LLP; Barbara De Dios at Canadian Dental Services Corp.; Claire Hunter of Hunter Litigation Chambers; Faren Bogach of WeirFoulds LLP; Heather Treacy of DLA Piper (Canada) LLP; Jennifer Suess at RioCan Real Estate Investment Trust; Leanne O'Leary of Cox & Palmer LLP; and Kerry O'Reilly Wilks at TransAlta Corp.
"This event next week in itself, and this panel might be a small part of the continued forward progress," she says. "We're continuing to think about this, we're giving awards, and we're recognizing women who are advancing our profession and other women in the profession.
"I'm hoping to hear how we can continue this and move things along."
Hear more from King at the Canadian Law Awards on October 6.