Ongoing pain, which women experience more than men, is an invisible illness: Rupa Karyampudi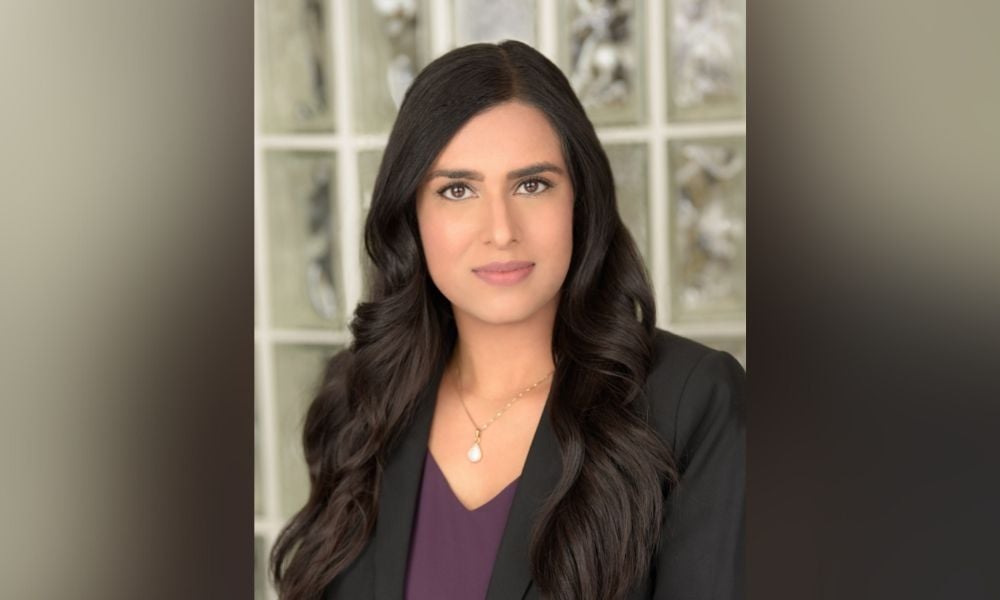 Lawyers should not look at medical evidence in a vacuum and should consider how their clients' identities and non-medical factors — called the social determinants of health — contribute to their health outcomes, says Rupa Karyampudi, partner at MK Disability Lawyers LLP.
"As lawyers, it is vital that we understand these factors and how they might influence our client's health outcomes and their treatment by the medical profession, as well as the legal profession (i.e. biases of opposing counsel and judges or other decision-makers)," Karyampudi tells Canadian Lawyer. "By understanding these issues, we can learn to recognize them and be better advocates for our clients."
Karyampudi founded MK Disability Lawyers, a boutique firm based in Markham and Toronto and dedicated to representing disabled plaintiffs involved in long-term disability insurance disputes.
In an article published on LegalMattersCanada.ca, Karyampudi expounded on the long-standing issue of gender bias within the medical profession. This problem can lead to professionals dismissing or misdiagnosing women's medical issues and prevent women from accessing the medical treatment they need and the disability insurance benefits they deserve.
Studies have shown that someone young and female or a person of colour or with limited education faces a much higher risk of misdiagnosis, Karyampudi said.
"Racially marginalized people already have a problem navigating the health-care system," she told LegalMattersCanada.ca. "Add in the gender bias, and it makes it much more difficult."
Karyampudi noted that women have been excluded from medical testing in the past, so doctors tended to learn treatment models based on research conducted on men. Some firms may even reject claimants when not supported by their doctors, further aggravating the obstacles that women already face, she added.
Women experience more chronic pain than men do, yet are more likely to be considered "too sensitive" or "hysterical" by medical professionals, Medical News Today has said. Many of the clients at MK Disability Lawyers suffer from chronic pain, which according to Karyampudi, is an invisible illness much like mental illness.
Given that insurance companies seek objective medical evidence for proving a disability insurance claim, lawyers face the challenge of dealing with the fact that claims for chronic pain are dependent on the clients' subjective reports and of presenting evidence that shows that clients are not functional because of such pain, Karyampudi said.
Another issue that arises due to gender bias is that medical professionals are more likely to attribute women's medical issues to psychological problems.
Doctors who cannot find out what is wrong tend to diagnose medical issues as anxiety or depression without bothering to investigate further, Karyampudi said. Consequently, when someone diagnosed with anxiety files a disability claim, the insurer can argue that there is no objective evidence or that the claimant can take medication and continue working with accommodations from the employer.
Karyampudi's firm recognizes that doctors may not support claimants who are women and may not understand chronic pain, particularly in women. The firm encourages clients to be prepared with questions when visiting the doctor, advocate for themselves if the doctor is unsupportive, and consider bringing a family member or another person to help convince the doctor of their medical issues.
Another option is for the client to consult a second doctor. However, getting a second opinion can be risky and can lead the insurance company to accuse a claimant of "doctor shopping," Karyampudi said. In such a situation, her firm will assist the client in addressing this accusation, convincing the insurer that this client felt like professionals were ignoring her symptoms, and calling attention to studies showing gender bias in the medical profession.
"There really should be more education for both doctors and lawyers," Karyampudi told LegalMattersCanada.ca. "As lawyers, if we don't acknowledge there are biases, it can be a disservice to our clients."