Bogoroch & Associates cultivates "atmosphere of continual evolution, learning and desire to be better"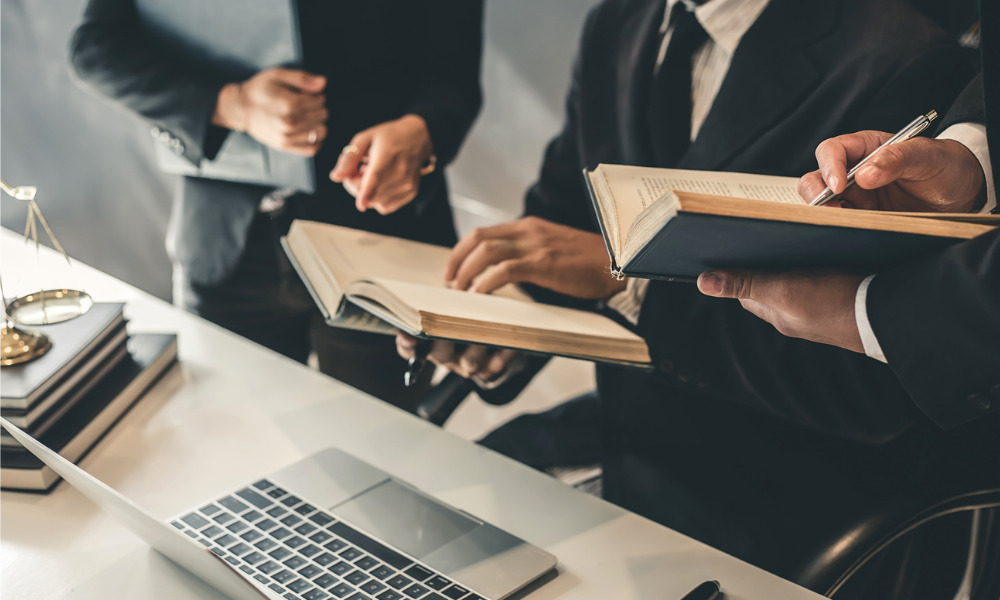 Shortly after Toby Samson started articling at Bogoroch & Associates LLP in July of 2015, she was called into managing partner and firm founder Richard Bogoroch's office and, along with another articling student, assigned tasks to help prepare for an upcoming jury trial: Surujdeo v. Melady.
Bogoroch and Heidi Brown, a partner at the firm, asked Samson to participate on the trial with them. The firm was representing the surviving spouse of a 36-year-old woman, Rossana Surujdeo, who presented to hospital with flu-like symptoms and died a short time later due to shock arising from a rare cardiac condition. Samson, who didn't know much about the area of medical malpractice, dove headfirst into the prep work, starting out doing mostly case books or sitting in on meetings and taking notes, but as the trial got closer "I was pretty involved," Samson, now an associate at the firm, says.
Samson was there for the late nights at the firm as they prepared for trial, was in all the expert briefings, actively participated in talking out strategy and prepared for trial motions and major objections. She drafted outlines and spent a lot of time doing research, including reading and reviewing medical literature.
Samson was in court "all day, every day behind counsel table with our client" she notes. As the trial unfolded, Samson worked over breaks, adjusting strategy depending on what happened in the courtroom, and calls it a "really up close and personal look at what an actual trial looks like, with all the med mal issues attending."
The case was a big one — Bogoroch & Associates won, it was appealed to the Ontario Court of Appeal where the appeal was dismissed and, due to the court's reasons, became an important case clarifying the law of causation — and Samson says she was very lucky to get such extensive experience early on, especially on such an interesting and high-stakes file.
"It definitely shaped my career: my entire practice is different for doing that trial, and it solidified for me that I actually like being in a courtroom," Samson says. "Once you know what the end game really is, it totally changes how you perceive a file. I'm a firm believer that everyone in this area of law should do at least one trial so they really know what's happening."
Until you're in the midst of a trial, things like the Rules of Civil Procedure don't mean much to you, she says, and the experience also forces you to "familiarize yourself with the laws of evidence, which are both extremely complex and more and more these days boil down to probative value versus potential for prejudice."
Samson's dive into the deep end of medical malpractice litigation is the perfect illustration of Bogoroch & Associates' belief that mentorship, trial experience and a collaborative approach to litigation are key components to developing lawyers with expertise in the field. The firm strives to ensure the opportunities are good for the up and coming lawyers — because the earlier they're exposed to the high-stakes work, the better off their practice and the firm as a whole will be, Samson says.
Now an accomplished lawyer in her own right, Samson has been co-counsel on several more trials, including the 2020 case of Boutcher v. Cha, and goes out of her way to make sure her colleagues know she's there to discuss various aspects of a file or to bounce ideas off of, even outside of official mentorship relationships. And the whole firm operates like that, she notes.
"There's definitely an atmosphere of continual evolution, learning and desire to be better," Samson says. "And those things all go hand-in-hand."
This article was produced in partnership with Bogoroch & Associates LLP.