He says public markets will be choppy, and the firm's diversity investments are bearing fruit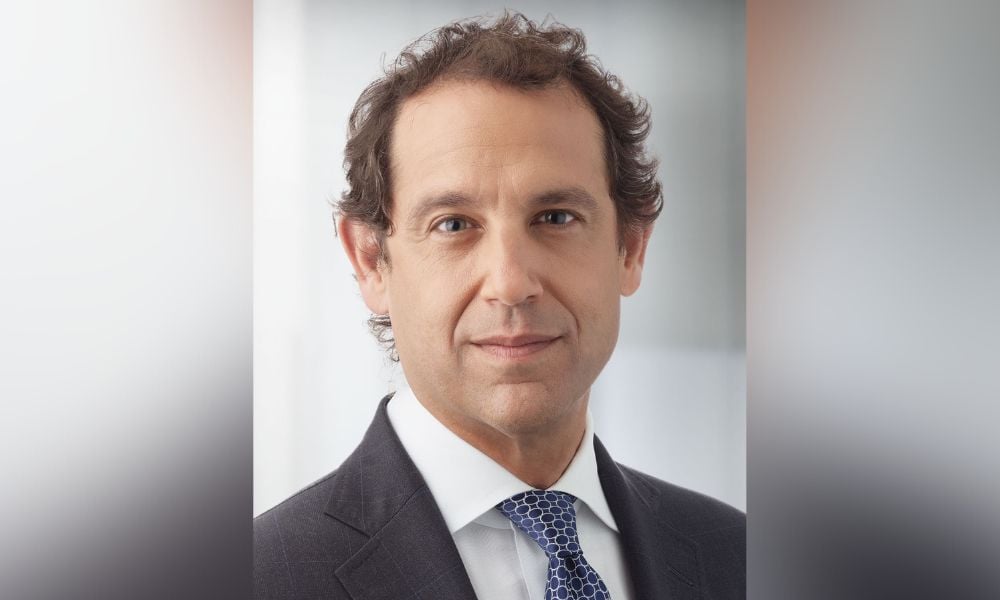 Canadian Lawyer spoke with Jeffrey Singer, Chair of Stikeman Elliott, and one of the judges in the upcoming 2023 Canadian Law Awards. Singer shared insights about what his firm is seeing in the markets, Stikemans' commitment to diversity, equity and inclusion and its return to office plans.
What have been the significant developments at Stikeman Elliott in the last 12 months?
While the last 12 months have been business as usual in many respects, the most significant developments were adjusting to our post-pandemic environment. We were so proud of how our people rallied to support our clients and each other through the pandemic's darkest days. And now, as the shade of the pandemic is lifting, we are pivoting to a hybrid work experience that ensures our people enjoy a healthier work-life balance while at the same time retaining our culture of collegiality, creativity and excellence for which we are known.
What are your recent areas of growth?
Our core M&A practice remains strong. Despite recent market volatility, we have been fortunate to have enjoyed exceptional levels of activity across all practice areas and industry sectors. In contrast, some private activity abated somewhat during the back half of 2022, yet this seems to have been more than compensated by renewed interest in public "going private" transactions. Our litigation group is not nearly as dependent on market dynamics, so it remains steadily busy, while we have already noticed an uptick in our restructuring group.
What are your recent areas of challenge?
Our most significant challenge is getting our return-to-office strategy right. Change is constant, but covid accelerated the pace of change, at least as it relates to how we all work. On the one hand, we know we are better when working physically together – we are more engaged, collaborative and creative. However, people also often enjoy a healthier work-life balance without sacrificing productivity in a remote working environment. So, the challenge is maintaining an overall work environment that gives our people the best of both worlds.
Are you expecting a slowdown?
If all central bankers are working to slow the economy, then there is a strong likelihood that this will occur. But this does not necessarily mean that there will be a material decrease in the demand for legal services. The current dynamic market will certainly cause activity in some practice areas or industry sectors to abate and, at the same time, create opportunities in others. We tend to make sure our people have broad skillsets so that we can remain nimble and adjust to service our clients as those opportunities continue to arise.
What industry-specific trends are you seeing?
While some may say that the bloom is off the rose of technology, there is still quite a bit of activity in that space, especially as it relates to new energy technologies, which extends to the resource sectors that support those initiatives. Similarly, we see very interesting strategic M&A activity in the financial services sector. Our banks are seeking out strategic acquisitions at home – such as RBC's acquisition of HSBC Canada – and abroad, and private capital is doing similar such as Smith Financial's acquisition of Home Capital. We also see many organizations across all industries divesting non-core assets strategically to deleverage or to avoid distress situations.
Can you speak to any recent in-house/law firm initiatives?
While not recent, we are most proud of our diversity, equity and inclusion initiatives. DEI has been a core priority for us for decades, and that's not going to change anytime soon, but we are finally starting to see real change from the early initiatives. Our collaborations with law schools and others – such as the Law Firm Diversity and Inclusion Network, Legal Leaders for Diversity and Inclusion, and the Canadian Association of Black Lawyers – aimed at creating a more diverse pipeline of talent, are really paying off.
We have many internal programs where we focus on the type of work and experience people are getting, trying to ensure that we have more than mentors but sponsors, which is a subtle but important difference.
We have a long way to go, and many of our goals are still aspirational, but our successes and commitment grow stronger every year.
Tell me about your transition to the office.
When the pandemic arrived on our shores, we all went home like cats running up a tree for safety. And just as it takes compassion and patience to coax cats down from trees, we know they will ultimately come down. After all, cats do not live in trees. We are social beings. We know that we did not go to law school to practise alone in our bedrooms or basements. Of course, many of us have also enjoyed the benefits of practising at home and realized we could be efficient and productive in that environment without sacrificing excellence. So, we have focused our strategy on giving our people the best of both worlds, one in which they will enjoy a healthier work-life balance while at the same time a connection to a culturally desirable physical environment.
On balance, I would say that our people are currently coming in around three days a week, some more and some less. This is somewhat jurisdiction affected in the sense that our colleagues in the West currently tend to be in the offices more than those in the East. I anticipate this trend to continue and that most of us will be predominantly in the office this time next year.
Are you considering broadening your geographic reach by hiring remote-only employees outside of where you have offices?
Not in a meaningful way. We are fortunate because we have offices in our large domestic cities, Montreal, Toronto, Calgary and Vancouver, which are fantastic spots.
So, our ability to attract and retain talent, move talent across the country, and provide many of our people with the ability to move between offices as circumstances change is already pretty great.
What trends do you predict for your firm in the next 12 months?
I imagine the next 12 months will be choppy as we navigate dynamic markets. Public equity transactions will likely remain slower, at least for the first half of the year, but there should be more than sufficient public and private M&A to make up for that, as well as increased distress and restructuring transactions.
You were a judge on the Canadian Law Awards last year – can you comment on the calibre of nominations in past years?
I am always humbled as I read through the submissions. The calibre of nominations makes judging the Canadian Law Awards extremely challenging. There are so many outstanding nominees that bring not only spectacular talents to their professional endeavours but also to their communities.
What do you think some of the big themes of 2022 will be when evaluating legal excellence as a judge?
One big theme will be how nominees navigated these challenging and dynamic economic times, which have created significant challenges and opportunities for their organizations. Another theme will be the extent to which those nominees were also able to support their people and communities during the pandemic and the various social challenges that came with it.
*Answers have been edited for length and clarity.