Firm remains focussed on advising on Canadian law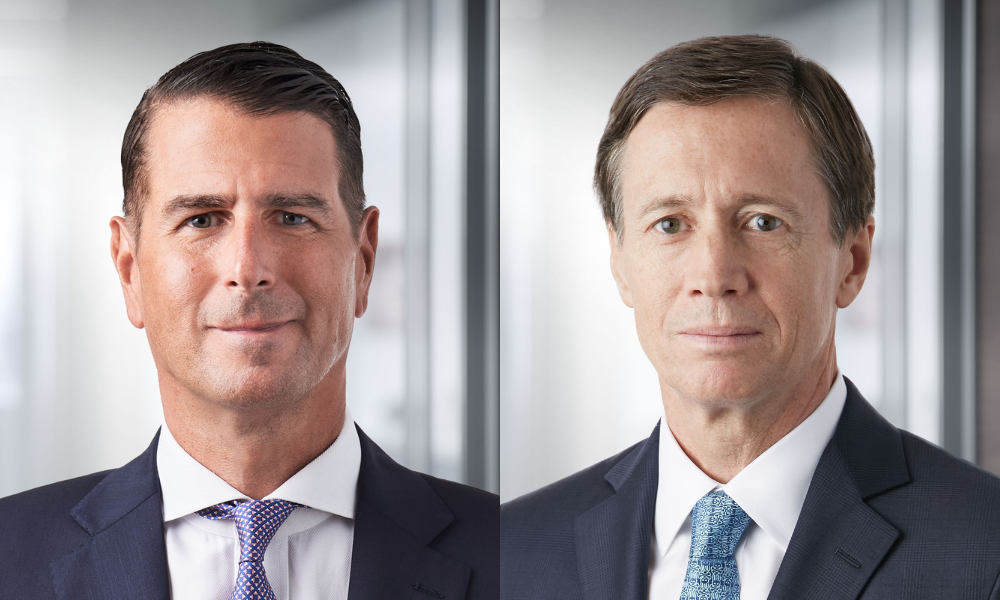 As Stikeman Elliott LLP's practice in New York City continues to expand with the addition of a new principal, one thing that won't change is its focus on Canadians practising Canadian law in the Big Apple.
Stikeman recently announced that veteran corporate lawyer Jamie Koumanakos is now a principal at Stikeman Elliott's New York office, working alongside Ken Ottenbreit, the firm's long-standing managing principal.
"What was really attractive for us with regards to Jamie was not just his great practice and his reputation, but also the fact that we're both Canadians, and we're also New Yorkers," Ottenbreit says.
"We both have been here a long time, and it shows my commitment, Jamie's commitment and Stikeman's commitment to New York and only practising Canadian law here. That's been our strategy right from the start, to work with U.S. and international law firms when it comes to Canadian law. And that won't change."
Koumanakos comes from Blakes Cassels & Graydon LLP, where he worked in its New York branch since 2005, most recently as co-head of the private equity group there. He brings 20 years of experience practising Canadian cross-border corporate and securities law.
A graduate of the law program at the University of Ottawa, Koumanakos was called to the Ontario Bar in 2002. He was with Torys LLP in Toronto and New York until 2007, when he joined Blakes.
"I really see this as a unique opportunity," says Koumanakos when asked about joining Stikeman Elliott. He adds that he believes it is a "perfect fit," especially as he will be working with Ottenbreit, who has been with the firm's New York office since the early 1990s. That's not long after Stikeman first opened a branch there in 1982, the first Canadian firm to do so.
Working alongside Ottenbreit – and having a chance to build on his footprint in developing the firm's reputation and brand in New York's legal community – was a "very compelling" reason to come aboard, Koumanakos says.
Ottenbreit points out that when Stikeman Elliott first arrived in New York, "few people knew of Canadian law firms." However, by playing the "long game" of building long-term relationships and getting the word out about "who we are," he says the firm is now considered among the top Canadian firms participating in the New York and US marketplace.
Ottenbreit says the firm will continue to provide a comprehensive suite of Canadian legal services to American and international clients, reinforcing its position "as a leading cross-border firm for those who invest or do business in Canada."
The business model for Stikeman Elliott is to partner with American and international law firms and not compete with them, he says, allowing the firm's Canadian law specialists in New York to focus on what clients require, a model that Koumanakos understands.
Ottenbreit notes that he and Koumanakos, along with the corporate legal community, learned a lot about dealing with volatile markets such as the fallout of 9/11, the financial crisis of 2008, the Great Recession, and the Covid-19 pandemic.
"I can never say that I am looking down the road and know exactly what's coming next," he says. "But I think we've become very good at adapting to what the current needs are and what the challenges are."
Koumanakos agrees, noting that going through "trying times" with clients during economic downturns really "underscored the resiliency" of New York as both a city and a world financial centre. "It continues to thrive and make its way through these challenges."
In his mergers and acquisitions practice, Koumanakos regularly acts for private equity funds, strategic buyers, hedge funds and investment banks concerning Canadian public and private acquisition and investment transactions.
In addition, he advises US, Canadian and international private equity sponsors and some of the largest North American pension plans in their private equity fund investment and co-investment transactions.
Clients he has worked with include American Securities, Apax Partners, Energy Capital Partners, Global Infrastructure Partners and FTV Capital.
At Stikeman Elliott, Koumanakos' practice will focus on Canadian corporate and securities law specializing in in-bound Canadian cross-border mergers and acquisitions and private equity transactions. He will also advise on Canadian securities and investment fund registration requirements for offerings to Canadian investors.
Jeffrey Singer, Chair of Stikeman Elliott, said in a news release announcing the arrival of Koumanakos at the firm: "We are thrilled to welcome him [Jamie] to our firm, where he will continue the tradition of excellence our clients have come to expect from our corporate-securities team."